Studying Italian at BU? Tired of completing sentences, conjugating verbs, and filling in blanks? Maybe you're looking for a space to test your verbal skills, or want to experience conversation that isn't laden with extraneous "likes" and "literallys." If this sounds like you, then you might want to stop by the Casa Italiana at some point.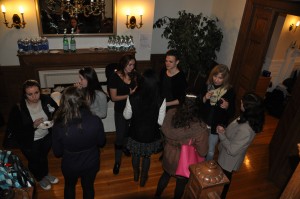 This past Wednesday, as part of BU's international education week, the Casa Italiana, located at 193 Bay State, held an open house sponsored by the generosity of Dr. John Margolis. Framed as an informal gathering of Italian students and teachers, the event featured representatives from Linguistics and the Padua Study Abroad program. Tucked away out of the cold, the Casa Italiana was warm and cozy and filled with Italian goodies such as traditional panettone (a sweet, cake-like bread usually enjoyed in the winter months).
As more people filtered in, the rooms were abuzz with conversation in both English and Italian with students of all levels gathering to share their love of the language and culture of Italy. Among the faculty members present was Dennis Costa, a Comparative Literature specialist, who teaches courses on Italian poetry as well on Petrarca, Renaissance literature, and the humanist movement in the Renaissance. Costa shared some of his insight with curious students like Michelle Hunter (CAS '15) who intends to study abroad in Italy at some point next year. Says Hunter, "I've heard many good things about studying abroad and everyone that I've met from the program has been very helpful and friendly. So I'm really excited to go!"
The Padua Study Abroad Program is headquartered at the BU Padua Academic Center in the northeast region of Italy. An ancient city which sees little to no tourist activity, Padua is located a mere 25 miles from Venice and features the picturesque streets depicted in Shakespeare's Taming of the Shrew. The program is run in cooperation with the Università degli Studi di Padova (UNIPD) and includes trips around the Veneto region. Students enrolled in the program live in Italian households which gives them the opportunity to vastly improve their language skills and form cross-cultural connections in a homestay environment. And the best part is that applications for the spring 2014 section are still being accepted on a space-available basis! See what students of the program have to say here.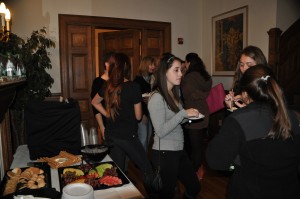 Apart from the informational presentations, the open house served as a great opportunity for students to eat, drink, and converse with other Italian speakers and generally enjoy each other's company. Seeing as most of the language learning is done in the classroom, the open house was a chance for students to put their academics to the test and see how they would fare in an Italian speaking environment. At the very least, the open house was a warm place with free food and friendly people. As Hunter puts it, "it was a very immersive experience, I got to meet some interesting people…and the panettone was delicious!"
For more information on Italian studies at BU or to watch a neat video "Why study Italian at BU".