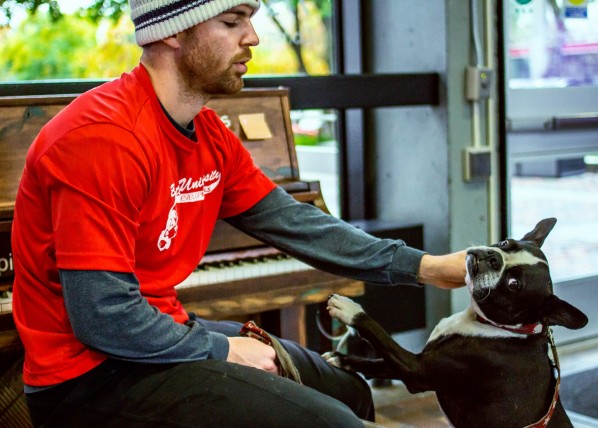 "Taking pictures is savoring life intensely, every hundredth of a second," French photographer Marc Riboud once said.
It seems that everyone is savoring life intensely these days, with the popularity of apps like Instagram. But aside from these filtered and usually skimpy resolution photos, photography is potentially in its golden age as social media constantly integrates visuals– and usually appear uninteresting without them. And even with the rise of smartphone cameras, there is nothing crisper and of better resolution than a DSLR.
Brandon Stanton's Humans of New York has a collective one and a half million-plus and over 33 thousand followers on Facebook and Tumblr, respectively. Inspired by the citizens who made New York City so diverse, Stanton sought to collect "a photographic census" of the city. What started off as a project where he'd plot subjects on a map soon turned into a collection of unique portraits followed up with a quote giving not only context, but profound and thought-provoking ideas.
Since HONY's birth in the summer of 2010, Stanton has inspired others to take his lead. Photographers capture citizens in cities like Tehran, Tel Aviv, Sydney, Boston, Toronto, and Oslo. Since September, the "Humans of" photography trend has taken off at BU, with the "Humans of Boston University" Facebook page.
Unlike Stanton, who wanted to capture the striking and diverse spirit of New Yorkers, HOBU has a bit of a different goal when approaching students, faculty, and staff across the Charles River campus.
"It's less about picking out people who look interesting or because they are different," said HOBU. "It's more about getting a random sample of people at BU because anyone, even the most ordinary person can have something really interesting to say."
Already garnering over 1600 Facebook "Likes", HOBU captures BU through up-close portraits and action shots through a Canon T3i and 35/50 mm lens. Whether she's walking to class or purposely out to capture the BU community, HOBU finds time to update her Facebook page on a constant basis. Along the way, she's learned how better reveal a subject's demeanor.
"There's something you've thought about that you believe in that you wish other people knew, and there's always something that you've really wanted to do," she says, which is why she commonly asks people for a piece of advice or what is on his or her bucket list. "Everyone has aspirations."
"I've always been interested in people and showing their story," said HOBU. "I've always been an observer and photography is kind of good with that because you can observe and document."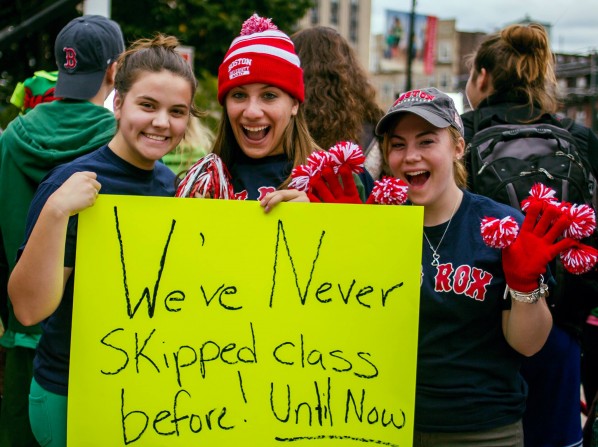 In an interview with Mashable, Humans of India founder Megha Majumder, 17, expressed the common ground the project captures.
"There's this word that I fell in love with a while back: sonder. It's the realization that every random passerby is living a life that is as vivid and intricate as your own, complete with their own thoughts, feelings and emotions. And to them, you're just a passing figure on the street, too. Sonder seized my awareness –- people were no longer just strangers."
Dee Daniels (COM '16), a fan of the "Humans of" trend, has followed HONY since its early stages, growing to appreciate the photo projects and their expression of their respective cites and those who live in them.
"I grew up in a generic American suburb and [I feel that] in such places [there are obviously people,] but also smaller range of ideas and creeds accepted and explored," said Daniels. "These projects pretty much sum up the magnetism of urban life to me."
Daniels thinks that the wide diversity in these photographs brings people closer together in large, busy, and sometimes lonely urban dwellings.
"[The "Humans Of" projects capture] the experience of talking to a nice stranger on the subway or having a conversation about spirituality with a cab driver and universalizes them," said Daniels. "They funnel back down to the fact that we're all just people with lives and stories. We're just trying to live."
This piece maintained anonymity for the HOBU photographer for angle purposes more than a desire to stay unknown, as she even said, "It's less about anonymity and not having the focus on me," when producing and presenting her work.