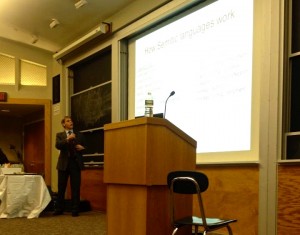 Professor Sasha Nikolaev is a young and charismatic professor from the Boston University Department of Classical Studies. His Russian nationality is easily guessed from his name and accent, he recently attained a Ph.D from Harvard University, and he has a number of other degrees made all the more impressive by his young age.
On Wednesday, November 20th, from 7 to 9 p.m. in the Kenmore Classroom Building, Professor Nikolaev spoke at an event, co-sponsored by the BU Linguistics Association, the Undergraduate Classics Association, and the BU Linguistics Department, about the origins and development of writing systems around the world in a lecture titled "The Story of Writing."
Professor Nikolaev spoke well, and his knowledge, mastery, and interest in the topics he covered, spanning a great length of the history of writing systems, or "scripts," as he called them, was evident. However, for those without a background in the subject, the lecture was a little heavy. Granted, a lot of history was covered, but it was easy to get a little lost in all of the very specific linguistic terms employed by Professor Nikolaev. He even realized this, and apologized for it about half way through his lecture.
Visual aids, such as maps of the world highlighting the locations where certain writing systems developed and how they may be connected to other writing systems, helped move things along and facilitated understanding. Professor Nikolaev also provided images of samples from the various writing systems throughout their stages of development, which were also engaging. The images, as expected, facilitated understanding more than the words themselves, and piqued the interest of the audience in moments where it may otherwise have begun to wane.
"The Story of Writing" was an interesting event by an engaging and dedicated speaker, but perhaps not suited for those without a background in and prior knowledge of classics and linguistics. While it may have created some interest in these topics, if the lecture had been delivered by a less skilled orator than Professor Nikolaev, the results would likely have been quite different.
For more information about the BULA, visit http://bula.bu.edu/
For more information about Professor Nikolaev and his work, visit http://www.bu.edu/classics/people/faculty/alexander-sasha-nikolaev/