If you weren't one of the many BU students at the Regal Fenway last night to see the 8PM or midnight screening of The Hunger Games: Catching Fire, I strongly suggest you redeem this lapse in judgment by paying the movie theater a visit sometime this weekend or this Thanksgiving break. Fans of the books and the first movie will not be disappointed. As a huge fan of the series myself just now coming off a Catching Fire-high, it's hard to know where to begin.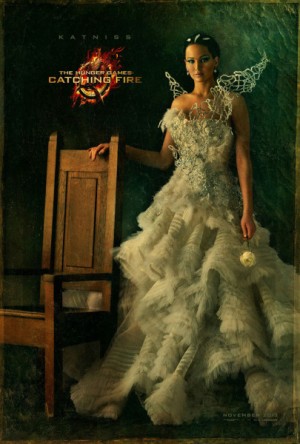 Let's start with everyone's favorite leading lady, Jennifer Lawrence. The girl can do no wrong. She may have brought home an Oscar for her performance in Silver Linings Playbook, but her commitment to a sequel (and 3rd and 4th installment) to The Hunger Games has not cursed her the way it has many others in her situation. Many actors (take, for example, anyone from the cast of Twilight) lose their passion for a franchise by the time the sequel comes out and they have made other films. Their performances in the sequel and their attitudes during the press junket inevitably reflect this lack of passion. It is clear, however, that Lawrence's Oscar win has not stopped her from giving her all in a series for which she continues to show excitement and love. Between her heartbreaking elegy for Rue in District 11, her desperate screams for an endangered Peeta, and her less-is-more portrayal of despair as she says goodbye to the ones she loves, Lawrence delivers yet another admirable performance as Katniss Everdeen.
Lawrence wasn't always the one stealing the show, though. Catching Fire boasts an impressively talented cast. Though Peeta Mellark often gets the short end of the stick, getting injured a lot and needing to rely on others' help, Josh Hutcherson shows off his acting chops as a wiser, more experienced player in the Games. Elizabeth Banks and Woody Harrelson continue to shine as Effie Trinket and Haymitch Abernathy, respectively, and Philip Seymour Hoffman brings a mob-boss feel to his role as head Gamemaker, Plutarch Heavensbee (which, as it turns out, is just what the character calls for). However it was Sam Claflin and Jena Malone who caught my attention with every line, playing Finnick Odair and Johanna Mason. Claflin is equal parts charming and complicated—just when his character seems only to go skin-deep, Claflin reveals another emotional layer to Finnick's story, capturing audience's hearts both in the Capitol and in the theater. Malone makes her mark by playing a grade-A badass, making her the perfect spark to fire any audience up for a revolution.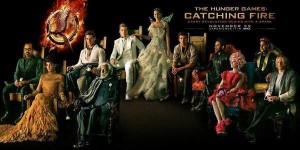 All of these characters serve to fill the movie with a hodgepodge of tragedy, comedy, action, and suspense. The Games lend themselves to nonstop action, what with their goal of killing 23 out of 24 tributes, but this movie focuses on more than just the Games. The audience sees much more of Katniss' life as a victor in District 12 before she reenters the arena. This new storyline brings with it many tearful goodbyes, a district that is unravelling at the seams, and the fear that President Snow will exact revenge on Katniss by hurting all the innocent people she loves. Even within the arena, the solidarity among the victors that did not exist in the first Hunger Games brings a new level of heartbreak at the realization that they must kill each other in order to survive.
Like any fan of a book that is turned into a movie, many Hunger Games fans have some fears regarding the film's adherence to Suzanne Collins' novel. Rest assured, book lovers, Catching Fire stays as true to the book as one can reasonably expect. That being said, don't count on the movie portraying every single event in the book—Madge still does not make an appearance, and I think it's safe to say she never will. But that's okay! When you think about it, how much does the story really suffer with the omission of the mayor's daughter? Not that much.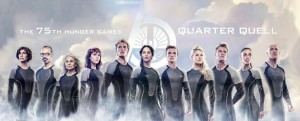 The sequel, like the first film, also takes some liberties by adding scenes that aren't present in the novel. While most of these are surprise gems (like Heavensbee's interactions with President Snow), there are a couple short scenes that seem a bit unnecessary (and they all include President Snow eating with his granddaughter). Thankfully, I would say the emotionally charged and action-packed scenes, which comprise the majority of the film, make up for these not-so-subtle messages regarding Snow's chagrin at Katniss's influence over the Capitol.
The sequel to The Hunger Games offers an exhilarating commentary on today's emphasis on beauty, violence, and entertainment at the expense of others, doing so with a sinuous progression of emotions ranging from hopelessness to amusement and back down to hopelessness again. Despite its potential for a sophomore slump, especially given its mid-franchise replacement of director Gary Ross for Francis Lawrence, The Hunger Games: Catching Fire delivers yet another film fit for a diverse audience counting down the days until the next movie comes out.
The Hunger Games: Catching Fire is playing in theaters nationwide now. Don't forget to stop by the SAO office on the 2nd floor of the GSU to pick up discounted tickets!