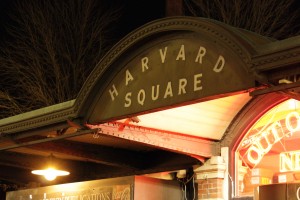 In the first of what are to be the final two entries to this column, I've visited an institution that I have saved for just such an occasion. I have enjoyed writing these entries and re-living the experiences of having explored these new territories, and I wanted to wait a while before traipsing over to Cambridge for a visit.
I've been to Harvard during the daytime, previously, with grandparents when I was about 12-years-old—and when the weather was much more accommodating for a campus tour. For my second visit to one of, if not the most, notable schools in the nation (let alone the world) I wanted to get a different view. So, I decided that an evening would be an appropriate time to venture into the yard and its surrounding area.
Harvard certainly now has a different feel–and I've certainly formed a new perspective of it–after so many years have passed since I last set foot on campus. Being across the river doesn't necessarily mean that students of neighboring institutions are immediately prompted to cross territory—indeed, that is the claim I have made at the outset of this column series and one that I hope fades as students feel less reluctant to explore these new areas.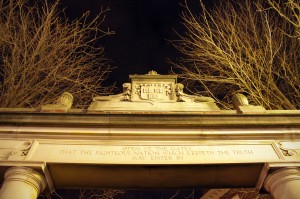 Upon arriving in Harvard Square, the best first step may be to get a lay of the land as there are many streets to wander down and a lot of Harvard to see. If your first concern is sightseeing around campus, taking in all of the old charm that radiates from buildings like Sever Hall or from the inside of the Harvard University Library, then entering through one of the main gates off to the left of the MBTA stop is your best bet. At night, I was only able to enter through a gate that was a bit of a walk down from the COOP—Harvard's bookstore which serves MIT as well—but more entrances are open during daytime hours.
Upon passing under a large stone gate inscribed with the words "Open ye the gates that the righteous nation which keepeth the truth may enter in," Harvard Yard is mere steps away. If you've seen Legally Blonde then sure, you may have a vague idea of what a fictionalized version of this educational mecca may look like. But rest assured, nothing compares to standing in front of John Harvard's statue with its over-polished foot. Many believe it is a student tradition to rub the statue's left foot for luck.  While many students probably do partake in this, this is not as widespread a tradition as it is advertised—removal of graduation caps upon passing the statue, however, remains a more established tradition.
If you do have time to enter the library, I'd suggest doing so because you're unlikely to see one as grand as Harvard's. The building, which houses the third largest library collection in the United States, also holds many "oldest" and "largest" titles.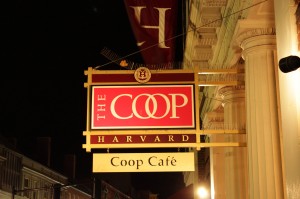 After exploring other points of interest on Harvard's campus—and there are many, such as Harvard Stadium or Memorial Church—there are many fun shops and eateries to duck into just off Harvard Square. During my visit, I chose to enjoy an authentic bubble tea at the Boston Tea Stop just a few blocks down JFK Street. It's a small but cozy place and offers free Wifi—when you're freezing cold while running around Cambridge, a late-night tea shop with internet access can be quite appealing. Grab a neon straw, poke into your tea and pray that more establishments start extending their hours and putting on 90s-reminiscent playlists like this one does.
In addition to this gem of a tea-find, there's also a Lush, CVS and Otto's Pizzeria all within very short walking distance of Harvard's campus and the MBTA stop. If only we were all as lucky. Academia, architecture, bubble tea and sheer convenience. You may now understand why it was so difficult for me to hop back onto the red line.
All in all, Harvard—like just about every other school in the area—has something to offer visitors of all types. It has history, culture, color and good vibes. There's something special about Boston institutions of higher learning and their abilities to build intricate and unique bubbles of character around their campuses.  Harvard is by no means an exception to this. It was worth a second visit, will be worth many more and, if you haven't made it over there yet, is absolutely worth a first—you won't regret it.