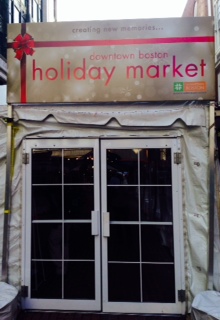 Nothing is more depressing than hearing Christmas music as you're nose deep in a Stats book that mocks you with its indiscernible numbers and impossibly confusing "explanations." However, nothing is more enjoyable than hearing Christmas music as you idly wander through a market of local vendors in Downtown Boston. Luckily, the Downtown Boston Holiday Market will stick around every day from now until well past finals (December 28th, to be exact).
The market's weekly renewal of new artists and craftsmen makes it an ideal spot to cross off some family and friends from your holiday shopping list. Mom will love one designer's "Storyteller Jewelry", while your sister can enjoy a new Vera Bradley-esque handbag (at a fraction of the price). The gourmet popcorn makes for a unique, but delicious, addition to a movie night-themed gift, and the fused glass necklaces are a beautiful, inexpensive way to give something special for a friend without needing to eat ramen for the entire month of January.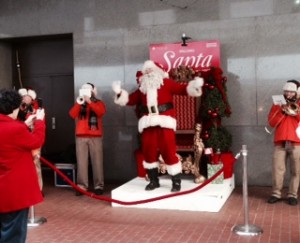 As we learned from Will Ferrel's Christmas favorite, "the best way to spread Christmas cheer is singing loud for all to hear." Apparently, Santa got the message because every day from 12-2, he sits between the Holiday market and Macy's to sing Christmas songs and take pictures with eager young children. With the arrival of ole' St. Nick and Downtown Crossing's general atmosphere of holiday cheer, the market isn't an altogether horrible place to get into the Christmas spirit (it beats Mugar during finals week).
If you've finished perusing the market's aisle of booths and still need a few more gifts, you can always head to the surplus of stores throughout the Downtown Crossing area. Of course, after spending enough time with the unique, handcrafted items at the Holiday market, you may not feel too keen on buying from a major corporation (talking about you, Macy's).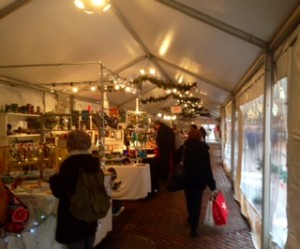 In this case, I suggest making a pit stop at the Hynes Convention Center T stop and hitting up some of the smaller stores on Newbury Street before you go home. Newbury Comics offers unbeatable prices on DVDs and records, and Trident Booksellers and Cafe has a maze of affordable and interesting books of every kind.
Whether you have shopping to do or are just stressed out over the end of the semester, take a trip downtown and enjoy a Boston Christmas before you go home. Your harrowing Stats book will still be confusing when you get back.
Don't miss the Downtown Boston Holiday Market at the Summer St. Plaza from now until December 28th. The market is open from 11-7, and Santa and his elves arrive at 12. For a full schedule of weekly vendors and street performances, visit here.