Campus drug wars, prostitution rings, the tragic death of President Bennett (guest star Dean Elmore),  backstabbing and, of course, entwined love lives: Bay State—BU's "guiltiest pleasure"—has seen it all.
Part of butv 10, Bay State is the nation's longest running college produced soap opera. Currently on its 24th season, Bay State follows the lives of trouble making BHC students at Beacon Hill College, a fictional school in Boston, Mass.
The show combines the same mix of scandal, intrigue, and over-the-top flair that makes Gossip Girl or Pretty Little Liars so much fun. This year, however, executive producers Lee Anne Carluccio (COM '14) and Evan Tuohey (COM '14) have a new vision.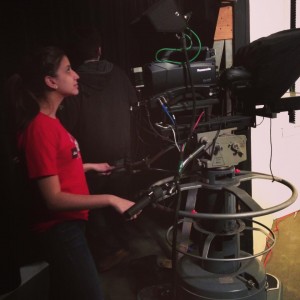 "It's a transitional season for the show," says Carluccio. "We're re-imagining Bay State. Past seasons have been fun because they've been so extravagant. This season we're trying to make the show more relatable. Rather than emphasize crazy plots, we want to refocus the show on our characters. Self-identity and the difficulties of college life will be at its center."
Bay State is perfectly positioned for a shift in tone because many of its cast and crew are seniors who will graduate in the spring. Two weeks ago, the show held auditions for five new regulars.
"We cast all freshman because we wanted to create characters that an audience could follow for the next few years," Carluccio explains. "All of them play freshmen dealing with issues that real freshmen face. There's a guy who's coming into college as a big fish from a small pond—he has to learn new rules to fit into BHC's social scene. There are two girl roommates who want to find friends, boyfriends, and their place in BHC, and there is a girl in a gender-neutral room with an older junior roommate. She's lesbian and she needs to come to terms with what her sexuality means for her in college."
With all of these changes Bay State hopes to stay scandalous—there are love entanglements and juicy secrets to be had—but up its quality. Carluccio and Tuohey want Bay State to be more than a good soap opera; they want it to be a great one.
Today, as the crew preps Studio East to shoot the day's three scenes, Carluccio stops them.
"Guys," she says, "Come over here, we're having a mini meeting."
She and Evan explain the trajectory of the season and their goals for Bay State to the crew. "Last semester I was head writer," says Tuohey. "We wrote episodes one after the other, but we didn't think as much about the arc of the season as a whole. This semester we're trying to create something more cohesive. This season has three episodes and the first two are leading up to the third episode, which is going to be an awesome grand finale."
"This is our last season here," Carluccio states, "and Evan and I want it to be great. We have all the ingredients to make a very high quality show and this semester is about executing that. We're going to use more interesting camera work, we have a great script, and we need all of you to work hard so we can make a show that we're proud of. Establish yourselves because you are the future of Bay State!"
Pep talk complete, the cast gets back to work; it takes an incredible amount of energy to create an episode of Bay State.
A team of six writers craft the script, which is revised by the head writer and producers, then printed out for the actors at each shoot. On set, directors, assistant directors and production assistants help the actors shoot their scenes.
About fifteen production assistants bustle around set doing handy work: fiddling with lights, attending to cameras, putting up and taking down props, and other useful tasks.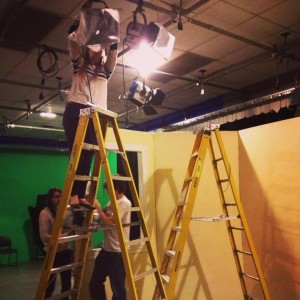 Leading the production assistants are various directors. Director of Photography Nate Suri handles the camera work, Set Director Jason Celaru decides what the set will look like, and two Directors guide the actors each shoot. Assistant directors help the directors. Associate producers and executive producers oversee it all, and converse with directors between takes of the scenes.
"In TV," explains First Assistant Director Jay Colamaria (COM '15), "writers come and go and directors travel around to different shows. So the vision of the show really rests upon the producers. They ensure that each episode has the same voice, and work together."
Despite the hierarchy of responsibility, camaraderie and teamwork show themselves in the laughter on set and in the hushed silence that falls when the actors are ready to shoot a scene.
"Three years ago I was just a production assistant," says Sam Hayes (COM '15). "Now I am an Associate Producer. Evan used to be head writer and he moved up. Anyone who works hard can advance up to executive producer. All of it is great experience for the entertainment industry, and it's a great group. We're friends, so half the time we're being social and half the time we're talking about Bay State things. It takes a true community to get it all this done and luckily that's what we have."
So, at the end of a Saturday night consider supporting some of the media on campus and tuning in to BU's very own drama series.
Click here to find more information about Bay State or to watch an episode. If you want to know more about the characters of Bay State this season check out their bios. To join the crew come to the 3rd floor of COM, Studio East, Tuesday from 4-9 PM. Visit butv10's website to learn about the station and its other awesome programs.