The College of Fine Arts presented William Shakespeare's Comedy of Errors, directed by Thomas Martin, from Thursday, February 27 to Sunday, March 2.
A crowd of perhaps 20 people, mostly the actors' family and close friends, gathered together to watch this delightful performance that had many leaning to the edge of their seats and cackling with laughter.
Grand gestures, animated facial expressions, and excellent acting eliminated the usual struggle of interpreting Shakespearean language.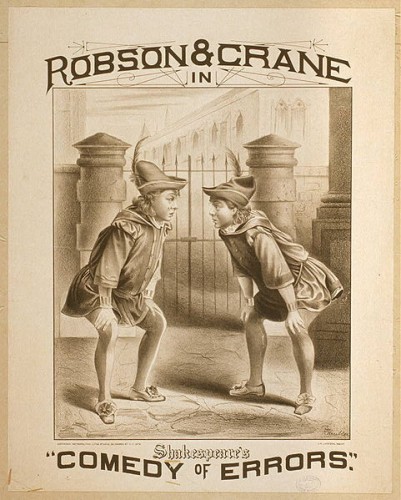 Believed to be one of Shakespeare's early works, "The Comedy of Errors" follows the lives of two sets of identical twins: Antipholus of Syracuse and Antipholus of Ephesus, and their servants, Dromio of Syracuse and Dromio of Ephesus. Antipholus of Syracuse, and his servant Dromio of Syracuse, arrive in Ephesus searching for Antipholus's long lost brother. Upon their arrival, the audience is taken on a thrilling journey because of the set of errors that pan out from their mistaken identities.
Many of the actors delivered monologues, typical of a Shakespearean play, boasting with energy and character. The blunt humour that is weaved into many of Shakespeare's works was evident and enjoyable to watch. The servants, Dromio of Syracuse and Dromio of Ephesus, played by students Lennie Naughton and Erin Finn respectively, were especially amusing. From their marching across the stage to their arbitrary outbursts, every word or expression they projected gave an added emphasis to their characters. Finn illustrated his frustration with Antipholus of Ephesus, played by John Scala, through a clever solo imitation with the marble statue silently replacing the character of Antipholus of Ephesus—a big laugh!
They stomped around on stage, in their modest period costumes, enunciating each word with powerful emotion. Sound effects such as the painful sound of a slap across the face had a dramatic impact, and brought the act to a higher level.
The stage was decorated with little globe-shaped bulbs that hung from the ceiling. The set was simple, with only two white marble vases with greenery, a male marble statue, a door, and a bench that was situated in the center of the stage. A simple set was all that was all that was necessary, however, to carry out this hilarious play.
Each and every actor filled and exaggerated their roles, molding the performance to be as entertaining as ever!