Not every show on the CW Network is as awful as one may imagine. You may ask yourself, why would anyone ever willingly watch a show that does air on that network, considering how terrible many people  consider the channel? It doesn't matter if you marathon every show that airs or if you wouldn't touch the channel with a ten foot pole, anyone who loves the superhero genre, smart-ass characters, and portrayals of strong women should spend a few episodes checking out the CW's rendition of Arrow.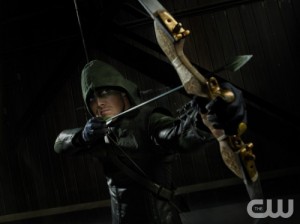 While Arrow does have the standard CW tactics of shirtless, attractive men running around, what makes this show enjoyable is how they embrace their canon of the original Green Arrow series, and attempt to bring in viewers who may not understand some of the references into the fold. Although they will have side characters that pop up and excite hard core DC fans, they manage to explain and elaborate on the characters well enough that even if one doesn't already know them (or if they didn't exist in the original canon), fans will love their performances anyway.
The original plot is fairly straight forward and reminiscent of many other tragic DC heroes . Oliver Queen (Stephen Amell) was shipwrecked and trapped on a hellish island for five years. There,  he  had to learn how to defend himself and discover what his recently killed  father was talking about when he mentioned that people in their city were working to take it down. After he arrives back to Starling City, he realizes how much the city is trapped by shifty white collar criminals. In an effort to protect his father's memory and fulfill his last wishes, Oliver dons the hood and picks up his bow in order to hunt down the wealthy individuals who are responsible for "failing the city." But, of course, our vigilante can't work alone.
He has his trusty sidekicks,  John Diggle (David Ramsey), who originally starts as Oliver's bodyguard, and Felicity Smoak (Emily Bett Rickards), who started as a guest actor working in the tech department of Oliver's company and has moved into the role of "main technological badass." He has his tragic girlfriend character, with whom he can never be with, Laurel Lance (Katie Cassidy); his mother, Moira Queen (Susanna Thompson) and sister, Thea Queen (Willa Holland), who can never know his other identity; and his best friend, Tommy Merlyn (Colin Donnell), who wonders what could have changed his best friend over the past five years. Fortunately for the viewers, we're able to see first hand what happened to Oliver over the past five years.  Since the beginning until at least season five, the show spends about half the episodes going back to Oliver's time on the island,  letting us see what exactly went down .
This show has many things going for it. There's its commitment to the original comic (which is probably because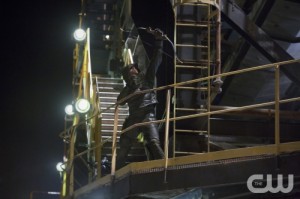 writers of the Green Arrow comic decided to work on this series), and nods to the original DC canon (with ties of other characters from the DC Universe making appearances throughout the show). But what is probably its strength is having embellished both original and canon characters  in a way that viewers can  not only care about them, but can see them being awesome in incredibly dangerous situations. 
Although John Diggle and Felicity Smoak, for example, are not original characters in the comic, their characters were so well written in the show that they were written into the comics. Instead of having a show filled with only white guys, they worked to fit in a black male and white female character who acknowledge how unfair certain things are. For example, while Oliver's alter ego from being the Arrow is working at his family's company, Queen Consolidated, Diggle becomes the stereotypical black driver, while Felicity, the secretary. (They make sure to let Oliver know how awful it is, as well.)
There are also portrayals of incredibly strong and intelligent characters, both male and female, taking down crime in both kick-ass and legal methods. Overall, these characters not only work well for Oliver Queen/Arrow to play off of, but they also exist on their own, and make you excited about their own backstories and how they can work in this universe. 
If nothing in this article gets through you, just know this: you can't judge a book by its cover. Just because Arrow is on the CW doesn't mean that it's a bad show. If anything, the network actually helps to make it better. Instead of going in with high expectations, if you go in with low ones, the show can easily blow you away. Either way, if you're a fan of superheroes, if you like strong characters, or (let's be honest) you just want to see an attractive man run around, shoot arrows, and look good doing so, then watch Arrow.