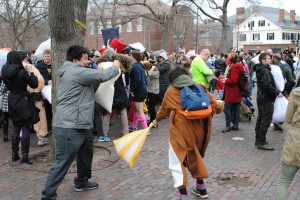 Today is unlike any other Saturday. Today, your inner child resurfaces, and you put on your best Power Rangers costume, grab your pillow, and prepare for a pillow fight like no other.
April 5 marked the eighth annual "International Pillow Fight Day," and hundreds of Bostonians flocked the Cambridge Common to celebrate. The event was free and open to all ages, and costumes were encouraged. Pillow fight enthusiasts from around the city brought their pillows and geared up for battle in what was undeniably unlike any pillow fight they ever had as children.
The pillow fight was organized by Banditos Mysteriosos, an organization that plans free events throughout Boston. According to the Banditos' website, they plan events with two questions in mind: Who are these people we pass in the street, and how can we use those big, public, open spaces? They strive to capitalize on "selective immaturity" while simultaneously taking advantage of Boston's ample public spaces. The Banditos, whose identities are unknown to the public, describe themselves as "the city's mysterious playmate."
Bostonians of all ages participated, including many BU students. Participants said that they enjoyed the event's setting and playful nature.
"I thought it was a really fun idea because I always loved pillow fighting when I was little," freshman Laura Feldman said. "And I loved that it was in the park, since the weather has been so nice lately."
For many, the setting brought about feelings of nostalgia. Hundreds of pillow fighters in Power Ranger and Spongebob Squarepants costumes reminded many of childhood and the fond memories of pillow fighting as children.
"I used to have pillow fights all the time with my brother," freshman Rachel Kermani said. "This was like déjà vu, but with hundreds of other people."
Many people brought cameras and there was ample coverage on social media. YouTube videos, Instagrams, Tweets and Facebook pictures were uploaded in droves, prompting envy from those who did not attend.
"I saw a lot of pictures on Facebook and it looked fun," sophomore Carley Mirvis said. "I wish I could have gone."
The Banditos strive to bring innocent fun to Boston, and they certainly accomplished this goal with this year's pillow fight. Their endeavors have gained an impressive following, and their future events are sure to have a similar turnout–because everyone enjoys good, clean fun, right?
For video coverage of International Pillow Fight Day 2014, check out this YouTube video. For more information on the Banditos Misteriosos, check out their website: www.misteriosos.org.