All photos by the author.
The crowd at Harvard Square this past Sunday was treated to a phenomenal trifecta: the giddiness of beautiful weather, the intoxicating scent of street food, and the genuine fun of the 31st annual Mayfair festival.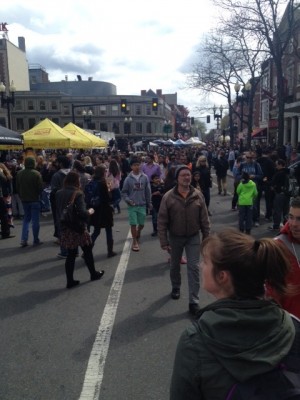 An all-day outdoor event featuring music, food, chalk art, and over 150 artisan booths, the annual festival is a great way for local businesses to gain exposure. One such vendor was Cila Brandao, whose uniquely distressed denim pieces sold well at a stand on JFK Street nestled amongst other merchants selling items like vintage clothing and tableware wind chimes. Brandao had previously only conducted business to friends and family through her Instagram account and Etsy store and found the Mayfair festival an excellent opportunity to interact with the public.
"It's a really great thing for me," Brandao said. "In this environment on a nice day with everyone excited to support small businesses I'm really growing my customer base, which is awesome!"
Exciting exhibits such as the Church Street Chalk On the Walk, a fundraiser for the Cambridge Rotary Club, which provides college scholarships and service projects throughout the year, complemented the vendors. Modeled after the Italian Street Painting Festival, Chalk On the Walk raises money by having squares of pavement sponsored by local businesses or wealthy individuals assigned to an artist, who then creates a chalk masterpiece.
Across from the colorful walkway, the Harvard Square main stage at the Super Crosswalk played host to local bands such as Cahill, who played with Jimmy Fallon at Fanueil Hall last year; The Box Tiger; and The Interrobang among other acts.
"I come to the fair every year; it's a good family event where we can all eat, listen to music, and spend time together outside," commented one anonymous audience member. "There's something here for all of us, which can usually be challenging to find".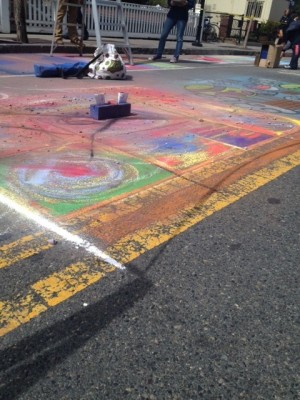 BU student Becca DeGregorio (CAS '17) said of the fair, "The festival was ideal. In fact, it was the exact type of thing I've been hoping to experience in college." She especially enjoyed the cultural aspect of the Mayfair festival, adding that this is the only place where she could watch a traditional Indian dance, purchase a Kenyan bracelet, and listen to a band play Beatles cover songs all while eating delicious Colombian arepas. "I can't imagine not going back next year!" DeGregorio exclaimed. "It was an afternoon well spent!"
This time of year, especially during finals season, it can be so easy to remain in Mugar or the GSU and forget that we are located in a lively and fascinating city full of super-cool events and opportunities. As the New York Times reported in a recent article, working in 90-minute intervals helps maximize productivity, so maybe during those in-between spaces we can try and take the time to do something fun. This week, try and leave campus for an hour or two. Check out a Parkour class, go to the Women in Comedy Festival, or late night star gazing! So study hard BU, ace those finals, do interesting stuff, and have a killer summer.