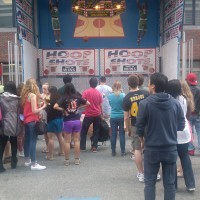 President Brown's 2nd Annual Cold Fashioned Ice Cream Social was a pleasant and fitting event to end the school year. Though there was only a limited amount of things to do and President Brown was not to be seen, there was nothing better than receiving free stuff and having nice weather (mid 60s that day). It was definitely worth a stop even if you only had a half hour.
Tents filled with funnel cakes, french fries, popcorn, and Italian ice, along with ice cream trucks, were sprawled out on Cummington Mall. The food was not only reminiscent of boardwalks and carnival nights, but also brought students one step closer to summer.
Serving the funnel cakes was none other than Dean Elmore, while John Battaglino, Assistant Dean and Director of the Student Activities Office, served from the ice cream truck. It wasn't a surprise with these two, when they are often seen socializing and getting to know their students. The waiting lines for the food (especially for the hot, sugary fried dough) looped around several times. However, talking and socializing with friends made the time go by fast.
Along with the carnival-themed food were staple carnival games like basketball hoops and baseball shots. The giant inflatable giraffe bouncy house was hard to miss. The street filled with students weaving up and down the street, appropriately accommodated with upbeat, live music that featured BU's band Palm Spring Life.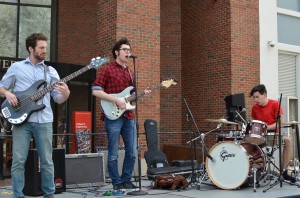 The event was packed with students from all class years. As one senior described, earlier that day, she had Senior Breakfast in the morning where she found out that Governor Deval Patrick was named commencement speaker. And to continue the good day, she went, for her first time, to the ice cream social. She was having a fun time and noted that she has never seen so many students come together for a campus-related, outdoors event (but maybe not as big as BU's Splash in the beginning of the year).
Not all students though were celebrating their last hurrah. Munizay Parash (CAS'16) said, "It is a great thing before studying for finals. It's also good to see a lot of people have a fun time."
When asked what exams she had, Munizay responded by saying orgo and genetics next week.
Her friend, Minou, joined in and said, "But we have already started studying for finals," in which they both laughed.  The ice cream social was a nice, relaxing break before the last hurdle – finals week.