Aidy Bryant and Nasim Pedrad are known for being anyone but themselves. The Saturday Night Live stars have appeared as singers, socialites, insecure teenagers, and literary titans all in a one-hour span. And while the duo is known less by name and more by impression, the women beneath the wigs are just as quick-witted and hilarious as their scripted identities.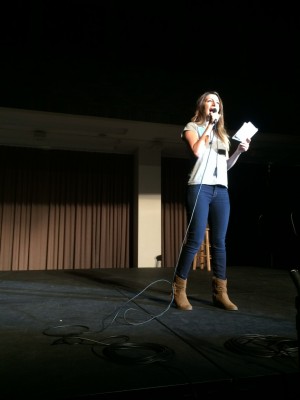 "Doing colleges is a great way to test new material and what better than to do it with someone you love who you've worked with for so long," Pedrad said in an interview with The Quad. "When our schedules allow, we just jump at the chance to have a fun night," Bryant agreed.
Considering the amount of stress and sleepless nights devoted to creating the weekly masterpiece that is SNL, it's understandable that the interim between seasons would mean time spent working on material with friends. Although they appeared together for the Week of Welcome event in Metcalf Hall on Friday night, Pedrad stressed that each woman had her own act "that is similar in that it is storytelling based."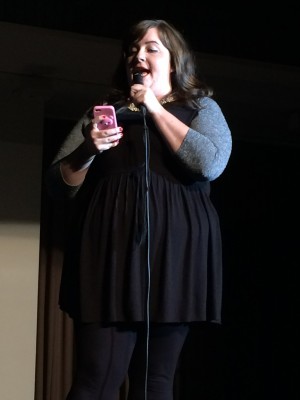 After an energetic opening act by BU's own Slow Children at Play, Pedrad's story began with a standup bit cracking jokes about the rampant "whiteness" of the crowd and a few BC zingers before leading into tales from her childhood as an Iranian-American growing up California. She shared star studded stories of her interactions with Ariana Huffington and Kim Kardashian and staged a cold reading of an unaired SNL sketch featuring several audience members.
Bryant then took the stage apologizing for her lack of a pizza costume and promising that, due to the heat from the  lights, the audience would surely "see a bitch sweat." Between reading chain mail texts from her niece promising promotions and ghost sightings, and flipping through pages of her childhood journal, Bryant proved that sometimes serious children are sources of the best comedy.
In a Q & A session immediately following the show, the comedians joked about their favorite SNL hosts, their weirdest fan moments, and their experiences as women in comedy. "I never thought to myself, 'uh, can't do it cause I'm a gal,'" Bryant said. "It was always more like, 'fuck yeah I'm a gal!'"
When asked what they were like in college, Pedrad answered, "Well, I was a theater major, so I had everything figured out." Bryant, on the other hand, "spent my first year just wasted, like a full idiot, and then after that I found that there was a community of amazing comedy in Chicago." Eventually enrolling in improv classes at theaters like iO Chicago and The Second City, Bryant "went from wild party baby to, like, studious comedy dork."
As for advice for current college students, Bryant stressed, "Lay off that sauce, baby," and the importance of figuring yourself out to "learn who you are and love it." Pedrad shared words of wisdom from her time on SNL, imploring the audience to "have fun, because everything else after is going to be boring," to which Bryant then amended her previous statement, saying, "Actually, you know what, go ahead and hit that sauce."
Check out more on campus events here and be sure to catch Aidy Bryant on Season 40 of Saturday Night Live. Also watch Nasim Pedrad on Mulaney, premiering on Fox October 5.