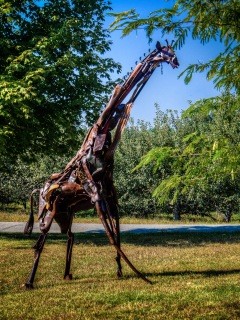 Now that BU's Weeks of Welcome are coming to a close, you may find yourself in the unfortunate position of having no idea where to find cool events going on in Boston (especially for the 20-and-under crowd). Luckily, ArtWeek Boston (going on until October 5) can provide you with a plethora of unique events that will get your creative juices flowing.
Is this sounding like just another arts festival? Think again! ArtWeek Boston's 130+ events span across the entire city of Boston and expand into the surrounding suburbs, standing apart from many other art fairs in the city because each one is directly connected to the community in which it is installed. Have a favorite spot in Boston? You can see it in a whole new light with an exhibit, discussion, or class taking place some time this week.
One of my favorite spots to walk through when I need a break from the city is the Back Bay Fens. If you haven't been, it's worth the short walk. Tucked away in the Fenway district, you wouldn't have much reason to pass through it on a normal day, but the Fens is a well-preserved park that is especially beautiful this time of year.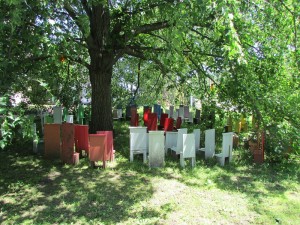 On a leisurely walk through the Fens this week in particular, you will find many seemingly random installations of artwork throughout the grounds. These are all part of the Energy Necklace Project's exhibit, CrossRoads which spotlights sculptures that deal with the intersection of society and the planet. Given the park's rich history of preservation–it used to be a marshland that was later filled to create more real estate and then restored to be an ecological haven in the city–this eco-centric exhibit is the perfect complement to a walk through the greens. On October 1, as part of ArtWeek Boston, the artists featured in the exhibit will be at the Fens to discuss their works and why CrossRoads is so important to them.
The Fens also has beautiful artwork and scenery of its own on a regular basis. From monuments to historic bells to a Victory Garden dating back to 1942, the gardens are a sight to see on any given day. Pair that with autumn foliage and limited-time-only, site-specific artwork and you get a blissful walk through one of Boston's most historic parks.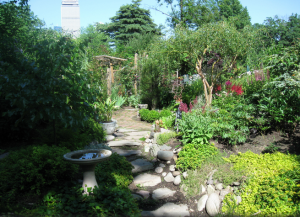 ArtWeek Boston has more than just exhibits, though. You can take hands-on classes, learn some local artists' creative processes and inspirations, or explore beyond the visual arts. ArtWeek celebrates all sorts of artistic endeavors like dance, music, architecture, and writing. With too many attention-worthy events to list, ArtWeek Boston definitely has something designed just for you. It's a perfect cure for mid-week boredom. So go out and explore the city while enjoying some of Boston's most creative talents.
For more information on ArtWeek Boston and a full list of events, click here.