By Morgan Lehofer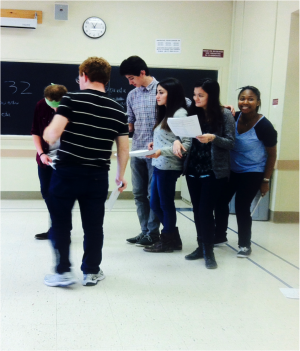 On Friday, Oct. 3, three teams of writers gathered together to create three separate works of theatre. Given nothing but a theme, a prop, a tech cue and a single line as guidelines, these brave playwrights donned their comfy sweats, saddled up the beanbag chairs and unsheathed their pens to set in motion the events of the next 24 hours.
COMBAT is an annual one-day theatre extravaganza. Writing teams have four guidelines and 12 hours to construct polished scripts. This year all performance groups were required to conform the theme of "Trick or Treat or Die", incorporate a bottle of vodka, use a pink lighting filter and include the line "Oh Captain my Captain." This year's show included performances by Liquid Fun, Wandering Minds, Stage Troupe and BU on Broadway.
Despite the inevitable mania of cramming months worth of work into 24 hours, COMBAT has a strong community-building power that most audience members don't see.
From the audience's perspective, COMBAT is no small feat, but not many people know much about the event. An inside look into the performers' experiences can help shed some light on this obscure event.
After receiving scripts and assigning roles, the actors move into a classroom to attack the task of performing the script. Over the course of the day, they meet with members of the tech crew who craft costumes and props for the performers in all three groups, and slowly the shows start to come together.
"Our show was staged in little bits, and then they were like 'Okay we're running it!'" said Zach Schiffman (COM '18), a first-time performer in On Broadway's COMBAT production. "I had no idea what the show looked like, and then it was right there in front of me."
What most audiences don't see is that COMBAT is more than just a performance. It's also a bonding experience for the groups involved, and it helps facilitate relationships among actors who may work together in the future.
"My favorite part about COMBAT was the positive energy," said Schiffman. "Everyone is ironically super energetic and so excited to be there and like laughing the whole time."
COMBAT clearly has its silly side, but the effect on those participating is more important than the actual performances.
Watching students form such a strong sense of community is refreshing. United by a common goal, COMBAT actors form friendships and walk away with something to show for it.