Co-written by Andrea Van Grinsven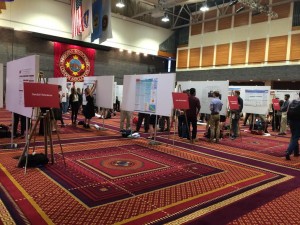 Last Friday, the GSU's Metcalf Ballroom hosted the 17th annual Undergraduate Research Opportunities Program's Symposium (UROP). Over 250 students showed up to present their summer research projects to attending undergrads, parents, and professors. And with some financial help from the Office of the Provost, as well as a few external sources, these students cranked out some impressive work.
Though many immediately think science when they hear about research opportunities, the UROP Symposium included not only medical and biological science projects, but humanities-based studies as well.
The Quad's own Cecilia Weddell (CAS '15) studied the motivation behind non-Mexican filmmakers producing films about the Mexican Revolution with a special focus on John Steinbeck's two films, Viva Zapata! and La Perla. With the help of faculty mentor Adela Pineda, who is currently on sabbatical working on a book on the same subject, Weddell examined Steinbeck's interest in the Mexican government from the start of the Cold War.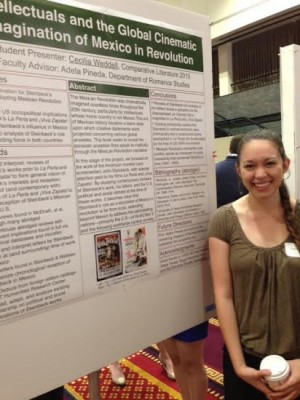 Another student, Kathryn Gramigna (SED '15) researched the development of critical consciousness in marginalized urban youth. By conducting interviews with students and faculty and taking field notes at six charter high schools across four cities in the Northeast, Gramigna and Jennifer Yung (SED '15), her research partner, found that students benefit from a college-readiness culture and social engagement classes where they are given the opportunity to discuss social issues.
"All professors are doing research all the time, so you can definitely find an opportunity," Gramigna said. Her close relationship with Professor Scott Seider landed her this gig.
Walking down the Social Sciences aisle of the symposium, one could see multiple projects focusing on mental health, a topic that seems to be picking up a lot of attention from psychologists, sociologists, and anthropologists in recent years. The Arts and Literature aisle contained lots of research on linguistics and our use of language around the world.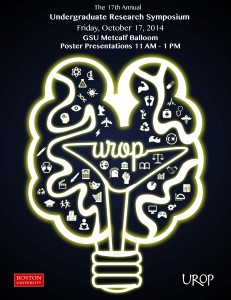 As one might expect, the symposium featured a majority of medical science, engineering, and computer science students. One student's project examined an antibody used for immunity in anemone, a relatively simple creature that uses antibodies in the same capacity as humans. She studied the behavior of the anemone's gene when put in human cells to find which parts of the gene would help to immunize the cell from different viruses. She said the research could potentially "help contribute to the making of new antibiotics" or even help target why coral is bleaching in its natural environment.
That wasn't the only project with some potential for practical use in the medical field. Nicole Woo (CAS '15) researched the relationship between foot arch height and step length at different paces. In her 56 trials, BU students matched their pace to a metronome as they walked across a gait carpet and digital pressure mat, which created a heat image as a digital footprint. Woo, who also participated in the trial, was interested in the topic because she has occasionally experienced foot pain due to her own flat arches. Since she found that arch height influenced step time, but not step length as hypothesized, her project created a direction for future research. "Although arch height was not related to step length, it may be useful to look at how foot arch height influences other walking parameters," her poster read.
In an interesting study of both physical and social sciene, Alanna Raskin (SAR '16), who would like to go into epidemiology after graduation, studied the correlation between women who invited their significant others to attend a fertility clinic with them and those who did not. She found that of the men who were asked, about 50% in turn wanted to come, while the other 50% did not. Raskin noticed that the men who agreed to go to the fertility clinics tended to be more educated than the men who declined.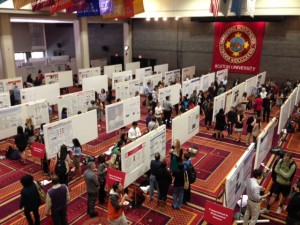 At the close of the student presentations, Director of UROP Dr. Paul Lipton said a few congratulatory words to the students and presented three awards based on the votes submitted by attendees of the symposium throughout the morning. Categorized by Humanities and Social Sciences, Biological and Medical Sciences, and Engineering and Computational Sciences, the projects that won centered around the use of service dogs for special needs persons, Multiple Sclerosis studies, and motion sensor cameras, respectively.
The takeaway from the symposium, and specifically the awards ceremony at the end, is this: BU students are crazy smart, driven, and overall impressive. They're doing amazing things everyday (even over the summer), and we don't always hear about it. And it's not just the kids inside EPIC– it's the humanities kids, too!
Interested in taking advantage of research funding opportunities and conducting your own studies to knock the socks off your peers? Visit UROP's website to learn how to get started!