Over eight feet of snow has fallen on Boston in the past two months. But in the future, snowfall could be just one of Boston's worries during a big storm.
This winter, clearing it from roads and sidewalks is a monumental task for the Boston Metropolitan region, and figuring out where to put the snow once it's clear is just as troublesome.
But as humans add carbon dioxide to the atmosphere and alter the earth's climate, the larger problem could be where the pavement meets the ocean and the river.
Powerful storms can cause flooding around Massachusetts Bay and the Charles River. And Brenda Ekwurzel, Lead Climate Scientist from the Union of Concerned Scientists said in an interview that the Northeastern U.S. is seeing more and more storms push water farther onto land. Constant flooding of vulnerable low-lying land has led to inundation of the areas. Slowly, water moves further and further inland.
"This is the slow creep of climate change and sea level rise," Ekwurzel said.
—
If Hurricane Sandy had hit 5 1/2 hours earlier, 5 feet of water would have flooded much of Chelsea, South Boston, Cambridge, Logan Airport and the Harbor Islands, according to a study by The Boston Harbor Association.
Total, the storm would have put 6.6 percent of Boston under water, according to the same study.
When it reached this city, the storm had the force of a hurricane— but it did not have the same power it had when it hit New York and New Jersey.
"[Hurricane Sandy] really changed the dynamics of how people would envision what could happen," said Vivien Li, the harbor association's president. "It was so dramatic in New York City, and so many companies were affected, particularly down in Wall Street, that it was very hard to ignore."
The storm prompted Li and the association to review what a higher tide would look like in Boston.
"Preparing for the Rising Tide," the association's 2013 study, showed what Boston might look like under varying increased sea levels. The report gained the attention of the city's Mayor Thomas Menino, who held a press conference with The Boston Harbor Association to release the findings.
A storm surge, which occurs when a storm pushes an excess of water onto land, is the most likely short-term cause of flooding. In New York, Hurricane Sandy's storm surge was up to 8 feet high.
The threat of sea level rise is also very real. By 2100, tides will have risen 1 to 4 feet, according to the 2014 U.S. National Climate Assessment.
Many climate scientists say that the Northeastern coast of the U.S. is especially susceptible to flooding.
Boston, a historic city with architecture not designed to withstand or cope with a higher sea level, faces new challenges and difficulties as the tides rises.
—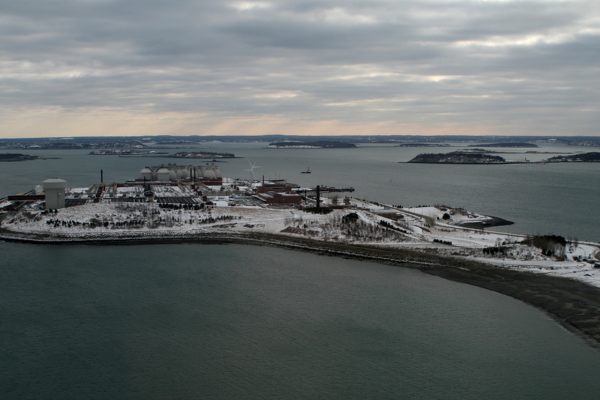 The Deer Island Sewage Treatment Plant sits in the middle of Boston Harbor almost two feet above sea level. Protective sea walls line the island, keeping seawater out of the plant to keep it functioning.
In 1989, the Massachusetts Water Resources Authority started preparing for a rising sea level, including raising the plant's foundation 1.5 meters. As a result, Deer Island and the organization's water reservoir are relatively safe from flooding, said Ria Convery, the authority's special assistant to the executive director.
But its wastewater facilities are not as protected, so the authority is working to secure those too. It is moving generators and other electrical machines "up off the floor" in case of a flood, Convery said in an interview.
The water resources authority is not the only association to build for a higher tide. Partners Healthcare, Massachusetts' largest employer, recently built a new rehabilitation center in the Charlestown Navy Yard.
Spaulding Rehabilitation Center was completed April 2013 and included measures to mitigate adapt to rising tides.
According to the center's website, the building's mechanical equipment is located on the roof, a common method to prevent electrical services from getting flooded and shutting down. It also has a raised foundation, and walls that serve as barriers to incoming floods.
Patient rooms include operable windows that open with a key—an unusual feature that allows air to circulate without a ventilation machine in case flooding takes out the building's power.
Partners Healthcare spent $225 million to build the flood-resistant rehabilitation center. For smaller businesses, overhauls to buildings' foundations, or the construction of sea walls, could be too costly, or impossible for some of the city's older architecture.
A 2014 U.S. climate assessment report found that the cost of preparation will be high, and limited funding is a barrier to adapting to sea-level rise.
But there are ways around that, said Dennis Carlberg, co-chair of the Urban Land Institute's Sustainability Council, whose mission is to help create sustainable and efficient ways to use land.
"It's really critical we work together to solve the problem," Carlberg continued, "Flooding isn't going to stop on the border between Boston and Cambridge."
The land institute itself collaborated with other organizations in 2014 to publish "The Urban Implications of Living with Water."
The 52-page report explored what the implications of a higher tide might mean for four locations in the greater Boston area. It included creative ideas like "embracing daily flooding" in Back Bay and letting the area flood into a neighborhood full of canals, not streets.
This year, Boston Living with Water presents an international competition that partners six institutions, including the City of Boston and The Boston Harbor Association, to seek out possible adaption measures for the city.
Participants must create plans to address how a 5-foot increase in sea level, plus occasional 5-foot storm surges, would affect any of three sites in Boston.
The sites were chosen for their diversity—from a historic building to a residential neighborhood to a roadway, entries are required to tackle a range of issues specific to each site.
The best proposal will receive a $20,000 prize. Submissions for the first phase of the competition were accepted until January 2015.
Hopefully, Li said, the competition will create designs that the city will be able to use.
—
Extreme precipitation events, like Boston's 2015 winter storms, are some of the most immediate effects of climate change, said Brenda Ekwurzel, Lead Climate Scientist from the Union of Concerned Scientists in an interview.
"It's not that winter goes away, or anything like that, it's that, in fact, our precipitation events become more intense," Ekwurzel said.
A warmer atmosphere can hold more water, which lets storms carry more precipitation. So when it rains or snows during a storm, it dumps more than it would normally.
Mayor Thomas Menino recognized the need for greater climate awareness in 2007 and issued an executive order to create a citywide climate action plan that is updated every three years.
The draft of the 2014 plan includes a number of methods the city plans to use to mitigate and adapt to a higher water level.
Strategies to plant trees that could absorb floodwater and the review of coastal development zoning are some of the techniques Boston will institute.
Governmental leadership in the city has been key in bringing awareness to the approaching danger of living with water.
Mayor Martin Walsh visited New York in October and made a statement on the two-year anniversary of Hurricane Sandy, announcing Boston would face the effects of climate change head-on through a series of cooperative measures.
Hurricane Sandy was an extremely rare event— with a 1 percent chance that a similar storm would hit Boston at high tide, said Paul Kirshen, a research professor of Environmental Engineering at Tufts University and University of New Hampshire.
Sea level rise continues to be a long-term threat, but Kirshen believes the city will be prepared to face it.
"We have effective leadership at the state and local levels, and we have pretty effective non-governmental organizations," Kirshen said. "I'm hopeful."