The suspension of MBTA services due to record-breaking snowfall last month left Boston University students and employees without a means of transportation and with fewer shifts.
Anna Kemper (COM '17) is a sales associate at the outerwear store Ibex on Newbury Street. She is required to go to work, regardless if the MBTA is suspended or not. Although universities close their campuses, stores like Ibex sometimes remain open in the blizzard conditions because they cannot afford to lose business. But Kemper ended up bearing the burden.
"I have had to take an Uber to work many times, and the cab costs about the same as two hours work when the snow conditions are bad. If I have a four hour shift, half of the money I make during the shift is lost to Uber," she said.
Grace Condon (COM '18), an employee of BU Telefund, said the storms put the productivity of her office at a standstill. The weather delayed the delivery of essential equipment, such as phones, new desks, and computers to the call center. So the Telefund, which funds things like student groups and academic research, has hardly raised any donations in the past two months.
"When I finally came into work after the closings, our managers had to find something for us to do, because we didn't have the equipment yet," said Condon. "We just paired up and practiced making phone calls."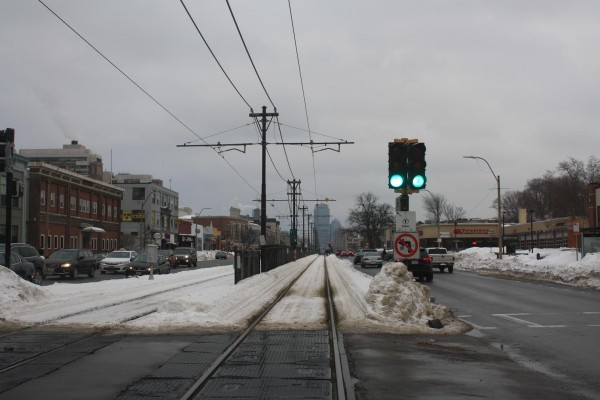 BU is not alone in feeling the financial blow of historic snowfall. Economists at HIS Global Insight, an economics firm based in Lexington, estimated that Massachusetts lost over $1 billion over the past four weeks due to a decline in business, lost taxes, and the expense of clearing the snow.
On one occasion, Massachusetts Governor Charlie Baker instituted travel bans and urged non-essential employees to work from home or take the day off. In between storms, the MBTA subway map looked more like this and the blue, green and orange subway lines operated on limited service until the 20th of Feb. The 57 bus route—that many BU students depend on to travel from Allston to campus—didn't resume a normal schedule until the 23rd, after many inconsistencies in its service.
For some students, the snow has eroded their time getting professional work experience.
Joshua Green (COM '15), an intern at the advertising agency The Fantastical, has had limited time at his internship this semester, and as a part-time student and soon to be graduate, he relies on his position at The Fantastical to gain work experience.
"I have only [gone to] my internship about three times this semester because of the combination of snow days and public transit closures," said Green. "It's coming to the point where I don't even know if it's worth having an internship anymore."
Not all employed students were inconvenienced by the incessant snowfall. Students who work for essential services, such as the dining service, were asked to take extra shifts on snow days. Brenda Chavez (CAS '17), a Warren dining hall employee and on-campus resident, has never had a shift cancelled due to weather.
"Managers depend on students who live on campus to help out because people who live in Allston, Roxbury, Dorchester and Watertown have no way to get to BU when the MBTA is closed," said Chavez. "Other days when it snowed at closing time, the managers booked a hotel for those employees so they wouldn't have to travel and could be on time for the morning shift."
To stay updated on the MBTA service limits or closings, visit the MBTA winter website, which is updated daily.