By Maritt Nowak
You may have seen "Pitch Perfect," but what's the real story on collegiate a cappella?
We have a lot of outstanding a cappella groups performing at BU, and three of them were represented as hosts and competitors in the International Championship of Collegiate A Cappella Northeastern quarterfinals this year. You may remember the ICCA from the movie "Pitch Perfect," wherein Elizabeth Banks and John Michael Higgins portray eccentric judges who eat, sleep and breathe a cappella.
In fact, the ICCA, is "just as big of a deal as it is in 'Pitch Perfect,'" said In Achord's Dominique Bray. Her group competed last year, and received third place in what nearly every group agreed was considered to be the toughest ICCA Northeastern quarterfinal to date. This year, In Achord hosted one of the regional quarterfinals, but Bray said they're looking forward to potentially competing again next year.
BU's Dear Abbeys did compete this year, and member Alex Miller, who sings in the group, explained all the extra work that went into preparing for the Abbeys' first ICCA appearance in ten years.
"First we have to select which songs showcase us the best, then work on the arrangements for those songs. Then, after the new year we started learning choreography," he said.
The group even spent a week in Long Island for a "retreat-style workshop to be as tight as we could be." At the ICCA, groups are not just judged on vocal skills, but arrangement complexity and overall performance.
Though only the top two groups move on to the semifinals and the Abbeys didn't quite make the cut, Senior Johnny Corson said it was "exciting to test the waters and see where we stand," since none of this year's Abbeys had competed at the ICCA level before.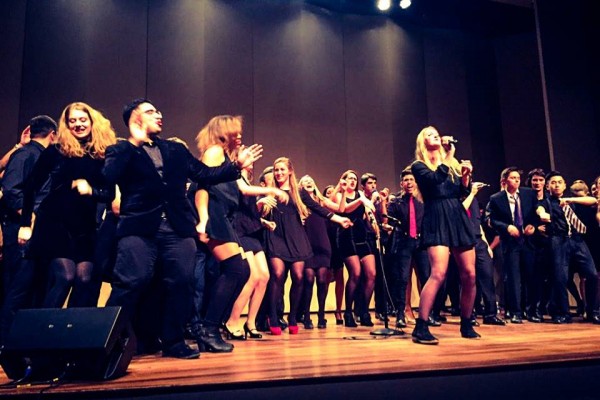 BU A Cappella is no stranger to performing with groups from other universities. The Abbeys hosted Berklee's CharlieChords and The Dartmouth Aires for a show earlier this semester, and In Achord is preparing for the annual Beanpot of A Cappella on March 21. "The a cappella community is very tight-knit – it's a fantastic feeling to know that so many people are interested in a cappella," said Bray of In Accord.
Members of the Dear Abbeys said it's good to share the experience. "We're doing this thing that we love, we have this passion for this art form that's unique," Corson said.
"You can bond over that and build relationships," added Miller, who has made friends with other college students in New York from his experience touring with the Abbeys.
Though the BU groups didn't snag a place in the semifinals this year, Bostones member Jeffrey Herrera received a special honor for Outstanding Vocal Percussion.
"I've been in the group since 1st semester of freshmen year, and I started beatboxing second semester," he said. "It was definitely a challenge, but I watched a lot of youtube videos, got advice from in-the-group beatboxers, and just practiced all the time. My friends always joke that I'm always perc-ing" (that's aca-speak for man-made percussion), "but it's really cool to just be able make drum sounds with your mouth!"
If you want to see the music happen for yourself, The Dear Abbeys' Spring show is on April 25, #InAChordiallyYours featuring In Achord and the all-female group Chordially Yours on April 10 and In Achord's Spring show featuring a hilarious theme and the group's entire repertoire is on the 26. The Bostones' next show will be on April 18. If you're looking for more information about these events and all things BU A Cappella, you can visit the "BU A Cappella" Facebook page or the pages of the individual groups.