Ethel Weiss is no stranger to interviews. In fact, it seems she's a little tired of them.
"[Journalists] interview me practically every five minutes," she huffs.
It's for good reason. Weiss might not be making national headlines, but in the city of Brookline, she's a bona fide legend.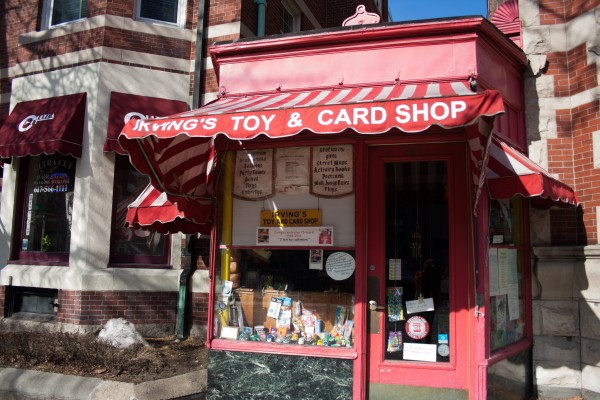 Weiss opened Irving's Toy and Card Shop in Brookline with her first husband, Irving Kravetz, in 1939 after he lost his job in the wholesale meat business. He died in 1960. Another husband came and went. But 76 years later, Irving's is the same, red and white stripe-awned, "little store in-between the alley" on Harvard Street. Seventy-six years later, at 100-years-old, Weiss remains the matriarch of Irving's.
"Well, what else am I going to do?" Weiss said. "This is more fun than not doing anything."
Weiss finds it too hard on her legs to stand at the checkout counter for the two hours a day Irving's is open. Instead she sits and uses a makeshift cardboard box register. Her daughters help with the bookkeeping. Still, she takes great pride in her strong-as-ever shopkeeping skills.
"I love the way the store looks right now," she says, smiling. "I worked on it for a couple of weeks. When stuff comes in, I can't wait to put it out. When I put it out, it sells right away. It's displayed properly."
The store doesn't seem like it has changed much since '39. A shelf of candy greets you as you enter. There are two chest fridges with soda. Cereal box plastic toys, board games, and school supplies fill the rest of the little store.
That's not all that makes the store unique. A sign on the front door declares, "my customers are the nicest people on earth." On the window, a handwritten birthday note describes how grateful Weiss is to have had "the most rewarding, lovely, happy" 100th birthday celebration.
Weiss doesn't take her status as "Brookline's Guardian Angel" lightly. One can visit Irving's for more than a 10-cent sugar fix or wind-up amusement. Weiss sells posters that lay out the wisdom she's collected over her 100 years, Ten Commandments-style. Go to Irving's and you'll find advice on "How to Be Old and Still Be Happy" and "Thoughts for a Happier Life." She'll even autograph them for you.
"I make them follow my rules, kids and adults," said Weiss.
Weiss still recognizes the kids who visit later as adults, although she admits she's starting to forget.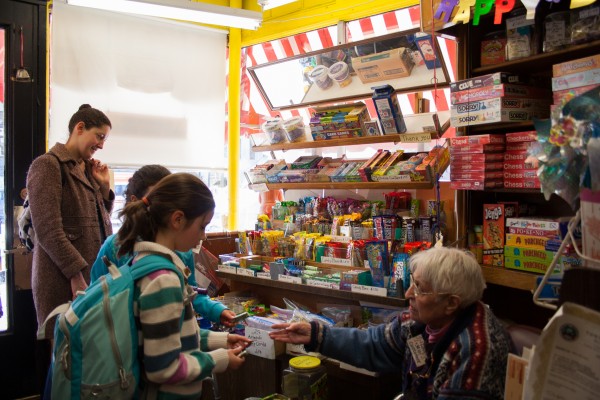 "If I don't remember them, they're insulted," said Weiss, who wears a pin on her cardigan everyday that says, "I love my customers."
Her biggest customers since the store first opened have been the kids from the Edward Devotion School next door, which Weiss' two daughters attended. Every day after school, Irving's is the first stop on their list.
"They get part of their education here," said Weiss. "They have to figure out how much they're spending."
Sure enough, at 2:35 sharp, a swarm of school kids race into Irving's and begin swapping spare change for Tootsie Pops and Fun Dip.
"What can I get for 75 cents?" asks an elementary school boy.
"You have to look at the signs," says Weiss.
After some indecision, he buys three packs of Mike and Ikes and leaves.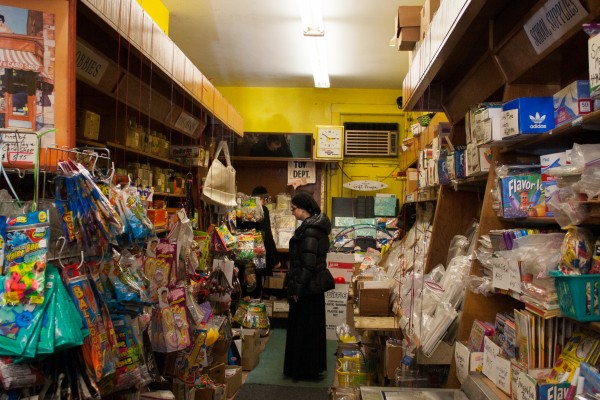 After the stream of kids has died down, David Stem and his wife enter the store. They are dressed conservatively and he wears a yarmulke. They spend a while looking at the merchandise, showing things to each other and smiling. I approach them to ask if they come here often, but he apologizes and says they're just visiting from New York.
But as they're about to leave, Stem approaches Weiss and I and explains why he visited Irving's.
"These kinds of [mom and pop shops] are disappearing off the face of the planet," Stem said. "So every time I see one, I have to come in. I came here two years ago, and I was telling my wife that I had to come back."
He and his wife leave the store. Weiss looks at me with the biggest smile she's had all day.
"I have the most wonderful customers," she says.