At the beginning of the school year, the BU Rocket Propulsion Group faced a challenge more daunting to them than sending a rocket to space: funding. Never the kind of people to do something halfway, they launched an aggressive marketing campaign and gained the serious media recognition they needed to gain sufficient funding and legitimacy.
From that coverage, and sponsorships by companies such as GE Aviation and SpaceX, BURPG gained the attention they needed to far surpass their $10,000 Kickstarter campaign. By the end, they'd raised $17,176.
The group is an undergraduate research initiative that allows students to gain experience with rocketry at a professional level that is funded mostly by sponsorships and fundraising. Boston University also gives them money, but only about as much as a corporate sponsor. It's the only undergraduate rocket team in the country to design and build a reusable, hybrid rocket that can carry a payload with it to space.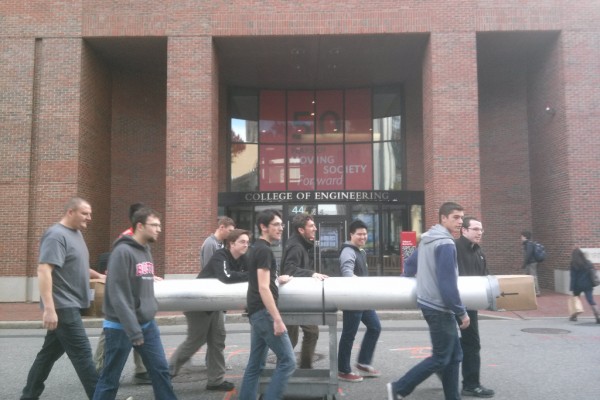 "It was basically a bunch of engineers trying to be communication majors for awhile," BURPG member Jeremy Pedro (ENG '17) said in an interview, regarding their efforts to get recognized by the media. They reached out to so many media outlets that a few of them asked the group to stop contacting them. But that didn't last long.
On Dec. 30, one of the final days of their kickstarter campaign, they'd raised $9,000 dollars from 133 backers, which was short of their goal. Later that same day, the online technology magazine Gizmag published an article about them, linking to their kickstarter. The next day, they had 197 backers and had raised an additional $2,700.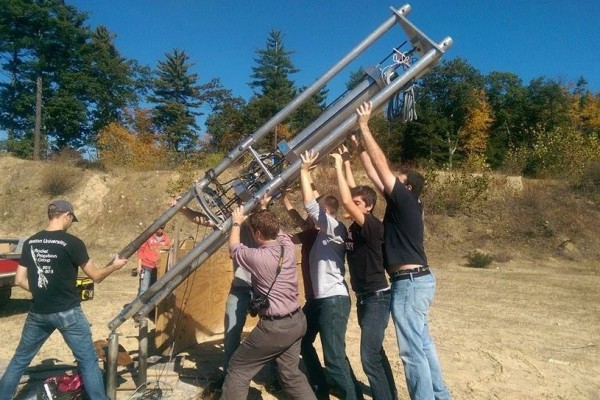 That achievement put them on the front page of the Kickstarter website, and their media recognition took off. With further persistence, they made the front page of the Boston Globe, which raised them another $5,000 in a matter of a few days.
Before long, the media couldn't get enough of them, and they even had to reject some requests for coverage.
"Now that we've reached our financial goals we are redirecting our focuses back to the project itself, rather than reaching out to media sources," said Pedro.
Gaining government approval is their last logistical hurdle on their road to space. They started filling out the preliminary paperwork only days after their Kickstarter ended on Jan. 8. They're using a test rocket named ASTRo, a scaled down version of Starscraper, to prove to the Federal Aviation Administration that the rocket's trajectory will be as planned, and not pose a threat to public safety.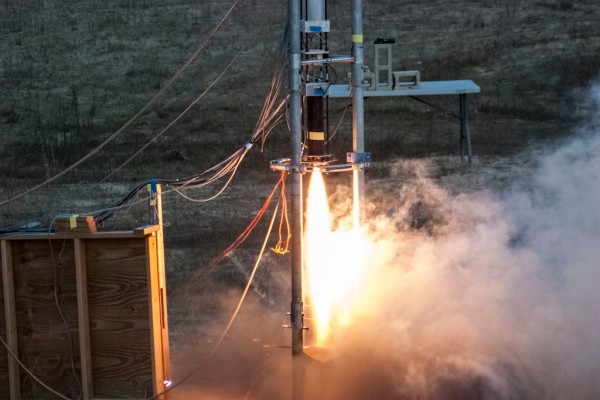 Since the record snowfall in Boston the past few months delayed shipments of critical materials and parts, they are feeling a time crunch to get the rocket done by their July launch date.
Aside from getting approved by the government, BURPG is now putting in all the time they can to prepare their rocket. With all the coverage comes the pressure from their supporters, as well as their sponsors, to uphold their reputation as the first amateur collegiate rocket group to send a hybrid rocket past our atmosphere.
Pedro mentions that he will probably find himself waking up in the basement of the Photonics building in the lab many times as the semester wears on, but that's fine by him, because he has the launch in Nevada this July to look forward to.