Boston University is increasingly making strides in attaining both achievability and affordability for its low-income students, resulting in a highly diverse student body.
Pell Grant recipients, or low-income students that come from a family income of less than $30,000, make up 15 percent of the student population at BU, according to data from College Scorecard. Among the selective Boston metro colleges, Massachusetts Institute of Technology has the highest socioeconomic diversity (18 percent) while Harvard University has the lowest (10 percent). The number of Pell grantees is an important measure of the access a school provides to low-income students.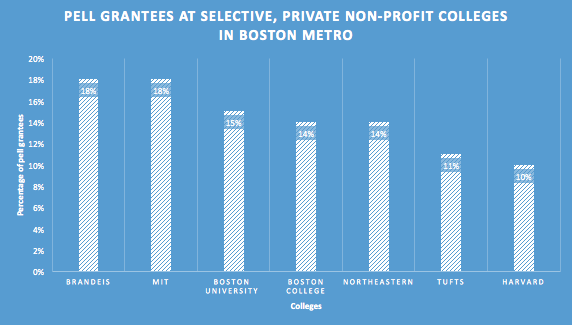 In his State of the Union address, President Obama said he wanted to make higher education more affordable at a time when a college degree is more important than ever. He had pushed for more transparency in education information, resulting in College Scorecard, an interactive tool that helps students find a school fit for their educational, career, and financial needs.
While there is more awareness on the topic of increasing access to higher education, colleges have to find a way to bridge the gap between high school and college for low-income students.
"The challenge is that many of these youth are very intelligent but may not possess the math, reading, and writing skills needed to demonstrate this intelligence," says Scott Solberg, Dean of Research at BU's School of Education. He says it is critical that universities invest not only in federal funding but also in programs that ensure every middle and high school student receive enrichment activities that can complement and build their academic competencies.
This past Monday, BU announced its new partnership with College Advising Corps, which provides advisors, a number of whom are BU alumni, in public high schools to help students with the college process.
Along with this partnership, BU is also backing several outreach programs to provide the necessary support for this transition. There are students from the leadership program Posse Foundation, which recruits high school students from all across the nation and provides full scholarships to attend university and the college preparatory program Upward Bound in Boston. BU also awards Community Service Scholarships, financial aid packages with no loan component that are awarded to Boston Public High School graduates accepted to BU. In the summer, those students are exposed to the rigor of college on the BU campus.
Diversity not only enriches the dialogues on campus but also provides the long-term rewards of understanding and becoming more empathetic toward one another. "We create a learning community that is able to become aware of and develop strategies for addressing the many inequalities and injustices that exist not only in the United States but throughout the world," says Solberg.
When low-income students are given a chance to attend college, they prove to be high-achieving students.
"The success of accepted Pell Grant recipients is one thing for representation but also academic success," says Colin Riley, Director of Media Relations at BU. The average graduation gap between Pell grantee and non-Pell grantee is only one percent, according to recent data from The Education Trust.
While the tuition is high, looking beyond the numbers reveals promising insight. The latest data reveals that BU's loan default rate is two percent. The national average in 2011 was 13.7 percent. The salary 10 years post-graduation is $60,600.
"[BU alumni] are managing the amount they borrow and meeting financial obligations," says Riley. "The BU student is a very attractive person."
The cost of attending is a huge factor for low-income students, but the return of investment and the supportive network are also important values that attract these students to attend this university.
Photo by Cam McDaniel