Standing apart from the uniform-looking brownstones on Bay State Road, the red brick Harriet E. Richards (HER) House has opened its ornate iron gate to Boston University women dependent on financial aid for over 85 years.
Founded in 1928 by former School of Education Dean Lucy Franklin, the HER House primarily served self-supporting women whose ability to afford housing was essential to remaining in school. Franklin had traveled to France and seen houses where college women lived cooperatively to better afford schooling. She brought the idea to her friend Harriet E. Richards, who financed the project to allow women to live together and to afford their education.
"And that's still a purpose of the house, to enable low-income women to come to this university and receive their undergraduate education," says Emily Smith, who is a first-semester senior studying Early Childhood Education and the current vice president of the house. The house is also recognized as one of the first cooperative dormitories in the nation.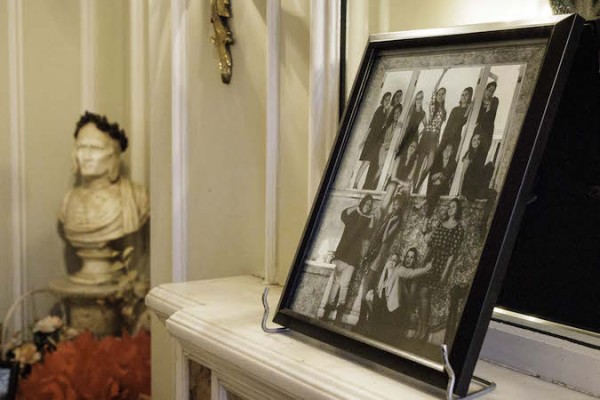 While the mission of the HER House has stayed the same, the house itself has undergone changes influenced by historical and social movements. Gone is the house mother, whose job was to take care of the girls, as well as the rule that men could only go in as far as the front door, says Smith. However, the settings and rules of the house "evolved as the rest of the society evolved," says Smith. Her current bedroom, which used to be a "gentleman's lounge," still has antelope antlers above the fireplace, which is lined with lion-head fixtures.
The remaining threads of history are evident throughout the house. It was built in 1897 by architects Little & Brown and belonged to a wealthy merchant. The entrance of the house leads to a spacious foyer surrounded by green, marbled columns and frescoed walls. The French Room is adorned with blush curtains, dainty tables and pale blue chairs; the Elizabethan dining room is finished with rich, dark wood panels accented with 14k gold. The stairs lead to a hallway decorated with Greek-like sculptures and paintings of landscapes. While the architecture may not have a consistent theme, the characteristics of the house somehow mesh in a way that create a unique and grand look.
The HER House may be unlike other dormitories on campus, but its purpose has made BU feel like a home for the women who live there. At a university with over 16,000 students, finding a sense of community can be difficult. The HER House connects 24 women with different interests studying various fields but who are all coming from difficult financial circumstances.
Grace Wingler, a junior majoring in Music and double minoring in Music Performance and Arts Leadership, did not expect to defer her first semester of college, but in her senior year of high school, her parents filed for divorce.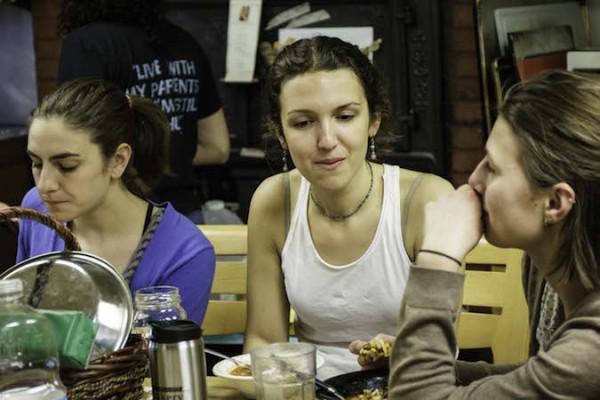 "There was a lot going on in my life at that time, and I was like whatever, it's March of my senior year…I'm going to live my life and it's all going to be okay," says Wingler. Her father, who holds a stable career, began to fade out of her life financially. But Wingler was college-bound and thought that by having a summer job everything would be OK. Near the end of the summer, she asked her father about her college tuition. However, his answer to his daughter was that he had no money; he could only present her college funds that they had saved up all these years – a total of around $4,000.
Wingler was determined. Instead of starting the fall of her freshman year, she worked up to 80 hours a week waitressing in Arizona so she could afford the following semester. Even with the financial aid she was awarded, housing and food was still more than $10,000.
After joining the HER House her sophomore year, Wingler did not have to work as much while taking classes, and she discovered that there were others in similar situations.
"I would say that this is something that binds us together in a way because we all understand what it means to have to live on a budget, and why we have to do things in a certain way," says Wingler. "At a school like BU sometimes it could be really difficult to find people like that…it can actually feel really lonely to have financial hardship."
The HER House helps alleviate economic burdens for college women while also creating a strong support system for them. During her first two years here, Smith was unsure about staying at BU.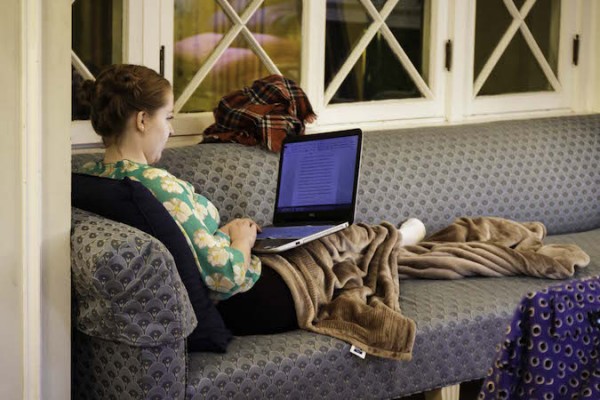 "I felt very upset to be part of this university, where you feel you don't matter because you are one of 16,000," Smith says, who joined after her sophomore year. "Being in such a close-knit and vibrant community like the HER House really makes it clear that yes, you do matter, and that your presence in this university does matter."
Placing 24 women under one roof can also have its downsides. When conflicts arise, the students must be able to resolve them on their own. While a Resident Assistant currently lives in the HER House, this has not always been the case in past years. Everyone is expected to take part in cleaning and cooking; each member must cook for the whole household three times a semester. "You have to figure out how to make best of the situation and how to navigate it…and keep doing what's best for the house as a whole," says Smith.
The cooperative housing experience also influences HER women's lives beyond college. During her senior year at BU in 2006, the year when Hurricane Katrina hit New Orleans, HER alumna Emily Torgrimson and her friends hosted a community feast where they cooked jambalaya to help raise relief funds. What started as hosting community dinners with her friends at the HER House would eventually turn into the non-profit organization Eat for Equity, which has branches in Seattle and Minneapolis and has expanded with a catering service.
Torgrimson, who graduated with a degree in journalism, found that hosting these dinners was a great tool for bringing people together for social change.
"Cooperative housing," Torgrimson says, "is built on this idea that if everybody gives a little bit we all create something that is more than the sum of its parts and make the work easier for all of us."