Last week, Taylor Swift's new album 1989 sold 1.2 million copies. This immediately made it the best selling album released in 2014 (the indefatigable Frozen soundtrack, which came out at the tail end of last year, sold around 3 million this year). It was the best first week for an album since The Eminem Show released in 2002. Most notably, with about a month and a half left in the year, it's the only 2014 album to go platinum.
The fact that there's only one platinum album this year isn't particularly surprising. Beyond Swift, there haven't been a ton of heavyweight pop releases this year, and traditional album sales are still being affected by iTunes and Spotify, et al. But doing that in a week? Having the best week for an album since 2002 in the worst year for music sales that I can recall? That's incredibly impressive, and I think it speaks to Taylor Swift's accessibility more than anything else.
It makes sense, then, that she's called 1989 her first pop album. She isn't kidding. Though 2012's Red sorta kept the whole country pop thing, 1989 drops any and all pretenses. This is a pure pop album, one that gets downright experimental at times (for Taylor Swift, granted). In true Taylor Swift fashion, every damn song on this record is a potential hit single, even the ones I don't like.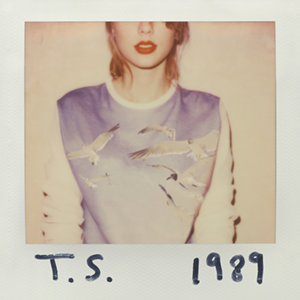 And there are a few of those. Lead single "Shake it Off" overstays its welcome almost immediately, and its "haters gonna hate" chorus doesn't help much. "Welcome to New York" is helped by Swift's infectious earnestness, but the song itself is shallow and boring, perhaps the most standard song on an otherwise fairly adventurous record.
But beyond that, goddamn are there a lot of good  songs on this thing. Second single "Blank Space" combines a vaguely dubby beat with bright keys, bringing it all together with a typically giant Taylor Swift chorus. "I Wish You Would" is probably the best U2 song of the last decade. "Style" sees Swift getting more lyrically intimate than something like "Love Story" would have ever suggested. And then there's "Out of the Woods." A stunning combination of synths and Swift's world conquering voice, it might be the best song she has ever released.
It's also the moment where, thematically, the album goes from good to bad. Ostensibly a concept album about her relationship with One Direction's Harry Styles, 1989 traces something of a relationship arc throughout its 13 tracks. She starts with wide-eyed optimism on "Welcome to New York," hits utopia on "Out of the Woods," gets angry on "Bad Blood" and, by closing track "Clean," is ready to start something new.
If that all seems like an incredibly simple, even rote, concept for an album, that's because it is. But that's why this album, and really Taylor Swift's entire career, works so well. She makes all of the moves that you'd expect an artist releasing a Big Pop Album to do, but she does everything with such craft, with such an incredible ability to sing a hook or write a catchy lyric, that you can't help but be amazed by what she's doing. "Out of the Woods" does nothing particularly novel; it does everything that your typical Top 40 pop song does. But it does these things so damn well, and so much better than just about anybody out there, short of Beyonce, that you can't help but be staggered by its impact. Taylor Swift will probably never release a truly experimental album. Judging by 1989, that's totally OK.