Melisha Budhathoki (CAS '18), a student from Nepal and the first in her family to attend college in the United States, plans on overloading a semester to avoid summer classes and high tuition costs.
"I don't know if BU necessarily 'helps' students graduate, but it definitely forces students to make good use of their time at BU and graduate on time, or maybe even graduate early if possible," she says.
Graduation rates at BU have remained at around 93 percent from 2012 to 2014.
In Massachusetts, the country's learning mecca, college graduation rates soar while state funding stays low, newly analyzed federal data shows.
Sufficient state funding keeps universities affordable, leading to greater accessibility to higher education and better graduation rates. At a time when funding for public higher education is still way below pre-recession levels across the nation, the trend shows that both increased tuition and state support drive graduation rate – not state spending itself.
"At the top schools, with very high tuition and high spending, there is very generous need-based aid, and low-income students may not pay anything," Sandy Baum, an education expert and professor at the Graduate School of Education and Higher Development at George Washington University says. "They have very high graduation rates. It is reasonable to think that if there is no tuition at all, students will have no incentive to graduate on time."
"That said, suppose an institution has lots of students who need lots of remedial work," Baum says. "It will cost them more to see those students through to graduation."
More state spending per student accounts not only for the wealthy, highly educated students, but also for minority students from low-income backgrounds.
After adjusting for inflation, the average price of tuition and fee at public universities is 40 percent higher in 2015-16 than it was in 2005-06, according to a recent report by The College Board.
"High prices force out all but the wealthier, better academically prepared students," Matt Chingos co-author of "Crossing the Finish Line: Completing College at America's Public Universities" says. "There is good research that reducing the price that low-income students pay leads to higher graduation rates for the low-income student."
It is not just about what you spend, but how you spend it, and it differs from state to state. Local and federal funds help bring in more resources besides state funding and high tuition. 
"If you think about this from the university perspective, the money they receive from tuition and the money they receive from the state all goes into a big pile and is used to pay salaries and other expenses," Sophia Laderman, a data analyst at the State Higher Education Executive Officers Association says. "The more money they have, the more they can do with that money."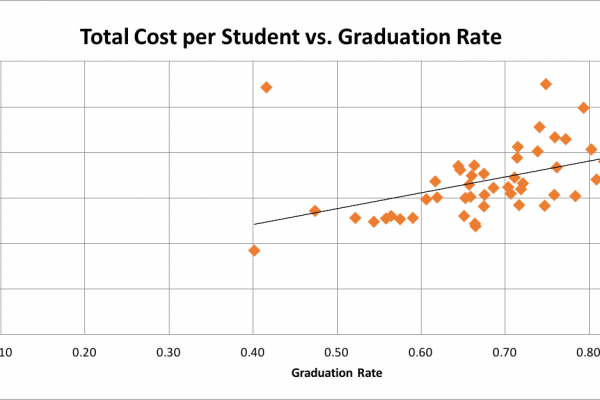 Deep cuts in state funding of public universities
During the wake of the economic recession in 2008, people were making less money, and as a result, incomes and property tax revenues fell. States' obligations to rising health costs and pensions took a hit on education spending.
"[States] often turn to the area where they don't have to spend money on where they could increase tuition, which was college," Matt Chingos says. "They can't do that with health insurance because there's no point of having health insurance for poor people if they can't pay for it."
Deep cuts in state funding forced schools to make up the difference with higher tuition.
State funding toward higher education began to increase again in 2014, but tuition still accounted for nearly half of funding for public higher education, according to the latest report from the State Higher Education Executive Officers Association.
While the increases in tuition have been moderate, parents and students have been bearing more of the burden recently, The Washington Post reported.
Aside from financing public higher education, states play a leadership role for public institutions.
"States have a unique perspective because they in a way could speak for the student that institutions can't," says Katie Zaback, Director of Research at Complete College America, a national nonprofit organization that focuses on education attainment. "The state can be a helpful body to see that institutions are doing things that lead to success."
States with the highest graduation rates
States, particularly in the Northeast region, have some of the highest graduation rates. They have prestigious institutions with high tuition, leading to more resources and more highly educated students in general.
"It seems to be the money is going into good use because we are all getting a quality education, good professors, good facilities, buildings and good housing," Patrick Kobel (CAS '17) says. "The faculty are all very qualified to teach their subjects and a lot of them have interests in seeing their students do well."
However, the very schools that offer the most are not always the most accessible.
"These schools that can offer more financial aid and more opportunities are also the most exclusive," Michelle Santiago (COM '18) says. "It's no secret that the application process for these prestigious schools marginalize the very people that could benefit most from their financial aid packages."
In Massachusetts, the graduation rate is 76 percent; the state spends $32,746 on support per student and tuition costs $40,684 per student from four-year public institutions, according to federal data.
The surge in out-of-state students and international students in Massachusetts has contributed to increased tuition. At BU, the number of undergraduate student rose 15 percent, from 2,236 to 3,031, since 2012.  Full-time undergraduate tuition rose from $42,400 in 2012 to $47,422 in 2015. While graduation rates are high in Massachusetts, appropriations per student have gone down, leading to an increase in tuition, according to the State Higher Education Executive Officers Association.
High graduation rates in Massachusetts account for the well-educated, diverse student population.
However, a high percentage of funding from state does not always lead to high graduation rates, according to the data.
| State | Graduation Rate | Tuition per Student | Total Expenses | Percentage of State Support |
| --- | --- | --- | --- | --- |
| Maryland | 81% | $36,535 | $90,346 | 35% |
| Virginia | 80% | $48,609 | $87,839 | 37% |
| Connecticut | 79% | $37,824 | $124,805 | 49% |
| Massachusetts | 76% | $40,684 | $78,059 | 42% |
| New Hampshire | 75% | $46,100 | $64,282 | 16% |
| Vermont | 74% | $75,857 | $128,662 | 12% |
| Rhode Island | 72% | $44,456 | $67,740 | 33% |
The New England states have high tuition costs and high graduation rates in general. Vermont and New Hampshire have the lowest amount of state funding in New England, 22 percent and 16 percent, respectively. Both states have a high percentage of non-minority students and are filled with many out-of-state students.
Students from out-of-state could possibly be more committed to their education and be willing to pay more. While there is no hard evidence on this, "students with more resources are more likely to graduate anyway," Zaback says.
States with low tuition costs have strong public higher education systems. North Carolina has the highest percentage of state funding in the nation at 63 percent while California's state funding is at 35 percent.
There are obvious exceptions to any patterns. The demographics of students, such as Hispanics in California and Texas, and the cost of living are also important factors to consider when looking at states with low graduation rates.
"We've done a very good job in this country to access higher education, but we have not done a very good job in this country in closing gaps and achievement in higher education," Zaback says.
State officials and higher education leaders have to look at who is being served in the system in addition to what the system is doing. While the costs of higher education is a huge factor, more state funding is not the end-all-be-all solution to addressing the gap in college completion.
About the Data
The information presented here relies on accurate state reporting, and is only as good as what the states provide. The purpose of the data is to analyze the trends between state funding and tuition versus graduation rates in 2014 and how state support of higher education varies from state to state. This data does not include federal financial aid, as this data is included in tuition revenue.
The data was pulled from the National Center of Education Statistics/IPEDS. Pennsylvania, Delaware, Nevada were excluded from the data due to concerns about data validity (either very low graduation rates or extreme cost per student). State size does not affect cost per student, but funding is unadjusted for regional cost of living. To account for the differences in sector enrollment in each state, we focused on degree-seeking students at public, four-year institutions and excluded funding for research and medical expenses.