Gloria Steinem's visit to Northeastern University was the Super Bowl of feminism: purple foam fingers, homemade signs and a roaring crowd filled the Blackman Auditorium to hear their favorite women's rights hero talk about her personal experiences, sexism and everything in between. 
"I'm glad to have lived long enough to return to college campuses and be told I'm a badass," Steinem said, as she professed her "addiction" to campuses and their way of cultivating engaging and serendipitous conversations. 
Most of Steinem's talk focused on intersectionality–the correlation of experiences amongst minority groups, resulting in shared discrimination.
"You can't be feminist without being anti-racist," Steinem said. She urged women to form diverse groups when discussing social issues in order to represent everyone affected by discrimination as well as everyone's individual experiences. "Don't do anything you can go snowblind from," Steinem said, referencing the way some women's movements fail to represent women of color. 
Visibility was another motif in Steinem's talk, stressing the importance of minority groups naming themselves rather than being named. Feminism is far more visible today than it was when Steinem began her involvement in the Women's Rights Movement. Steinem and her followers weren't taken seriously, receiving pushback from politicians, fellow citizens and even other women.
"We were like 12 crazy people," Steinem said, laughing. As this movement gained momentum, it gained a name and more visibility. Issues of social justice are playing more prominent roles in national debates. "That's huge," Steinem said, beaming.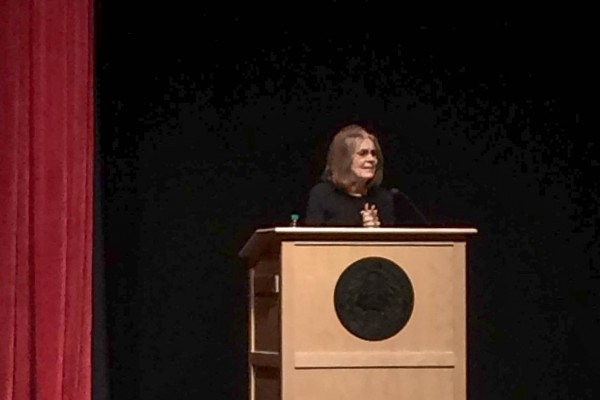 Despite immense gains in social justice movements, Boston University students still feel this lack of visibility. Gabrielle Guttormsen (CAS '19) notes a distinct lack of female professors in STEM fields, specifically in her physics classes.
"I just wish there were more [female professors]," Guttormsen says. According to BU faculty directories, just over 20 percent of STEM professors in the College of Arts & Sciences are female.
In the classroom, however, Guttormsen feels quite visible as a student.
"The ratio of girls to boys is pretty equal…girls have a presence in STEM." Even though there is a lack of female professors in Guttormsen's field of study, she still feels heard and visible in her classes. With a 3:2 girl-boy ratio within the undergraduate population at BU, according to The Princeton Review, Guttormsen's sense of a strong female presence in her classes is likely echoed by other students on campus.
Steinem addressed a pre-colonial America, an America with little to no sexism, as she describes it.
"Cherokee languages didn't have gender pronouns," Steinem said. "There was not a hierarchy but a circle…what a concept!" She spoke of colonists who saw this culture as uncivilized and noted the irony that lies in the fact that we are striving for the very culture that was abolished. "Everything we want once was here…if we're blind to this, we think this is unachievable."
As her talk concluded, Steinem took questions from the audience. When asked about transgender women in the Feminist movement, Steinem replied, "I think anything that blows up the gender binary is a good thing!" Steinem's response to women in college who feel they don't need feminism? "It takes longer for us to pay off our college debt than the man sitting next to you. Doesn't that piss you off?"
There was a buzz in the audience as the talk concluded, everyone feeling recharged and inspired to make change.
"Gloria's an icon!" Kat Kolin (CAS '19) said. "She's the kind of person that the two-thirds of our population of BU as women can look up to and say 'I want to be like Gloria.'"
Although Steinem said that there is immense progress still to be made, she left the room of budding social activists with an important piece of advice: "Don't do what you think you should do, do what you can."
Feature Photo by Warren K. Leffler [Public domain], via Wikimedia Commons