Mondays are usually unfortunate nights for concerts, and the Boston stop on the Perez Hilton Presents Tour 2009 was no exception. The show it self was enjoyable, and the performers did a great job, but the House of Blues wasn't even half full, and the audience was made up of mostly passive spectators. I was secretly hoping that Perez Hilton would make a surprise appearance and get the audience hyped up, but he was off doing his thing somewhere else.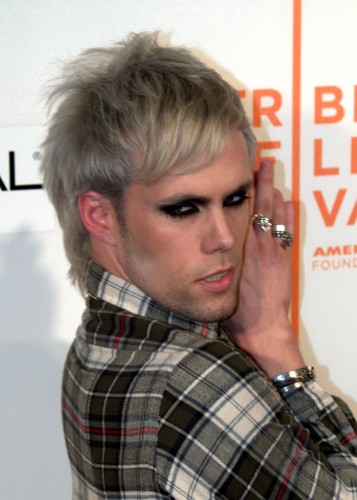 The first act, Frankmusik, was a British electropop outfit. His tunes were very danceable, and my friends who studied abroad in London last year tell me that his music is played in all the clubs over there. His set was short but filled with plenty of energy.
Next were Semi Precious Weapons, a glam-rock band whose music was completely lost in their stage antics. Lead singer Justin Tranter's flamboyant dance moves and crass banter had the teenage girls at the front of the crowd swooning and shrieking with delight. He was clearly aiming to being as provocative as possible, from humping his mic stand to making a remark about a woman on the balcony pleasuring herself. In short, he was the musical equivalent of Perez Hilton. At one point Tranter and the guitarist climbed a bar off the edge of the stage, and the guitarist strummed a few cords while hanging on with one hand. The songs themselves followed the basic pattern of edgy lyric, another edgy lyric, repeat ad naseum. My personal favorite line was "I can't pay my rent but I'm f-ing gorgeous," which really captured the spirit of the band.
After Semi Precious Weapons was Norwegian rocker Ida Maria. She came onstage wearing a nun's habit headpiece, which was a random accessory that in my opinion boded well for the rest of their set. Unfortunately I was wrong, and two songs in she had a conference with the guitarist and then left the stage. Everyone was confused, including the band, who cleared off as well, and the sound engineer who brought up the preshow music. Five minutes later the band came back on stage, and Ida Maria apologized and said she didn't want to leave without playing some songs for us. She wasn't even able to do that, and after crying through one more song she exited for good. The audience broke out in to supportive applause in an attempt to make her feel better. Ida Maria later announced that she had to leave the tour because she was thoroughly exhausted. I don't know all the details, but I'm willing to give her the benefit of the doubt and trust that she had a good reason for making that decision, and I wish her the best of luck.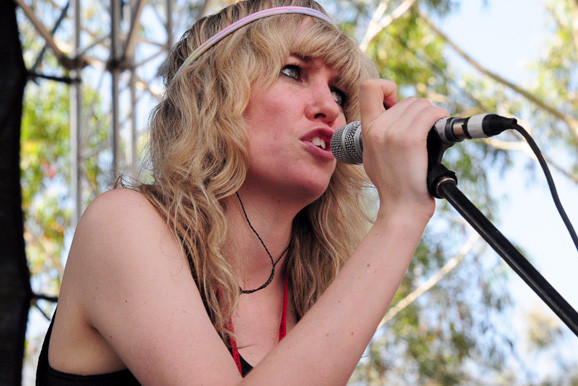 The headlining act was Ladyhawke, hailing from New Zealand, who played synth-infused dance rock. The tunes were catchy, the band was tight, and they played a solid set that blew the other acts out of the water. The lead singer, Pip Brown, looked like she was channeling my hometown of Seattle with her Nirvana t-shirt and plaid. Her soothing voice contrasted nicely with the electric guitar and dance beats. I particularly like the song "My Delirium," and the catchy melody has been stuck in my head ever since.
I may have been one of the few people who danced nonstop through the show, but I definitely got my money's worth. Some people need to lighten up and just have some fun. With music this catchy, it's criminal to stand still. I am slightly jealous of the upcoming cities on the tour because they get to see Natalie Portman's Shaved Head instead of Ida Maria. Aside from being from Seattle and having an awesome name, NPSH play lighthearted teenage electropop with songs about growing facial hair and spying on the girl/boy next door. They may not be the most talented musicians, but they know how to have a good time, and that is something I value with live music. This attitude will help them fit in quite nicely with the rest of the Perez Hilton tour.