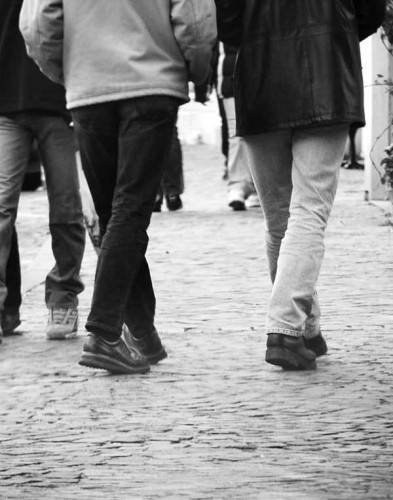 As college students it is a fact that most, if not all of us have been walking upright, on our own two feet, for roughly two decades. It is something that comes naturally to us and is a significant part of our evolution from ape to man. WHY then, do we insist on walking with the manners of a Cro-Magnon? For some unknown, unjustified reason we insist on walking in packs, taking up as much territory as possible, and slowing our pace apparently to conserve energy for the rest of our migration.
This problem is most evident to me in the way people walk down BU's Commonwealth Avenue Campus like they have peed on every tree to mark their territory. While you are gliding through campus without a care in the world, try to keep in mind that other people may need to GET SOMEWHERE. It is unnecessary to slow your pace while talking to someone when walking…actually you can still talk and walk quickly as long as you and your partner are moving at the same pace, shocking I know. Just try to keep up. I mean, really, is what you are talking about SO important that you can only concentrate on that rather than on walking? Most of you are just talking about how drunk you have been and how you think you may have contracted something from someone, so please speed up. What happened on Gossip Girl does not require that much physical concentration. Also when you see a friend passing by, moving in the other direction, just smile and wave; stopping dead in your tracks to squeal at each other causes a domino effect of college students, some of which stink of beer and Doritos. This is not pleasant for those of us who are not alcoholics and don't forget our deodorant in the morning.
The next piece of advice goes out to all the lovely couples out there. I will preface this by saying that I am part of a couple- so you can't dismiss this as the bitter rant of a single woman. If there is a street filled with hundreds of college students packed in like cattle, holding hands becomes less affectionate and more ridiculous and irritating. If I can't get to my class on time because you are holding hands, I am wishing a slow and painful end to your relationship. Save the PDA for your own homes or your drunken nights making out and touching each other inappropriately on the T after a very romantic date at pizzeria Uno.
Really all that I have done here, aside from expressing my frustration, is give you three easy ways to improve your effect on society during your four short years on a campus. One, walk quickly, your friends can walk quickly too. Two, don't stop to say hello, smile and wave are just as friendly and won't make anyone late for anything. And finally, three save the love for the bedroom – a PDA on a busy street is just obnoxious. You aren't Brad and Angelina; no one wants to see how in love you are.