For better or for worse, college campuses are to some extent defined by their architecture.  A school's most distinctive buildings will show up in promotional material and on web sites, and, more importantly, they're what students have to look at every day on their way to and from class.  So how does the BU campus measure up?  Let's start with the bad news:
BU's 5 Ugliest Buildings
(Note: This ranking is based only on the buildings' exteriors, not their interiors.  You're safe for now, CFA.)
5.  Sargent College of Health and Rehabilitation Sciences
635 Commonwealth Avenue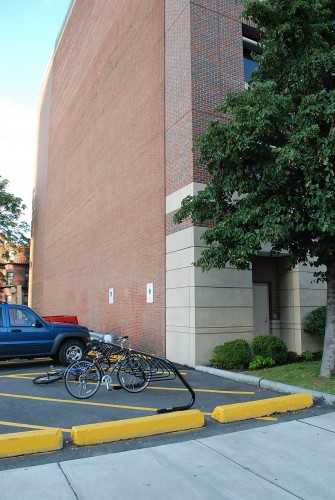 It's up here mainly because of the building's nihilistic west wall, a huge brick monolith that towers ominously over the parking lot next door.  Seriously, nobody wanted to put any windows on that side?  The place almost seems to be begging for the attention of an ambitious graffiti artist.
4.  College of Communication (COM)
640 Commonwealth Avenue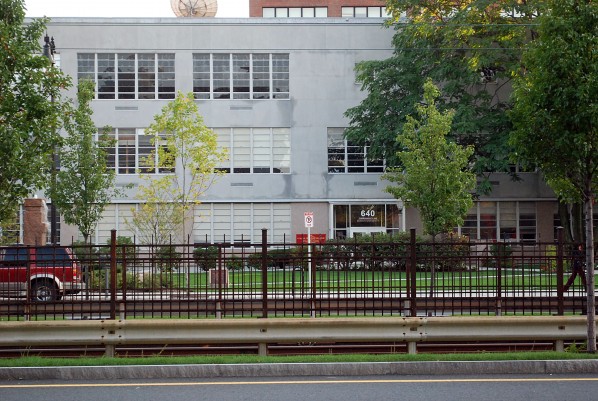 For those too young to remember, the COM building (which was originally built in 1912 as a garage and auto sales room) used to be topped by a large radio tower that sat atop the front stairwell.  The tower went unused for several years after WTBU switched to web-casting, and last year it was taken down.  That was a bad idea.  Yes, the tower was useless, and yes, it did represent "old media," but at least it was distinctive and eye-catching.  Without it, COM is just a gray, water-stained block that lies mercifully hidden behind trees and frisbee-throwers.
3.  The HoJo
575 Commonwealth Avenue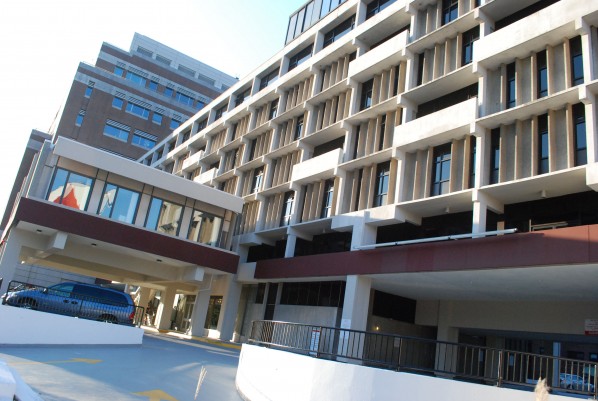 Need we say more?  This was originally a regular Howard Johnson hotel which was bought by the university to be used as housing.  The front of the building resembles a concrete bees' nest, or maybe a giant, gray kind of corrugated cardboard.
2.  The George Sherman Union/Mugar Memorial Library
775 Commonwealth Avenue/771 Commonwealth Avenue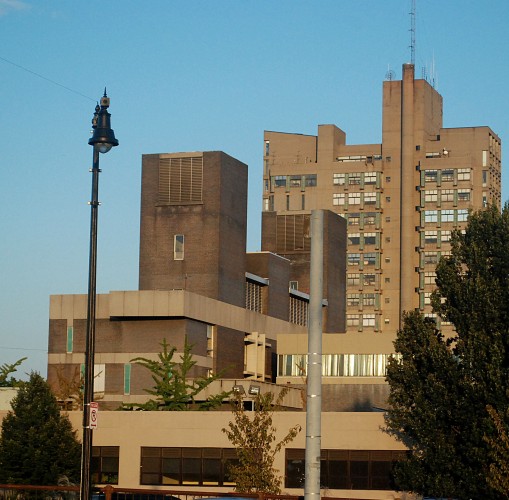 Think about it—have you ever actually seen the outside of the GSU or Mugar?  You've seen their front entrances, sure, but can you really visualize them as complete buildings?  They aren't that tall, so most of their exteriors are hidden behind foliage or neighboring buildings, perhaps for good reason.  When you can actually get a full look at them, they seem to be made out of gray, irregularly-sized Legos that have been randomly grafted together in no particular order.  Like Boston's City Hall, they are prime examples of the architectural trend often referred to (usually by its critics) as Brutalism.
1.  The Law Tower
765 Commonwealth Avenue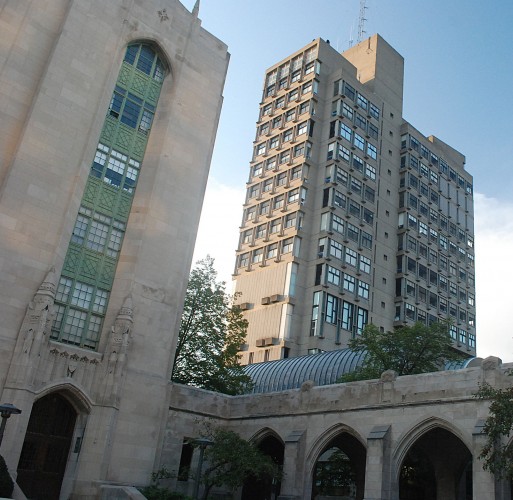 The Law Tower is stylistically similar to the GSU and Mugar, but distinguishes itself from its next-door neighbors by being one of the university's most prominently visible buildings.  It's impossible to visit BU without at least catching a glimpse of this jaggedly blocky structure, which rises up out of the center of the campus like a middle finger aimed at the face of God.
But before we get too far beyond the boundaries of good taste (if the middle-finger analogy hasn't already taken us there), it should be noted that the Law Tower, the GSU and Mugar are actually very well-liked among many in the architectural community.  They were constructed in the 1960s by Spanish architect José Luis Sert, who at the time was Dean of the Harvard Graduate School of Design.  According to BU Architecture Professor Keith N. Morgan, Sert's buildings, "especially the Law School Tower, helped to further reinforce the visibility of BU along the river landscape, making it a little more competitive with Harvard and MIT."  Paolo Scrivano, also an Architecture Professor at BU, agrees, saying that the buildings "describe very well a moment in time…  Every time I have a friend from the architectural field visiting me, they always want to see these buildings."  So while many of us may not like Sert's work, it may at least be able to teach us something.
But enough negativity.  Let's move on to our other list:
BU's 5 Sexiest Buildings
(Again, this is based entirely on external appearances.  Sorry, SMG.)
5.  Myles Standish Hall
610 Beacon Street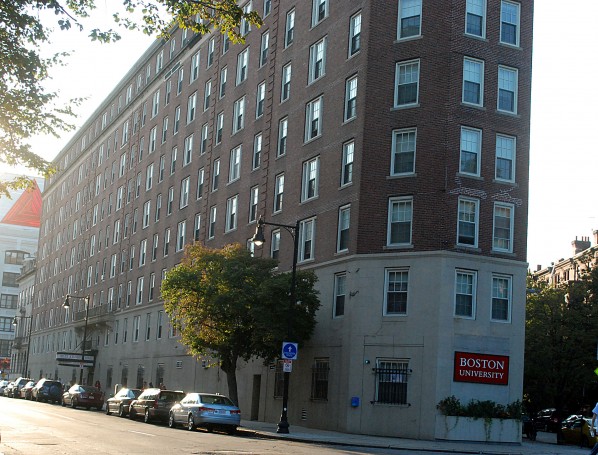 Myles is just a classy place.  It was built in 1925 and, before being purchased by BU, it served as a hotel catering to high society.  Its wedge shape gives it just enough character without making it bizarre or ridiculous, and on a campus where many of the "older" buildings date from the '60s, it's nice to have some representation for old-timey Boston.
4.  The Bay State Brownstones
Bay State Road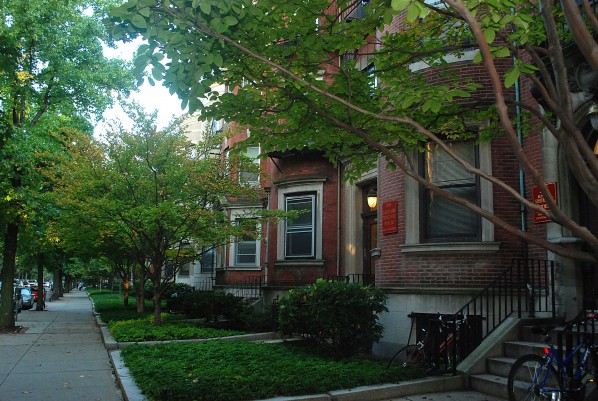 Speaking of old-timey Boston, the Bay State Brownstones exemplify a well-loved architectural type common throughout the city: Redbrick, bowfront rowhouses, each with its own distinct personality.  Mostly built around the dawning of the 20th century, the brownstones provide welcoming facades for offices or student housing, and generally make Bay State Road one of BU's pleasantest places.
3.  The Castle
225 Bay State Road
The Castle is relatively small and easy to overlook, but it's still one of BU's  most awesome landmarks.  A Tudor Revival-style mansion, it was completed in 1914 for use by a rich Boston businessman who dabbled in poetry and playwriting and apparently had a thing for the Middle Ages.  It is somewhat marred by the fact that it's attached to the abandoned, decrepit former Hillel House, but that's a small price to pay for a campus facility that looks like something out of an Edgar Allan Poe story.
2.  StuVi2
33 Harry Agganis Way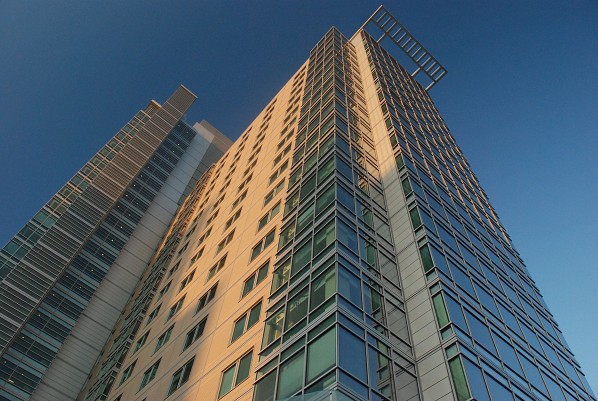 Probably the best-looking of BU's newest facilities.  Places like the Photonics Center or the FitRec are nice, but they're often saddled with unnecessary layers of brick; Professor Scrivano feels that they "try to adapt to the local flavor with something which is kind of fake."  StuVi2, on the other hand, pretty much looks like what it is: A new, modern dormitory.  Also, what can we say—we like shiny things.
1.  Marsh Chapel
735 Commonwealth Avenue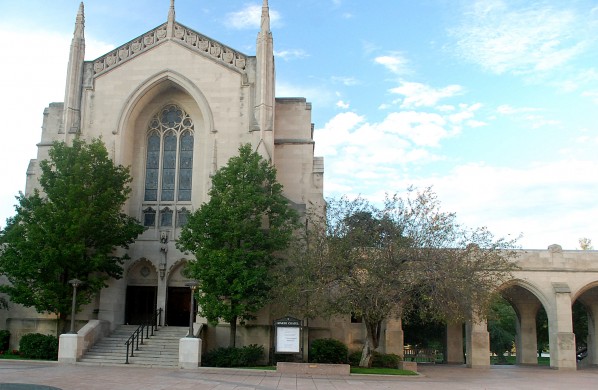 Less ornate than the Castle but still maintaining that Gothic style, the Chapel (which was constructed in the 1940s) is the anchor of the BU campus, and deserves to be.  It provides a good centerpiece to Marsh Plaza, and, in a way, it represents the other buildings around it: it combines the stripped-down minimalism of CAS or Warren Towers with the more intricate trappings of the Castle or the brownstones.  It may not be the biggest or the most eye-catching building at the University, but it is, we believe, the best.
Of course, a school's campus is more than just the sum of its parts.  Sometimes what's important is the juxtaposition of the individual structures against each other, the way international-style highrises can coexist with glass-fronted classrooms and old-fashioned New England rowhouses.  In that sense, the campus as a whole has its own personality and character derived from each and every one of its component buildings.
Even the Law Tower, we guess.
Thanks to Professors Keith N. Morgan and Paolo Scrivano for sharing their views and insights.  We hope they weren't too offended.