By Chuck Giroux and Gabe Stein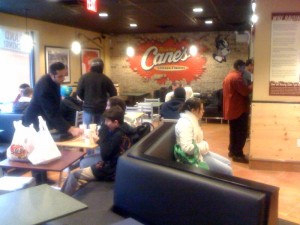 Built in just a few months, the space at 949 Commonwealth Avenue, rumored to be everything from another Rhett's to a Wendy's, turned out to be the site of the first Raising Cane's franchise in Massachusetts, and the first on a college campus. Although the name sounds a little odd, or maybe just foreign to New England ears, for fast food, the restaurant is decent, and definitely a step above similar offerings in the GSU.
Originally from Louisiana and mostly located in the south and midwest, the so-called "chicken finger" restaurant serves a sparse menu of just a few southern favorites, and joins Subway and Starbucks as BU's franchised retail eateries. The restaurant accepts Convenience Points only, but this also means you can pay by credit card. Like other BU-run offerings, Cane's features the usual set of biodegradable boxes, plastic-ware, and even straws. Be careful if you're interested in studying there, however. Unlike the Warren Towers Starbucks, the seating is functional instead of cozy, the music loud top 40 hits instead of quiet jazz, and there is no wi-fi.
For a fast food restaurant, however, the food was surprisingly good. The chicken, only served in "finger" form (either alone or on a bun), was far from the bagged and frozen variety. The meat was tender, moist, and clearly battered by hand that day. The fries were the standard reconstituted crinkle-cut, but still good, especially drenched in ketchup. Each order came with "Cane's Sauce," which is a trade secret recipe that tastes like a mix of ketchup, mustard, mayonnaise, and cayenne pepper. The restaurant ran smoothly on its first day, with the time from order to delivery generally less than five minutes.
You can order the fingers individually, but the restaurant is geared to sell combo boxes. $8 gets you "The Box," which comes with a drink, 4 chicken fingers, a slice of thick Texas toast and fairly average pre-prepared coleslaw of the creamy variety. For two dollars more you can upgrade to "The Caniac," with extra fries and chicken fingers. For those looking to spend a little less, $6.50 buys a sandwich combo (no Texas toast or coleslaw) or the "3 Finger" combo, which is The Box minus one chicken finger and coleslaw. For Sunday tailgates or parties, you can also buy chicken fingers in bulk quantities starting at 25.
Overall, the place isn't anything spectacular, and may not even be better than Popeye's, but for a chicken joint the food is solid and the offerings simple. It's not the healthiest place, but it is tasty, and will be a good addition to West Camps for those with Convenience Points to spend and a fast food craving to sate who may not want to walk all the way to the other end of campus for good chicken.