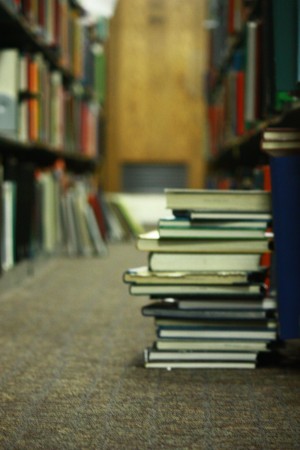 Nowadays it's hard to tell if Mugar Library is in fact a library or a computer lab. I'm one of, I'm sure, many people who were bummed, if not infuriated, when we heard BU closed down the RESNET computer labs in the dorms. Then they quietly dropped the bomb that they were closing 111 Cummington.  And then they had the nerve to squish a bunch of computers into Mugar, pat us on the heads and tell us all not to worry, things would work out in the end.
I sit in a cubicle on the second floor as I type this, surrounded by stacks of books which they don't have space for in the shelves, and wonder: is this nightmare ever going to end? Not only is it freezing in here because of having to cool the computers, but it's also nosier and much more crowded. The lack of seating is surprising (I can't wait to see what it's going to be like during finals) and the amount of books lying on the floor doesn't exactly come off as quaint.
Now I know Mugar is the most ancient thing in the world when it comes to books, but I preferred when it was at least just books. Furthermore, 111 Cummington was a lifesaver, because it was open 24 hours, and yes, I need to print lab reports at 4 am. But honestly BU, if you're going to do something like update Mugar, do it all. Instead, we are left in this awkward limbo, between grandma's attic filled with an extensive history of Massachusetts, and an actually modern university library. The computer center is nice, the dry erase boards are awesome, I'm just arguing the library is not the place to put these things. The least you could do is split it in half rather than trying to weave them together.
Now I'm not going to get into some of the things BU has said about these changes (like it being Green for instance?) but all things said and done, library or computer lab, why isn't it open 24 hours??