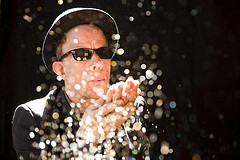 Apparently Tom Waits needed to add yet another album to his lengthy decades-spanning discography. Fans of the timeless musician can mark their calendars for November 24, the release of Waits' latest Glitter and Doom Live.
The album is a two-disc collection of his most popular tracks from his sold out 2008 Glitter and Doom tour of the United States and Europe. The first disc sounds like an entire live show, but its 17 tracks are selected from 10 different cities/stops on tour. The live CD covers all phases of Waits' long career, including some of his most famous personas: carnival barker, preacher, country singer, and soul balladeer. The originally unornamented songs are strengthened by a live five-piece band with rearranged instrumentation and rhythms, evolving on some of Wait's historically signature tracks. As no surprise, the album is full of unconventional and sometimes dark concepts, like killers, fugitives, ghosts, and prison guards.
Disc two is a 35-minute bonus compilation titled Tom Tales–a selection of Waits' live comical banter between songs during his piano sets. His topics of speech range from the ritual of insects to the last dying breath of Henry Ford.
The Musician's website is currently offering a  sneak preview of the album, streaming eight songs for free at Tomwaits.com