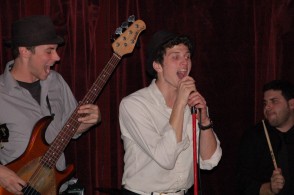 Allston's Love in Stockholm is most certainly a rock band. But to try to force their sound into one flat genre would be an insult to their talent and versatility. The septet has mastered a fantastic groove, blending the sultry cadence of the smoothest of blues with an energy that could seize the attentions of the rowdiest audiences.
In fact, the group's namesake, Stockholm, refers not to Sweden's capital, but instead to the syndrome – and the band absolutely earns its epitaph.
Here, take a listen to this:
[wpaudio url="http://buquad.com/wp-content/uploads/2009/12/01-1-Beauty-Fades-MP3-for-Audio-Podcasting.mp3″ text="Beauty Fades by Love in Stockholm" dl="0″]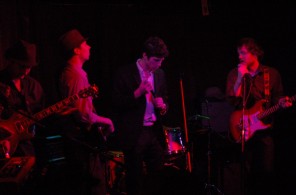 At one moment they whisper delicately in your ear, drawing you into their clutches. Then, when you least expect it, the trumpet and sax burst into so powerful a groove you can feel it running through you. The blend of saxophone, trumpet, and keys with the traditional rock lineup produces an irresistible combination. And the next thing you know, you find yourself sympathizing with your captor.
They are snappy, yet potent. Evan Sanders' organ, along with Jesse Humphrey on the drums, lay out a smooth-flowing base for the body of Brendan McBrien, Neil Clark, and Alex Staley's riffs. Meanwhile saxophone player Dave Carroll and Sanders on the trumpet accent the sound, lifting the ensemble to a towering altitude. All of this creates an artful and powerful bed of music that fills the room with a tremendous presence.
Frontman Charlie Rockwell provides the spark that ignites the stage. His vocal style at once wails passionately, like Robert Plant, but also rolls off the tongue, radiating soul like a masculine (dare I say) Macy Gray. He's also known to break out a harmonica a few times during the set. The band's vibrant tunes, along with stellar live performances, capture listeners like few acts can.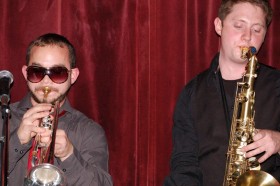 But what has made the band's sound stick is not an emphasis on experimentation, but instead a perfection of the mechanics of a sound they understand. "We aren't reinventing the wheel," says Sanders about their approach to style. Says Staley, "Its all about execution." It became clear to me that Stockholm's practice time is not playtime, and proof of their dedication to said execution can be found in every performance.
Mostly a collaborative effort, the band draws from recognizable classic rock sources, then molds them to make them their own. In fact, a cover of Creedence Clearwater Revival's
"Fortunate Son" is hardly recognizable, slowed by a swaggering bass line and powered by wailing guitar and organ. And although I think Love in Stockholm bears a striking resemblance to The Stones, Rockwell cites The Beatles as a major influence. In fact, this Halloween Stockholm covered the fab four's Sgt. Pepper's Lonely Hearts Club Band, even dressing as the fictional group. I had an opportunity to hear a few of the songs, and I must say, they pull it off as well (or better) than The Beatles themselves. Processed through Stockholm's musical machine, "With A Little Help From My Friends" and "Lucy In The Sky With Diamonds" gain a potency I've never heard before.
The Halloween gig was such a success that the septet landed a residency at Somerville's Precinct Bar. If you are so inclined (and of legal drinking age), you can catch Stockholm every Thursday in December. I highly recommend it.
It seems the septet has as good a head for marketing as they do for music. The guys are beginning what they call their "northeast takeover." At every show during their residency, the band releases a new single and performs with a guest act, distributing free CDs with the single and few other songs from the set. They also recently shot a music video for their single, "Ordinary Man," which will be available sometime in December (we'll keep you posted). But Clark makes it clear, "The best publicity is good music." It's a rule that Stockholm takes very seriously, and has, so far, proven to be true.
And Love In Stockholm's roots are closer to home than you might think. Five out of the seven are BU alumi, and most of them live in Allston. Rich with local flare, they've even got a song named for the infamous neighborhood in our own backyard.
They are certainly an act to look out for now and in the future. Check out their other work on iTunes.
"This interview," Rockwell tells me, "is over."
PS: Here's the CCR cover I was talking about earlier:
[wpaudio url="http://buquad.com/wp-content/uploads/2009/12/02-2-Fortunate-Son-MP3-for-Audio-Podcasting.mp3″ text="Fortunate Son by Love in Stockholm" dl="0″]