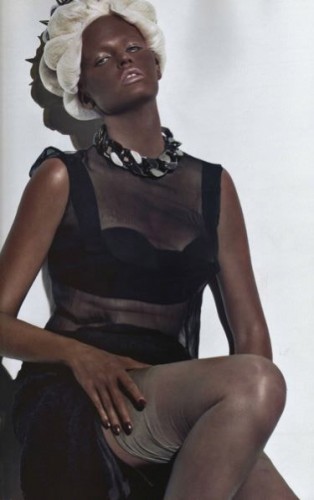 Last month, I opened my March issue of Vogue magazine and came across an advertisement featuring models in blackface. Frankly, I was taken aback. As a black woman, I was offended, and I'm not the only one.
In recent months, the fashion industry has seen a rise in the trend of using blackface in magazine spreads. White models are caked in dark makeup to make them appear darker skinned. It began when Lara Stone posed in blackface in Paris Vogue and continued when Tyra Banks painted her competing models in cycle 13 of ANTM in dark makeup to change their ethnicities. Happily it seemed to ebb away after Sasha Pivovarova posed in blackface with Heidi Mount in V magazine. While proprietors of the trend insist that it is a creative decision meant to push the boundaries of fashion, sane-minded individuals maintain that the historical implications of blackface prevent the practice from being anything but offensive.
There are also the obvious questions that arise in a situation like this: If you want a darker skinned model, why not HIRE a darker skinned model? And though Italian Vogue has made a bold move by launching it's new site Vogue Black to highlight black talent in the industry, fashion magazines continue to be devoid of faces of color.
International supermodel Naomi Campbell has publicly claimed that the fashion industry is an institution that remains prejudiced against African Americans and other people of color. She believes that the recession has made the situation worse, and that now advertisers are wary of using ethnic models in their campaigns for fear of economic backlash.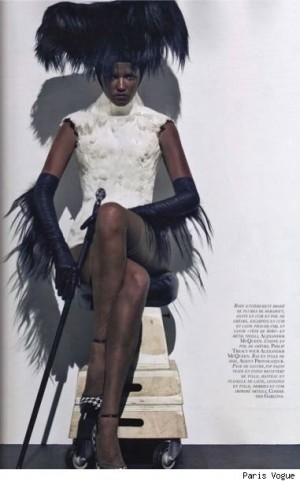 While some people don't see the reason for the fuss (it is just a picture after all…) the fact remains that since its debut on the cultural spectrum, blackface has become synonymous with racism and racial prejudice. The very idea of blackface carries stereotypes about African-American people and their culture that still persist today, even though the practice had been all but eradicated by the end of the 19th century. Blackface mocks the progress that  people of African descent have been able to make over the last century by rehashing the negative way in which they used to be portrayed. People of other ethnicities do not appreciate being mocked for the stereotypes that have developed about them, so why should this be any different?
No matter which way you spin it, blackface has too many negative connotations to be anything other than offensive. But of course that's just my opinion. Obviously I'm biased.