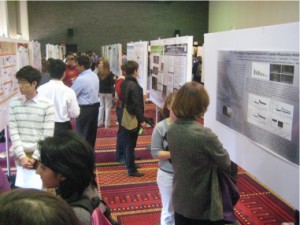 By Caitlin Clancy and Becca Tarvin
Attending a big university has its advantages and disadvantages. Two hundred people in your introductory class? Not so great. Getting to know your professors? Not so easy. However, a large university often has great research opportunities, with accompanying funding.  Each semester, BU's Undergraduate Research Opportunities Program (UROP) offers students a chance to immerse themselves in state-of-the-art laboratories and facilities with esteemed professors. Aside from the benefits of basic networking, the experience that comes from working in such an environment is indispensable if you're thinking about a career in research, or if you're going to graduate school. It can even get you a job (see last paragraph). Even if you're not heading down that path, UROP will certainly enhance your critical thinking and theoretical interpretation. Consider UROP an apprenticeship with the professor of your choice.
What does UROP do?
UROP was established in the fall of 1997, and has since funded nearly 1,000 students. In 13 years, a documented 148 scholarly articles were published from students' work, along with dozens of conference abstracts and presentations–impressive achievements for any undergraduate. Some of these publications are featured in premiere journals, such as Nature, Animal Behavior, PNAS, Journal of Neuroscience, and Geoarcheology, among others. Since its creation, UROP has supplied applicants with research funding across the vast disciplines, from archaeology to neuroscience. However, roughly 75% of the applicants are from hard science departments, including biology, computer science, chemistry, and physics, and therefore most funding is diverted to those areas. For the benefit of its participants, summer UROP sessions also offer weekly seminars and workshops on a variety of subjects. Last summer included an analysis on misogyny in Bob Dylan songs by the famous Professor Christopher Ricks, an astronomy sing-along on jets from black holes in quasars by Professor Alan Marscher, and a free GRE preparation class by a Kaplan professional.  At the culmination of the summer session, UROP participants showcase the product of their labor at a poster symposium in October.
How do you go about applying?
If you're interested in doing research, an excellent resource would be to visit the UROP office on 143 Bay State Road or its website, where you can find posted research opportunities, deadlines, and general information. However, many students do not realize that the options available through UROP are not restricted to what or who is listed on the website–students are encouraged to propose their own independent projects with an unlisted professor of their choice. Thus, you should also contact a favorite professor or graduate student who would be willing to help formulate and support your independent project. Most professors are thrilled to do this (think: free labor), and it allows the student to tailor the project to their specific interests. Although your chosen professor will likely be more than willing to help you write your proposal, you can also make an review appointment with the UROP staff to receive feedback prior to submission.
What is the funding breakdown?
UROP provides students with funding year round. A student can receive up to $2,000 for the school semesters, and $4,000 for the summer. Additional compensation is available up to $500 for lab supplies and $500 for travel to conferences or work abroad. Moreover, students may receive supplemental money through external grant awards, such as the Beckman Foundation Scholar Award, which are often more competitive and exclusive. These reward differentials reflect compensation for time and living costs. During the summer, a student is expected to work 20-40 hours a week, and is assumed to be covering their rent and living costs with their stipends. During the school year, students cannot commit as much time due to classes, and are likely secured in their living arrangement and other related costs.  Alternatively, students can also apply their research hours during an academic semester towards course credit as a directed study, instead of being paid. After the summer session, students can collect their stipend and complete a paper to become eligible for course credit in the following fall semester and continue their summer project.
How can you convince UROP to help you?
In the 21st century, research experience is invaluable, and UROP provides BU undergraduates the best opportunities for gaining important research skills, rapport between a professor and an affiliated lab, and the possibility of exposure by publication of their work. Despite a rising number of applicants and yet a stable budget, UROP consistently strives to fund as many applicants as possible, requesting additional grant money from the National Science Foundation, private grants, and Faculty Matching Grants. These efforts are readily apparent in the number of recent applicants funded: last fall, 75 of 88 applicants were funded, and last summer, 106 of 163 were awarded funding. Nevertheless, this is not to say that obtaining funding is as easy as submitting an application. Students most prove that their research project fits into the bigger picture. If the student fails to present the project's "greater significance", the committee may not see a reason for it to be funded in the first place. One of the major reasons for funding rejection is exactly this, so students must realize that the committee reviewing the application are not necessarily versed in that area of research, and are looking for a societal or practical application of this work on a larger scale. But don't shy away from this challenge; most research contributes in some way to expand an area of knowledge that can be applied across disciplines.
Is UROP worth your time?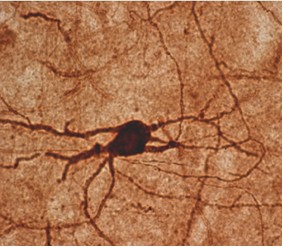 Both authors of this article have had the chance to participate in UROP, together accumulating more than a year and half of field and lab work.  Caitlin Clancy has been working in the Blatt Lab in the Department of Neurobiology and Anatomy at BU School of Medicine since February of 2009.  She is working on a long term project investigating the neural basis of autism's effect on language.  According to Cait, the highlight of her work is taking trips to brain banks, where she collects post-mortem brain tissue samples of suitable candidates for autism and control subjects.  From her internship with UROP last summer, Cait has been able to secure a paid position in the Blatt lab for the next year to continue her work after graduation.  Becca Tarvin has worked in both the Schneider and Warkentin Labs of the Biology Department.  She spent the summer of 2008 analyzing lizard tissue samples for areas of the genome that are associated with color.  The following summer, she was funded by UROP again, but this time to fly to Panama to work with red-eyed treefrogs, attempting to quantify and analyze post-metamorphic growth rates.  According to Becca, the highlight of her work has been searching through frog feces for insect bodies for hours upon end.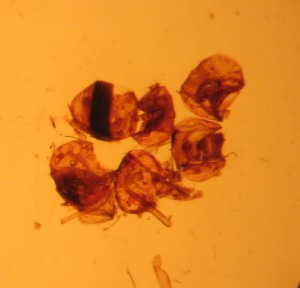 She has turned her work in Panama into a Work for Distinction (a 2-semester, 8-credit senior thesis, see this website), for which she is currently writing a paper to be published.  Having made connections through both of her advisors, Becca has been able to secure ten months of frog-related field work in Ecuador.  Both Cait and Becca wish to stress how their experiences with UROP have revealed their interests in research, enhanced their innate curiosity, and improved their analytical skills. Don't pass this opportunity by.
Your next chance to apply is September 15, for fall funding.  Good luck to all of the current and future applicants!
___________________________
Special thanks to Laurie Jensen, a student assistant in the UROP office, with whom we had a very informative phone interview.
Statistics and general information taken from the BU Undergraduate Research Website (http://www.bu.edu/urop/)