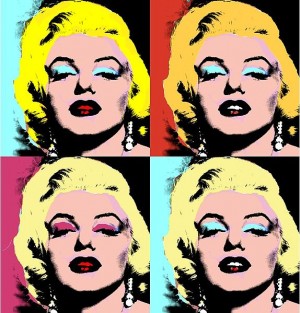 Fuchsia:
Looking to update your classic cherry red lips? A bold fuchsia mouth is a modern alternative. The hue adds a distinct youthfulness to your look. To recreate this look seen in at Spring 2010 Marc by Marc Jacobs, try Revlon Colorburst Lipstick in Fuchsia. For less of a matte look, top with NARS Lip Gloss in Easy Lover or wear the gloss alone for a sheer hot pink. Also offer yourself a quick fuchsia flash, just swipe Victoria's Secret Beauty Rush Lip & Cheek Tint in I Pink I Can over the apples of your cheeks for an instant beauty refresher. I like to use this cheek tint as a pick-me-up whenever my skin looks a bit paler than usual; it always brings a healthy glow to my face.
Orange Crush:
This sunny shade lit up at Prada's and Giambattisa Valli's Spring 2010 runways. This divinely summer shade was painted on the pouts in both shows, and you too can simply slick on the orange-y goodness of Tarte Natural Lip Stain in Joy. This lip pencil may look like those chubby crayons you drew stick figures with in grade school, but Crayola has nothing on these fool-proof pencils. The lip pencil is super easy to use and leaves a lasting apricot hue on your lips. Also check out Benefit Georgia Blush for a soft, feminine peaches and cream glow.

Pale Lavender:

I know what you're thinking: "How did bridal-bound lavender sneak a spot on the list?" Well, it's all about strategic placement: super pale purples can be very edgy if worn on lips. And when loaded with high-shine gloss the color becomes electric. Bring some electricity to your face with MAC Lipstick in Up the Amp layered under MAC Lustreglass in Flashmode.

The purple haze hue was also popular at the Versace show, but in a more conventional place: the eyes.  Swipe a lighter lavender wash over your lids and polish off the look by adding a hint of darker purple shadow on the outer corners of the eyes and in the crease; finish by rimming the top lid with a darker purple. This will gives your peepers extra dimension. My favorite shades come in this convenient Tarte Eyeshadow Duo.

Pretty pale purples were also seen at the Proenza Schouler show–in a majorly unexpected place: the hair. I know, I'm not ready for that either. For now, I'll just stick with the shadow and lipstick.

Midnight Blue:

Personally, blue eyeliner reminds me of my not-so-fashionable days of high school, where it was a punky rebel  look. But blue liner doesn't have to be so juvenile. Vibrant shades like midnight blue and indigo have a certain sophistication and desirable edge–it's also obviously a great way to take a break from your basic black eyeliner and spice up your look. There's also an added perk for us brown-eyed girls: the deep blue hues will intensify the color of your eyes and make them pop. Try Sephora Retractable Waterproof Eyeliner in Shimmer Navy. Not only is the color perfect for dark brown eyes, but the liner won't budget even through summer sweat and even swimming. Covergirl Outlast Smoothwear All-Day Liner in Indigo is vivacious bold blue liner that won't break the bank, with not waterproof but enviable staying-power. Just rim your eyes with either liner and blend a tiny dot of pearly white shadow into the inner corners of your eyes to make your eyes look larger and to make you look more awake. I absolutely swear by Urban Decay Eyeshadow in Vapor for the best combination of bright white pigment and shimmer that makes me look instantly refreshed–even before I've had my morning latte.

Image copyright Chanel

Aquamarine:

I have a slight major obsession with Chanel Le Vernis Nail Colour. Discovering the Bordeaux shade Vamp was like finding bronze on the sidewalk, Black Satin was like finding silver, and one of the most coveted color in nail polish history, Jade, was like finding gold.

So when I saw Chanel's  brand spanking new shade, Nouvelle Vague,  part of Karl Lagerfeld's "Les Pop-Up De Chanel" collection, I fell in love all over again. The fresh milky mixture of Jade spring greens and sharp cyan. The polish is a perfect option for those of you who normally shy away from color and prefer to keep your face fairly natural.

The varnish is scheduled to be released in May. But for those of you who need a hit of dreamy aquamarine right now, check out Urban Decay 24/7 Glide-On Eyeliner, $17, in Electric like the enchanting eye makeup seen at Balenciaga and Nanette Lepore.

When executing these modern makeup looks, it's important to only have one bright burst of color for a truly alluring look. So just highlight one feature and keep the rest of your makeup to a minimum–unless you wanna look like an Andy Warhol Marilyn Monroe.