Some people claim that eating chocolate is comparable to having sex. If this is true, then eating a treat from Phillips Chocolate is comparable to participating in an orgy.
According to the the company's website, Phillips Chocolate was founded in 1925 and is Boston's oldest chocolatier. I was able to speak with the company's owner, Mary Ann Nagle, whose grandparents started the business "in a kitchen in Revere [Massachusetts] making candy." Then, in 1952, her father and two uncles moved the business to Dorchester. The company has stayed in the family ever since. Ms. Nagle believes Phillips Chocolate has been able to stay successful due to their family philosophy, which is to "always provide quality." They "started with quality and continue with quality."
When I asked Ms. Nagle what makes her family's business so special and successful, she replied with pride that it's the quality and service. The company is run the way her grandfather started it, with the same recipes. According to Ms. Nagle, its this maintained integrity has enabled them to be successful. And Phillips must be a company whose treats are worth trying, as their products have won various accolades from the Phantom Gourmet, the Boston Globe and Boston Magazine.
With family values comes a family environment: many of Phillips Chocolate's employees have been working for the company for as many as 50 years. There's people in their 60s and 70s that still work for the company.
After visiting the website and checking out all the delicious-looking goodies that Phillips Chocolate has to offer, I decided that there was no way I could miss the opportunity to check this place out and sample some of their yummy treats. With their headquarters located right here in Boston and a retail location in the South Shore Plaza in Braintree, a trip to Phillips Chocolate is not far away. The company also sells select items at at various gourmet and hospital gift shops in and around Boston. And despite their success, the Phillips Chocolate has kept their business local: a laudable decision given today's plethora of sell-outs and franchise opportunities.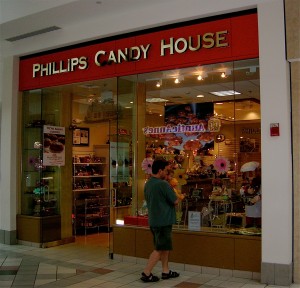 Upon entering the retail location in Braintree, I was greeted by a female employee. I asked her about her experiences with the company, and she said it has "always been positive." She enjoys working for Phillips because it is a "nice, family- owned store." As instructed by Ms. Nagle, I ordered some of the company's famous chocolate turtles. According to Nagle, one out of every four customers that comes in buys a chocolate turtle. I, a self-proclaimed pecan-lover, ordered the milk chocolate pecan turtle. It was a combination of chocolate, caramel, and plenty of pecans: awesome is an understatement. I also ordered the rum fudge in milk and dark chocolate. I enjoyed them both, but the velvety dark chocolate especially tantalized my taste buds with ecstasy.
Because of their their continued success, the Phillips Chocolate Company has been able to expand their business to some unexpected realms. They've grown so much over the years that The Phillips Family Hospitality Group now owns a Comfort Inn and a Ramada. They also opened Phillips (a banquet and meeting hall), Freeport Tavern and Deadwood café and brewery. They even own two 24-hour bowling alleys called Boston Bowl, one in Boston and one in Hanover.
With the addition of their 24-hour alleys, the company is truly a "24-hour operation," says Nagle. With a family that is both large and close, there is always a family member on the property. When I asked why the business has stayed so family oriented, Ms. Nagle simply and happily replied, "we were raised with this."