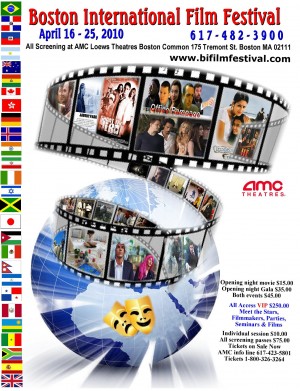 I mentioned before in my Boston movie theaters piece that there are perks to living in a big city.
Add film festivals to my growing list of reasons why I love living in this city.
For those unfamiliar with the festival circuit: film fests are a way for independent , international, or student filmmakers to share their work with a wider audience that's eager for something new. Some are strange, artsy short films and others can end up winning Oscars, as did "The Hurt Locker."
For some reason, two of the biggest film festivals in Boston, the International and Independent Film Festivals, run back-to-back from mid-April to the end of the month. Given that each is over a week long and brimming with countless new movies, how does one chose what to see? Willing to brave the strange instead of the wonderfully quirky film that stole your heart just yet?
The Boston International Film Festival kicks off later this week on April 16th and continues to the 25th. The fest will present works from across the globe and bring the life and culture of others right to Boston audiences. Animation blocks and short films will be  shown during the day, and  feature length movies will go up at night. Tickets can be bought online or at the Boston Commons AMC.
You can check the schedule and a synopsis for all of the movies at their website.
In an ideal situation, I would have all the time and money to watch hours after hours of movie goodness. But, alas, I have classes too and not much money- which led me to refine my search and pick at least five films that interests me.
Five Films to Watch in the Boston International Film Festival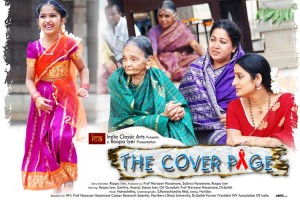 I know picking a British film is not very daring, but Michael Caine does command respect for his work. And from the looks of it, "Harry Brown" is no exception. A retired marine must avenge the murder of his friend by the only means he knows: doing the job himself. Since this is the Sir Michael Caine of "Pulp" and "The Dark Knight," an older gentleman like him should have no problem taking on Britain's underworld. This film plays on Friday, April 16, 6:00pm – 8:30pm.
"The Cover Page" looks like your adorably fun Bollywood musical, but aside from the smiles and bright saris in the poster, there's a more serious subject to be discussed in this movie. A traditional mother adopts a little girl, only to find out years later that she has been HIV positive from birth and faces an uncertain future. I'm going to guess that going against the odds is going to be the message of this movie. Alright, as long as there's singing, dancing, and lots of happiness in the rest of the movie-I doubt I could bear another "My Sister's Keeper." This film plays on Sunday, April 25, 4:00pm – 5:30pm. Check out the trailer for the movie here.
Foreign, but much closer to home is the story of "Immigration Tango." A couple decides to help another newly immigrated couple secure their green card by switching spouses and acting as though they were married. I sense a romantic comedy here, but I could be wrong. Either way, anytime spouses are switched for gain, it can only mean a good amount of drama.  This film plays on Saturday, April 17, 8:00pm – 9:45pm.
I nominate this movie for best title, "Are you for Great Sex?" Essentially, it is the story of a couple reuniting after years of separation, only to realize they still have the fiery sexual passion that brought them together in the first place. Does sex lead to love, or does love lead to sex? It is the age old question this film attempts to answer. This film plays on Monday April 19, 8:45pm – 10:30pm.
Finally, I found the quirky movie "Shoot the Hero," which stars Jason Mewes, the Jay of Jay and Silent Bob. I cannot help but feel that this movie looks like good campy fun. The leading man has made a career out of playing the stoner with quick insults, so I'm already laughing when I noticed the poster advertises a very clean cut Jason Mewes. Oh, and it's an action flick titled "Shoot the Hero." Let the hilarity begin. This film plays on Friday, April 23, 10:30pm – 12:00am.
Also, do not count out the amazing set of international documentaries that will be shown in the latter half of the festival. It's your anthropology courses on film, but in a very interesting and up-to-date way. The documentary that caught my eye is actually the sequel to one of the very first film documentaries in history. "Grass: A Nation's Battle for Life" was filmed way back in 1925 by a renegade director by the name of Marian C. Cooper, who would later go on to produce "King Kong." The film chronicled the yearly migration of the Bakhtiari tribe of Iran as they braved mountains, rivers, and possible starvation for the sake of tradition. "The Bakhtiari Alphabet" picks up the storyline, after 75 years, to follow their yearly migration and to witness their fight to save their culture in the changing world around them. This documentary screens on Thursday April 22, 4:00pm – 6:00pm.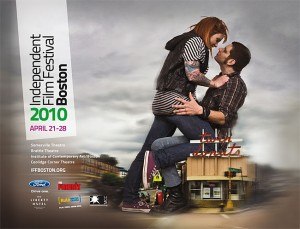 Following the heels of the International Film Festival, the Boston Independent Film Festival will kick off on April 21st and screen over 150 films by the time it ends its week long run at four different theaters. The Somerville Theatre, Brattle Theater, Institute of Contemporary Art and the Coolidge Corner Theatre will host the festival.  Actor Kevin Klein will be on hand opening night to introduce his latest movie, "The Extra Man" costarring Paul Dano. The funding for this festival tops that of the International fest, so expect plenty of parties, filmmaker Q & A, and workshops.  Be warned though: These films tend to push the boundaries of creativity and may cover topics that would make most mainstream audiences flinch. But, if you're brave enough to venture forth, there's a good chance you can get a sneak preview to the next run away indie hit or that new cult classic everyone will be talking about.
Five Films to Watch in the Boston Independent Film Festival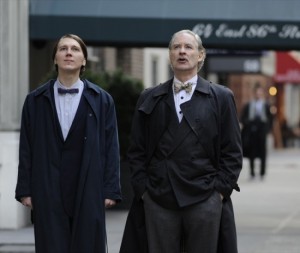 "The Extra Man" stars Kevin Klein, Paul Dano, Katie Holmes and John C. Reilly.  I adore both Kevin Klein and Paul Dano. We last saw Dano in a major role as the annoying, holier-than-thou young pastor in "There Will Be Blood." Sure, I'll try this milkshake.
Now one documentary I am eagerly waiting to see is "Saturday Night." I love "Saturday Night Live" and this film is dedicated to show just how hard the cast and crew work to put together such a show every week. Imagine "30 Rock" but with a lot more drama–if you can. James Franco directs and films the resulting chaos that takes place backstage on the longest running variety show on television. Awesome extra tidbit: He films the week John Malkovich hosted the Christmas special on SNL. "Live from New York…"
"The Killer Inside Me" promises a good old fashion story about the skeletons in the closet that can never be kept quiet for long. A young sheriff must deal with his violent past from ruining the life he has made for himself and endangering those he swore to protect. Leading man Casey Affleck has my vote of confidence. His role as a free lance detective in "Gone Baby Gone" was pretty impressive, sans the Boston accent. I'm glad to see him in the lead once more.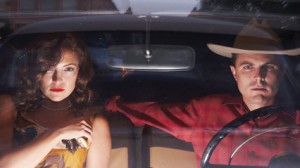 Riding on the wave of band reunions, one reporter decided to do the same for one of her favorite bands, The Kinks. "Do It Again" documents the legwork, tears, and emotional setbacks that follow a reunion. Big bonus points to the flick as it features a Boston Globe staff writer chasing the dream to bring her favorite band back together again. I wonder if we can make a sequel with the title, "Do It Again."
In the category of interesting title, I would have to settle on "Bass Ackwards" for the independent selections.  A man ends his relationship to a married woman and decides to take to the open road-in a VW van. Flashbacks of "Little Miss Sunshine" come to mind but without the adorable kids and quirky grandpa. Yet, I hear many a good things about this movie since it's screening at the Sundance Film Festival. I guess I'll just have to see for myself what all the talk is about.
Head to your theaters soon! All these films only show once and the festivals are only once a year. Try a bit of a foreign world or watch a strange new way to look at life. Either way, enjoy the experience and the perks of living in a major city.