By Becca Tarvin and Caitlin Clancy
Would you rather go out and get wet than sit in a fish free classroom?
"Two soaked and salty semesters of seafaring bliss and lobster." – Nick Keeney's 10-word description of his BU Marine Program experience
Since its establishment over 40 years ago, Boston University's Marine Program (BUMP) has risen to be one of the top ranking marine science programs on the East Coast. Professors hail from a range of departments like Biology, Earth Science and Biomedical Engineering to offer students a rigorous curriculum and fill their heads with under-the-sea knowledge. But learning is not constrained to the classroom:  Students of the program do on-boat research at locations from Wood's Hole, Massachusetts to the Caribbean, and can snap up more research opportunities and resources through affiliations with the New England Aquarium, Sea Education Association, and Stellwagen Bank National Marine Sanctuary (an 842-sq. mile expanse of open water at the mouth of the Massachusetts Bay).
John Finnerty, the current director of BUMP, is one of the 18 professors who teach BUMP courses ranging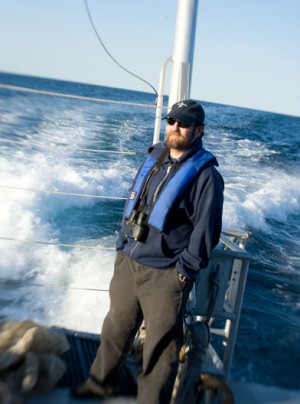 from marine biogeochemistry to molecular ecology and evolution, oceanography to sensory biology, and tropical oceanography to ichthyology (the study of fish – yeah, we didn't know either). The skills students learn in these courses include snorkeling, scuba diving, and employing and interpreting sonar. Of these fantastic professors, one person in particular comes to mind: Dr. Les Kaufman. As one of the pioneers of the BUMP program, he is a familiar name in marine conservation. He's received grants from big-name organizations like Conservation International and the Gordon and Betty Moore Foundation. He's written for National Geographic, worked as the Chief Scientist at the New England Aquarium, and has been involved in large-scale conservation projects in Massachusetts (Stellwagen Bank National Marine Sanctuary), Africa (Lake Victoria Environmental Management Project), and Belize (Marine Management Area Science program) and Marine Integrated Decision Analysis System, or MIDAS).
Dr. Kaufman teaches three classes at BU: one entitled Biological Design for Sustainability (BI486/686), which drives students to consider what, exactly, "sustainability" is, and how it can be achieved, a class on the marine megafaunal ecology of Stellwagen Bank in the BUMP program (BI546), and a portion of the Marine Science introductory course (BI260) on the Charles River Campus. His research on marine conservation was pivotal in drafting a five-year management plan for Stellwagen Bank National Marine Sanctuary.
BUMP's website can provide the rest of the logistics, but nothing beats first-hand accounts of the students and professors actually participating in BUMP, so the Quad asked five BUMP alumni and current members of the Marine Science Association (Allison Finnel, President; Lizzie McNamee, Vice President; Sarah Stark, Secretary; Stephanie Tougas, Fundraising Chair; Nick Keeney, Member) as well as Dr. Kaufman, to speak a bit about their time in the program.
The Quad (Q): In 10 words, how would you sum up your BUMP experience?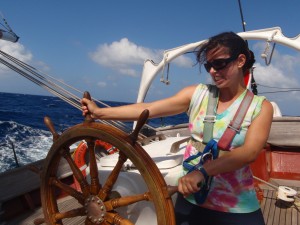 McNamee: Major in which you are considered an equal to professors.
Stark: Exciting and unique, the perfect fit for my undergraduate studies.
Tougas: Great way to develop research skills with awesome classmates and faculty.
Keeney: Two soaked and salty semesters of seafaring bliss and lobster.
Q: What is your most memorable experience during the BUMP semester?
Finnell: My most memorable experience doing the BUMP semester, aside from doing my own research projects for once, would be living on the SSV Corwith Cramer through the BUMP/SEA partnership. It was 24 amazing, insane, tiring, exciting and exhausting days at sea (St. Croix to Key West) with no port calls, no land in sight and showers every three days, but it was the first time that I was out in the field actually being a scientist.  One of the last days, I got to go aloft on the ship and I got to be a couple hundred feet in the air, just looking out at the Caribbean and looking down at the ship and I will remember that for the rest of my life. It was amazing.
McNamee: My most memorable experience was while in Belize studying Ichthyology. We were on a small boat traveling between islands when a pod of 7 rough tooth dolphins [swam by]. We were able to ease into the water and wait to see if the individuals would come back, and within 20 seconds they were all around us. You could feel the clicking from their echolocation and they swam and played with us for 20 minutes; diving down and spinning back to the surface with us. It gave one deep respect for the intelligence and playful nature of such creatures.
Stark: One night on the boat, there were dolphins riding the wave from the bow. We were on the really late watch so it must have been around midnight and it was pitch black except for stars in the sky and the bioluminescence in the water. The dolphins swam through the bioluminescent organisms so we could just see glowing dolphins swimming around and going up and down the water column. It was beautiful and really amazing.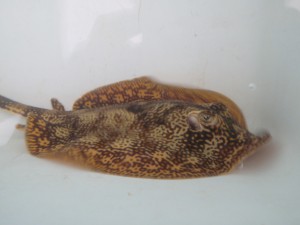 Keeney: One of my favorite moments of the semester came while I was working after class on the set up for an experiment. I was alone in a basement lab at night building an electromagnet to test if lobsters sense magnetic fields. It dawned on me that I was leaning toward mad scientist, and that it was exactly the kind of science I want to do.
Q: Has participating in BUMP allowed you further your career in some way? If so, how?
Finnell: Being in BUMP has helped me with my marine science career in so many ways… BUMP is where you meet professors and researchers that you get to know and can contact for help or references for the rest of your career. There are so many different class options and you get to design your own experiment based on what YOU'RE interested in, not just what the title of the class says you're interested in.

McNamee: The BU Marine Program has provided me with the knowledge and confidence to apply to competitive internships and jobs and excel. I have had two internships at the New England Aquarium, and have a job in my field after graduation. BUMP doesn't just teach science, but teaches you how to be a scientist. You produce your own original research, and present it to a panel of your peers. One comes out of the BU Marine Program as an integrated part of the scientific community.
Keeney: The marine program introduced us to organizations and people involved in advocacy, education and research. The best part though, for the resume, is the training we get using oceanographic instruments, advanced software and surveying gear. Fieldwork is at marshes, coral reefs and the open ocean; perfect for kids who played with worms and had a lot of skinned knees. They are pushing the interdisciplinary envelope, there's still a focus on biology but I find myself thinking about physics, geology, economics and policy frequently. And if I leave with nothing else, at least I learned to sail.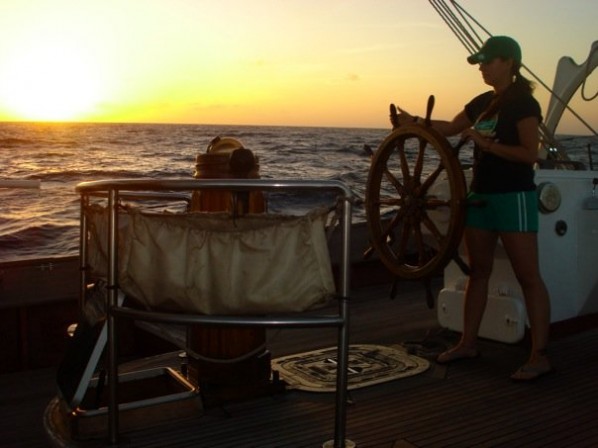 And here's what Dr. Les Kaufman, the man himself, has to say about BUMP and his contributions:
I am very proud of our current BUMP program.  I served as Associated Director with Professor Rick Murray during our transition from a 35-year stint in Woods Hole under the Biology Department (at the Marine Biological Laboratory) to our current Boston-based, interdepartmental program. BUMP is now a partnership among Biology, Geography and Environment, and Earth Science.  In addition to being a rich ferment for basic earth, ocean, and atmospheric science, BUMP is also the hub of a new universe at Boston University: the group of students and professors crafting science to save the world, to make human existence sustainable on earth, and to improve the quality of everybody's lives.
I think BUMP is a place where a lot of what's best at BU comes together- spectacular field and laboratory experiences, excellent training in basic sciences, and the strong bonding and skills-building that comes from working as a group to do the science that is needed to help address the world's greatest environmental, social, and geopolitical problems.
…As a BUMP professor, the peak for me is being at sea or in Belize or any other of our field sites with my students. Being in the lab together is fun, too, but it's all really about getting wet, wowed, and whipped at sea.
The BUMP program is sister to the BU Tropical Ecology Program (BUTEP, in Ecuador), which also heavily focuses on fieldwork studies. BUMP and BUTEP are a prospective scientist's best friend. As the Wood's Hole Oceanographic Institute library gently reminds us of Louis Agassiz's advice: "Study nature, not books." "Go to nature," he said, "take the facts in your hands; look, and see for yourself."
______________________
Special thanks to Dr. Les Kaufman, Justin Kaufman, Lizzie McNamee, Sarah Stark, Nick Keeney, Stephanie Tougas, and Allison Finnell for all of their amazing contributions to this article.