Even though Project Runway has been a cultural phenomenon since its premiere in 2004, I only got into the exciting world that is fashion design this past season. Season 7 concluded on April 22, 2010 and Seth Aaron Henderson was declared the winner.
This is the only season that I've watched from start to finish and so it's the only time that I can really competently say anything about the finalists' respective collections. The other finalists this season were Emilio Sosa and Mila Hermanovski and they both put on fantastic showings both at Bryant Park and throughout the season. Here are my thoughts about each designers' collection:
Seth Aaron:
Seth's Aaron's collection was brilliant. Throughout the season, he showcased his amazing tailoring skills and his avant-garde vision by creating garments that were both visually appealing and technically impressive. Although his designs sometimes bordered on costume-y, his spectacular vision always shone through.
In his showing at Bryant Park, Seth Aaron really translated his 'rocker-chic' style into high fashion. His garments were well constructed and beautiful, and showed excellent continuity throughout. His use of black and white patterns with yellow and red accents allowed him to create high fashion looks while still maintaing his signature style. These are my favourite pieces from his Fall RTW 2010 collection. You can see the entire collection here.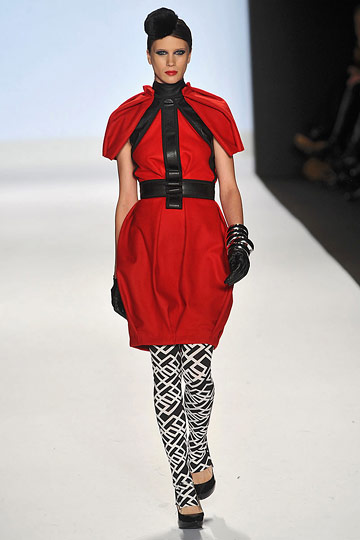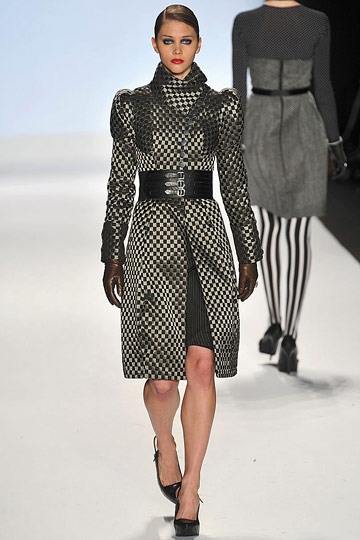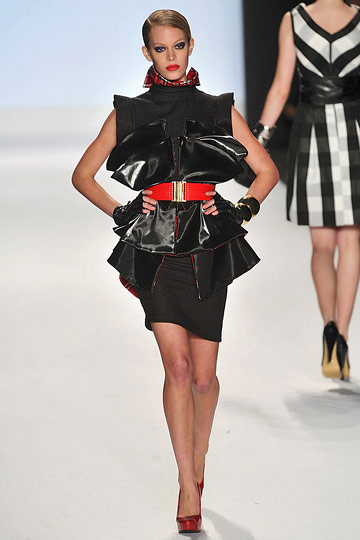 Emilio Sosa:
Throughout the season, Emilio's work was some of the most expertly crafted and beautifully detailed. There were several of his pieces that in and of themselves gave me a new respect and appreciation for the work that designers do, and the actual talent that designers possess.
Contrastly, I did not much like Emilio's final collection. This season, Emilio produced some of the most brilliant and beautiful pieces I had ever seen, and I felt that his collection fell short of my expectations of him. I felt that the outfits were extremely dated and screamed 'Gossip Girl Moms'. The judges were very impressed however, and I supposed that their opinion is all that matters in the end. I do think however, that Emilio may have been intentionally gearing his collection to an older and more sophisticated demographic, and that that fact might explain my lack of enthusiasm. Below is the one outfit in Emilio's collection that I didn't find completely cringe-worthy. You can view Emilio's entire Fall 2010 RTW collection here.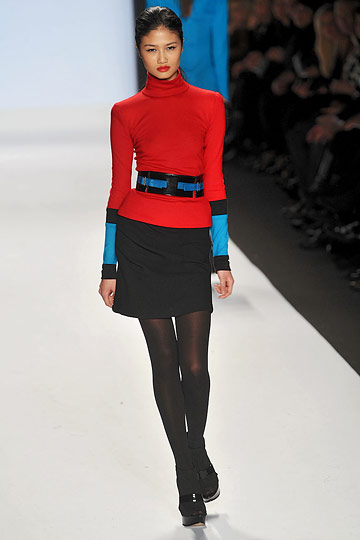 Mila Hermanovski:
Mila is the one designer that I really wanted to hate, but couldn't. Her work is so technically exquisite but at the same time, so far outside of my own personal aesthetic that I couldn't help but look for things to criticize. Her style is edgy and rough but at the same time polished and sophisticated. She became my favorite designer.
Her collection truly was amazing. It's the one collection that I feel could actually be worn straight off the runway. In addition, when the judges told her the week before to ensure that her models had more edge in their styling, she came to Bryant Park with models that oozed style, sophistication and edge. What I also liked about Mila's collection is that even though her collection was similar enough to her body of work to be identifiable as hers, it was enough out of left field to be fresh and distinct. Secretly I think she should have won. Here are my favourite pieces from Mila's collection. You can see her complete Fall RTW 2010 collection here.