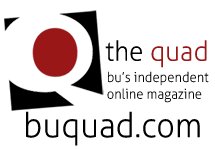 So, here it is: Finals have been conquered, graduation caps have been flipped, and those great Grad Party hangovers have just ended. It's time to recognize that the 2009-2010 academic year as come to a close.
We at The Quad would like to thank everyone for making this year possible. With the support of the BU community, what began as a quirky, jumbled, only-slightly thought-out exploration into the world of online journalism has blossomed into a campus voice we're proud of. And, we couldn't have made it possible without our loyal readers in the community.
Class of 2010, we'll miss you. Most particularly those Quad Writers who will be vacating their positions in lieu of bigger and better things. Matt Hoffman (COM '10) has been with this project since Day 1, banging out stories and building his Movie department from scratch, and his presence will be sorely missed.  Melody Tran (COM '10) created Ad Avenue, a successful and popular column for all of those nerds who love commercials and campaigns, taken over by the consistent and enthusiastic Lindsey Frick (COM '10) this spring with incredible ease and no loss of innovative spirit. Nicole D'Alessandro (CAS'10) stepped in this semester and kept our Food section alive while the rest of the writers went abroad. Caitlin Clancy (CAS '10) and Becca Tarvin (CAS '10) answered our call for a Science department, and fearlessly rode into the strange and wonderful world of animal mating, coffee side-effects, and the old-fashioned lobotomy with humor and intelligence. And Jen Brown (COM '10), a key player in The Quad Music section, will be sowing her wild oats during a semester in Germany and is graciously tossing us some reports on the budding music scene. These all-stars deserve a warm-hearted thanks, and represent an incredibly small portion of the talent in the newly-alum BU community.
Now, aside from all the mushy stuff, we've got a boatload of new, cool, sexy-exciting things to bring to you guys this summer. Keep an eye out for hot summer tips, reviews, and blogs from writers sticking around in Boston and promising to enrich your summer lives. And of course, brace yourselves: This fall is about to be EPIC in here, and we're going to bring you bigger and better things.
Thanks again for a great first year. We promise to keep you on the edge of your seat.
Love and Rockets,
The Quad Staff