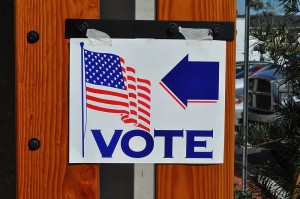 If you voted at the Jackson Mann School in Allston on Tuesday's primary, the chances are high that you encountered at least one violation of election law — or so claim disenfranchised students who were turned away at the polls.
The election, for State Representative in the 17th Suffolk district, was a race between incumbent Kevin Honan and write-in candidate and Boston University student Sarah Sullivan. Sullivan, whose campaign was built around the premise of student integration in the political process, hoped to increase awareness and student turnout at the polls.
However, when students arrived at their polling locations, they left disappointed. While some students were asked for identification, others breezed into the polling area with no trouble — an inconsistent application of election law, which requires that poll workers ask for identification from first-time voters and those who have recently changed their residence address. Whether this stemmed from poll workers' unawareness of proper procedure is unclear, but at least one poll worker was also unclear about the function of a sticker candidate — a piece of knowledge essential to managing the polls. What was worse, though, were the reports of poll workers questioning students living in BU's on-campus residences specifically as a target of their young age — a clear form of discrimination against a group that is already disenfranchised in the voting process. At least one student was given a provisional ballot to fill out on assumption, instead of being allowed into the polling area to cast a regular ballot, without being asked for his/her identification or address. This attitude towards students is a prevailing condition of the Allston-Brighton area, where the tensions between longtime community residents and students run high.
"I went to the polls at around 2:30PM, when I thought there would be a little less voter traffic, and I wasn't asked for a piece of mail or identification," says a voter who wished not to be identified. "But I know that my roommate, who was registered at the same address, went later and was asked for identification. It was a little strange that they didn't ask it from me as well."
Reports from the polling location not only show inconsistencies in the enforcement of election code, but also reflect deeper problems within the current voting system. While election law requires that registered voters bring a piece of mail with their address as proof of residency, many students who lived in BU's on-campus residences (including Student Village I, II, and 1019 Commonwealth Ave, which are all in the district) who brought pieces of mail were turned away and asked to bring "proper identification." According to the Massachusetts Election Division, acceptable identification includes utility bills, bank statements, paychecks, or government identification–many items which would be difficult to obtain due to the transitory nature of student life.
James Boggie, Director of City Affairs for the BU Student Union, is one of the many who is frustrated with the system: "In every election that I've experienced while in this position at BU, I have heard about students being turned away, students who have been asked to cast provisional ballots, and students who have been unable to vote…it's sad, but true." He is currently working on a two-pronged proposal to rectify the problems identified in the voting system, which would include a system where students who live on-campus could request to get a university-approved letter that would satisfy the proof of residency requirement, and additionally, would set a more uniformed, standard training for poll workers to ensure equal enforcement of election law across the city.
While Boggie and the Student Union are currently collecting statements from affected voters in order to take action, the Sullivan campaign says that they are not officially filing a complaint, but that they had heard of this difficulty that students faced. Sullivan said, "One clear example of something that we know is that students were asked to show proof of residency, and the kinds of documents that the state allows to be used to prove residency, students who live on campus do not have. For example, certain government documents, or electricity bills. So that's an example of one confusion we heard of."
Another separately cited issue, and what is perhaps the more troubling potential violation, was the alleged presence of campaign staff within the polling place. Massachusetts election law requires that candidates and their campaigns remain 150 feet outside of polling areas, but eyewitness reports describe Honan's campaign as actively campaigning within the 150-foot limit. One voter said that he/she was approached by someone as he/she walked into the school who identified herself as a staff member of Honan's, and was given literature and asked who he/she would vote for in the election–an intimidating gesture, given the reports of the presence of other staff members in the area.
When asked about these complaints, Representative Honan replied, "We take elections very seriously," and denied that he or members of his campaign were asking voters who they were casting their ballot for. He said that the only people representing his campaign at Jackson Mann were his family members, most notably his mother and father.
"My parents were passing out literature, but I wasn't even at Jackson Mann," Honan said. "As tradition, I was at the William Howard Taft School."
The Sullivan campaign was unable to comment on the complaint that members of Honan's campaign were within the 150-foot distance from the poll.
If true, these allegations could have serious implications for the enforcement of fair election procedure. While it's true that reports such as these may be common in other polling areas and in other states, it certainly does not make the process fair or correct. It is evident that stronger checking mechanisms are necessary to ensure that election day practices are fair to all campaigns, and that all voters and poll workers are well-educated on election law and procedure.
On Monday, Boggie will be discussing the election code violations in front of the Student Union Senate, and will make a motion to create a resolution addressing the problems voters faced at the polls. The meeting, which is open to all students and community members, will take place on Boston University's Charles River Campus in the College of Arts and Sciences building, room B12, at 8pm.
"This extraordinary violation of election law highlights the failures of the system," notes Boggie. "I encourage anyone who experienced problems to submit statements to Student Union so we can more thoroughly investigate the situation that occurred."