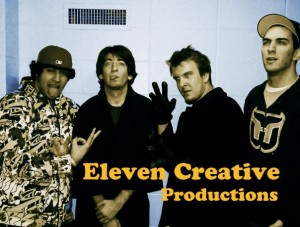 It is hard to miss the signs all over campus. They are hung up on free expression boards in the dorms, plastered over water fountains and bulletin boards, and even posted in elevators. Signs promoting Welcome Back, Brotter, a Boston University web series, seem to be everywhere.
Since October of 2009, Welcome Back, Brotter has grown on campus. The show finds its origins on floor 11C of Warren Towers, and soon after came the aptly-named 11Creative Productions. When Paul Ryan, COM '13,  approached his friend Cody Brotter, COM '13, with an early script of Welcome Back, Brotter that he had written in class, he knew that something good was bound to happen. With the aid of fellow floor mates John Sanderson, COM '13, as director and Keya Vakil, COM '13, as production coordinator, the first episode of Welcome Back, Brotter was produced.
The idea seems simple enough: a BU web series about two boys, Ryan Paul played by Paul and Cody Brotter as himself, both exaggerations of their own personalities. They navigate their way through what they consider the typical obstacles of male college life, the ultimate quest being (as their Facebook page describes), getting laid. However, Brotter is quick to point out that the show goes beyond comedy. "Our show is a drama, by the way… This is about the struggling lives of college students! The second one was about poverty, the third was about drugs." And some students must agree: Welcome Back, Brotter's first episode, 'The Girl From French Class," reached over 500 views on Youtube after only a week.
Along with other college-themed web series such as Dorm Life and websites such as College Humor, the problem of Welcome Back, Brotter is trying to stand out amongst the thousands of Youtube videos uploaded and viewed each day. Although the Welcome Back crew might hope for their video to spread virally, a la the Bed Intruder song, they now rely on word of mouth, a Facebook page, and posters hung up in Warren Towers to promote themselves. And Brotter has high hopes: "I'm expecting some Bieber Fever," he says, in reference to the YouTube-star-turned-pop-sensation Justin Bieber. "I'm expecting some Ryan Fever to take America. It's going to be an epidemic."
Promoting themselves as BU's web series, the crew says that they are doing an important service for their school. "For the school? We probably advertise it pretty damn well" Brotter states. Ryan agrees: "It makes COM look better, you know, it's just a couple of kids goofing around at 19 or 20 years old. Who knows what will happen when they are in their thirties and working in the industry?" Crew members recognize that the series might help them out in the long run, too; Sanderson points out that he would like to "use Brotter as a stepping stone into my career, or for myself as a director."
In spring 2010, 11Creative Productions expanded beyond the Brotter web series into the world of short films. It entered "The Constant," written, directed, and edited by Sanderson, into Your Take, a Boston University student film festival. With the support of their floor mates, "The Constant" was voted into first place. Vakil, an aspiring screenwriter as well as the production coordinator, mentions that there are four to five more short film scripts in the works, and to him that is only the beginning.
It takes a lot to produce an episode of Welcome Back, Brotter or a short film. There are numerous production meetings in which films are cast and planned out, as well as writers' meetings. In order to avoid copyright scandals,  Brian Engles, COM '13, writes and performs any music used in the videos. 11Creative Productions is labeled as a for-hire company, but still maintain the original close knit group of students. The team has added only two members, Alex Hawley, COM '13, and Trey Shell, COM '13, since its beginning. "It may seem easy, just to shoot some scenes and all that stuff…it takes lot, from scriptwriting to dividing up the scenes, casting, scheduling. You have to get your act together," advises Sanderson. There are four episodes of Welcome Back, Brotter planned for the 2010-2011 school year, with their latest one, a spoof of Inception, slated for release by the end of October.  While most of the members are in it for the experience of learning production, crew members indicate that their work goes beyond resume building and instead emboldens an entire college experience. As Ryan puts it, "I'm a journalist doing a web series. I'm not an actor. I'm not a writer per se. I'm just there for the ride. "
For more information on 11Creative Productions and Welcome Back, Brotter, visit:
YouTube.com/WelcomeBackBrotter
Twitter.com/OhBrotter
11Creative.com