Last Thursday, I was forced to face a frightful fact. My Community Shared Agriculture (CSA) with Red Fire Farm was ending. Every week since mid-June, I've been going to the Dewey Square farmers market at South Station in Boston to pick up a farm share of fresh fruits and vegetables. It was my first time trying out the CSA, and I can't emphasize enough how much I enjoyed the experience and learned in the process. Not only was I exposed to a plethora of produce I never knew existed; I also learned how to cook creatively so that I was only using the foods that I received from the CSA, instead of taking a trip to the grocery store to buy additional ingredients.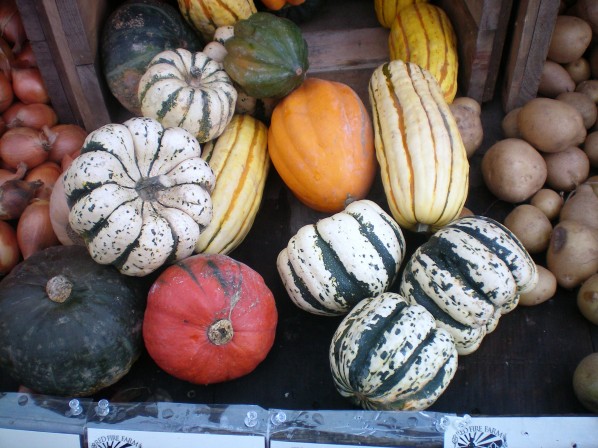 Fruits and vegetables from local farms are much fresher and tastier than produce shipped from hundreds, possibly thousands of miles away. So, how does a localvore like myself cope with the changing season? I asked Greg Disterhoft and Susan Pincus, Red Fire farmhands, and Darry Madden, co-founder of Boston Localvores, for advice. Fountains of slow food knowledge, they revealed Boston's bounty of local resources. With their help, I put together this in-depth guide to survive the winter, localvore-style:
1. Sign up for a winter CSA.
A number of farms offer winter CSAs, allowing you to eat locally year-round. Besides their main-season (20-week) and full-season (24-week) shares, Red Fire Farm, an organic farm in Granby includes a localvore deep winter CSA option that distributes shares every two weeks through January, February and March. The shares consists of 1/3 crops, 1/3 greens and 1/3 local products, such as pickles, sauerkraut and apples.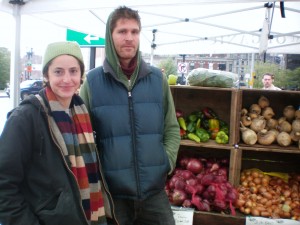 What kind of vegetables can you expect to find in your winter share? Mostly root crops and hardy greens, but there's actually a lot of variety. You're likely to encounter winter squash, potatoes, sweet potatoes, beets, rutabagas, turnips, parsnips, carrots, kale, spinach, swiss chard, cabbage, leeks, garlic, onions and more. Red Fire also offers frozen produce selections from the season, including green beans, peaches, tomatoes and peppers. The farm has four pick-up locations in the Boston area as well as a home-delivery option.  Enterprise Farm in South Deerfield also offers a December through May winter CSA. Additionally, Drumlin Farm in Lincoln, Farmer Dave's in Dracut and Stillman's Farm in New Braintree offer a two-month CSA for November and December. Drumlin Farm requires that you work in the fields at the farm for 4-8 hours (depending on if you have a half-share or a full-share) during the season or pay a fee, which isn't possible for people who don't have access to a car, so make sure you assess all your options before signing up.
2. Shop at winter farmers markets and groceries that sell locally-sourced products.
A winter CSA is a great option if you're splitting it with one or two other people. However, it's not always easy to find others who are willing to make the season-long commitment. For the localvore loners out there, don't fret! Most farmers markets around Boston continue into mid-November, and there are even a couple winter farmers markets.
In addition to distributing CSAs, Stillman's Farm sells produce at the Jamaica Plain and Brookline farmers markets. The farm also has a monthly meat drop-off in Cambridge. Coordinated with the catering service Cuisine en Locale, "Meat Meets" offers pork, beef, lamb, chicken and, just in time for Thanksgiving, turkey. Stock up and store meat in your freezer to enjoy it all month long. Check Cuisine en Locale's blog for meeting times and locations.
Keep your eyes peeled for a Somerville winter farmers market and a year-round, indoor farmers market in Boston, which are projects-in-progress.
So, where can you shop to supplement to your local goods?
Don Otto's Market in the South End, the Formaggio Kitchen in Cambridge, the South End Formaggio, Sherman Market in Somerville and City Feed and Supply in Jamaica Plain all sell local products.
3. Dine at restaurants that incorporate local fruits and vegetables.
Greg suggested Ten Tables in Jamaica Plain and No. 9 Park in Beacon Hill. If you know of any other restaurants in the area that use local foods, please feel free to post a comment about them!
Now that you're aware of where to get all things food-related, here are a few ways to make the most of your eats this season:
1. Buy in bulk.
For people who aren't able to sign up for a winter CSA, you can stock up on local produce while it's available. Red Fire Farm offers bulk orders of tomatoes, beets, cabbage, carrots, rutabaga, sweet potatoes, winter squash, onions, garlic, apples and more, which you can pick up at one of their CSA distribution locations.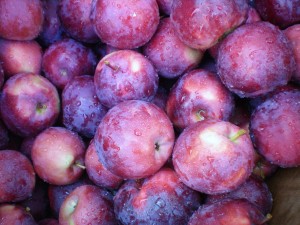 You might also consider buying a Pioneer Valley Heritage Grain CSA from Wheatberry Farm in Braintree, which includes heritage wheat, dry beans, heritage dent corn, rye and spelt. There's one distribution per year, and you can purchase a full share of approximately 100lbs of grain or a half share to store for year-round use.
2. Store.
Speaking of storing, you won't get very far into the season if you leave your delicious food to rot. One way to keep your produce fresh, mold-free and, most importantly, edible is to store it. Store carrots, parsnips, turnips, beets, cabbages and apples in the fridge. For potatoes, sweet potatoes, garlic and onions, put them in a paper bag and store them in a cool, dark place, like your kitchen cabinets. In addition, you can freeze tomatoes, peppers and greens by chopping them up and putting them in a freezer-safe Ziploc bag. For greens, you need to blanch them first. To do so, boil them for 2 1/2 minutes, plunge them into a bowl of ice water and, once cool, remove them and drain them thoroughly.
3. Can, pickle and preserve.
Canning, pickling and preserving are also excellent options. You'll need canning jars, two-piece lids, a large covered water bath canner, a jar lifter, a canning funnel and a plastic spatula. All that equipment may seem expensive, but think of it as a long-term investment, a gift that keeps on giving. According to Darry, "The best way to learn how to can is to find somebody who knows how and do it with you. It's not rocket science, but it's hard to do." So, find someone who's canning-savvy to lend a hand, or convince a friend of yours to split the cost of equipment and relish in the learning process together. Darry, Greg and Susan all suggested reading Putting Food By, the freezing, canning and preserving bible by Janet Greene, Ruth Hertzberg and Beatrice Vaughan. Can tomatoes, tomato sauce, peaches, pickles, tomatillos, salsa and apple sauce.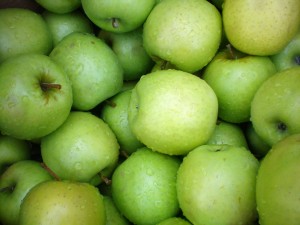 In addition, cucumbers aren't the only vegetables you can pickle. Okra, carrots, squash and garlic were some of Darry's suggestions. For preserving fruits, make jam. Just about any fruit works, and for an extra kick, add hot peppers. Look for kimchi and sourkraut recipes for more creative ways to preserve foods. Check out my blog post later this week to learn about my first experiences canning and a detailed canning how-to.
So, now that you're aware of all the local goodness Boston has to offer, you can enjoy the cold winter by warming up with a tasty meal. The task may appear somewhat daunting, but consider what Darry told me:
"We eat a lot of local food, but the world doesn't let us do that exclusively. We have to make compromises, but we put as much thought as we can into them. You try to make sure that everything is an ethical decision."
So, eat locally where it makes sense and otherwise ethically sourced, and put thought into your choices as a consumer.
Darry added, "I think you don't understand right away the value that you're getting from putting the effort in. Like the saying goes, you get out of something what you put into it. When you put the effort into cooking and making food and sharing it with other people, it actually does yield a lot of benefits. Having a connection with the food that you put in your body every day is a good thing."
A meal for two is more satisfying than a meal for one, so share the localvore love and have a happy and healthy season of eating!