Broken Bells and Neon Trees sound oddly festive, right? Just in time for the holidays, WFNX's Miracle on Tremont Street returned this year with the aforementioned bands, and also Ra Ra Riot and YouTube sensation Atomic Tom. The annual concert, taking place at the Orpheum Theater Thursday night, did pose a bit of miracle on a bitter cold night with all the excitement in the Common with the tree lighting ceremony.  Inside the dome of the theater, miracles really did happen.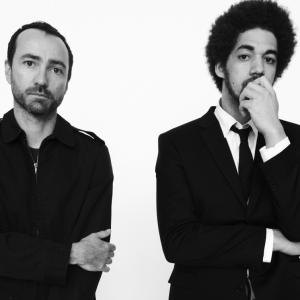 Starting promptly at 7:30, Ra Ra Riot, a sextet from Syracuse, set the tone for the night with their set. What makes this band so different is that along with the usual bass/guitar/drums, they've got a violin and cello too, giving a melodic and rich sound to their indie rock vibe. They began with the popular "Boy" of their new album The Orchard and followed with a good mix of songs. Although there wasn't too many people in the crowd yet, Ra Ra Riot pleased us fans that arrived on time- it started at 7:30, people!! – and was a sweeping start to the concert.
Neon Trees came on next, and boy did they put on a show. Hyper doesn't even begin to explain vocalist Tyler Glenn. Does that guy have energy. Their set started off with creepy, Orwellian vibes that turned into something of a church gospel with Glenn asking the audience "Are you happy to be alive Boston?" I was a little taken-aback by his gusto, but I regret my eye rolling because they put on an amazing, dynamic show. Their hit single "Animal" really got the crowd moving and they even included a tribute to Michael Hutchence. Ending with the infectious "Sins of My Youth" made me wish I got their whole album on iTunes.
YouTube sensation Atomic Tom came on stage to perform "Take Me Out." Wait, but there's a catch; they had no instruments. They played the entire song on their iPhones- guitar, bass and drums. Closing your eyes, you would have never of guessed that a faux guitar could sound so good.
Broken Bells, capped off the concert and didn't disappoint. Comprised of The Shin's singer James Mercer and artist-producer Danger Mouse with five additional touring members, it was a bit surprising to see seven guys all playing together, but they sure made beautiful music. They played all of the best- "October" "Vaporize" and "The High Road," and in the encore did a cover of Annie Lenox's mesmerizing "Don't Let It Bring You Down." A big change from the high-octane Neon Trees performance, Broken Bells proved to be one of the best new bands out there. Described as indie/alternative/space rock, the band is both melodic and experimental, soft and insanely hard rock. A great b-side was a highlight, while Mercer jokingly mentioned that Danger Mouse didn't want it on the album. Big mistake. Leaving no concertgoer unsatisfied, Broken Bells encore felt like an old-school jam session that could go on forever.
Miracles do happen. On a cold December night in Boston, Miracle on Tremont Street made all my music wishes come true.