Swedish pop star Robyn is one of the most unique and dynamic personalities in the business. A tiny blonde powerhouse, her show at the House of Blues on Friday, was nothing short of spectacular.
Best known for her 1997 single "Show Me Love," Robyn's new album Body Talk has created a lot of buzz, in particular for the song "Dancing On My Own," including a Grammy nominee for Best Dance Recording. Robyn's upbeat and catchy songs turned the packed House of Blues into a dance party. The singer led the way on stage, wiggling and jerking around in strangely coordinated choreography.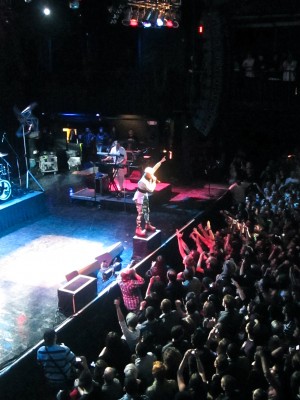 The two hour set featured mostly songs from Body Talk, from bittersweet songs such as "Call Your Girlfriend" and "Hang With Me" to don't-mess-with-me jams like "Konichiwa Bitches" and "U Should Know Better". Robyn's strong suit is her versatility; she can go from tough-girl tunes to ABBA covers without missing a beat. And no matter which Robyn she's rocking, she can keep the crowd on their feet and rocking right along with her.
A seasoned performer, it's not surprising that Robyn knows how to put on a fantastically futuristic dance party concert. Body Talk is her fifth studio album, and she's gone on tour in the past with musicians like Madonna and Kelis. While she's certainly learned from her time performing, she remains faithful to her (equally dedicated) fans, throwing up "heart" hand signs and accepting a t-shirt that was offered as a gift from someone in the front row. On a very basic level, Robyn seems to love what she does, and it not only shows but makes her more appreciable and a better performer.
The show also featured two newcomers to the pop scene, Diamond Rings and Natalia Kills, as opening acts. Natalia Kills opened and closed her three-song set with the same song, her only single, "Mirror". The lack of variety in her performance was overshadowed by her dominatrix-esque theatricality, complete with a leather bustier and two minions (back-up dancers) to toss around stage. Diamond Rings, a gold-legging-clad one-man band, toned down the atmosphere with slower (and less interesting) songs.
Despite the puzzling and slightly bizarre openers, Robyn dominated with strong vocals and an even stronger performance. In a salute to how far she's come, the singer ended her second encore with "Show Me Love", her first hit single.