The House of Blues may seem miles away when it's 25 degrees outside and a trek to the Paradise Rock Club looks like an arctic voyage in this cold. To top it all off, to see your favorite band you'll have to shell out enough cash to buy that Boston University windbreaker you've been eying. Maybe it's best to stay home, right?
Wrong. No more lame concert-evading excuses for you. Behold! A guide to seeing great live music around Boston without ruining your credit score (though I'm still working on controlling the weather).
1.) Take Advantage of Your Undergraduate Student Fee
Yes, it's an obvious one, but there are some great, free musical shows happening right on campus. The Antlers and Bleu played a fantastic intimate show at BU Central last Saturday and the night before, the underground lounge held a well-received battle of the bands.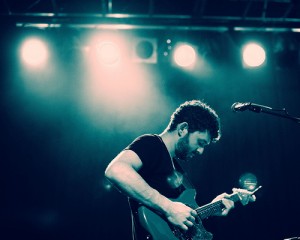 You should also be listening to WTBU for ticket giveaways and checking out their shows at Great Scott where they do highly honorable things like give out free pizza and band swag.
For classical types, the Boston University Symphony Orchestra is playing a concert at the Tsai Center this Thursday. A more complete listing of their (mostly) free events can be found here.
The monthly free BU jazz jam sessions should be mandatory for jazz junkies and novices alike. Saunter on down to the one this Wednesday, March 9 held at the BU band room at 278 Babcock St.
Cost: You're already required to pay for the undergraduate student fee, so it's basically free.
2.) Open Mic Nights
To paraphrase what Mama Gump always said, open mic nights are like a box of chocolates — you never know what you're gonna get. But you can be sure that it will be cheap and entertaining.
Lizard Lounge, just outside of Harvard Square, is like the dark chocolate truffle of open mics and can be one of the best nights in the city with a laid-back vibe perfect for Monday lounging.
Or you could stay closer to home — apparently The Dugout on Commonwealth Avenue just started hosting open mic nights. Given its "dive bar" status, those could be interesting.
Cost: A couple of bucks, at most.
3.) House Shows
Basement shows in Allston and beyond are a classic standby of fun and free/cheap local music, and while they can be tricky to track down sometimes, check out places like Whitehaus Family Record in Jamaica Plain or follow the Boston Counter Cultural Compass for a listing of local DIY culture and shows.
Or just take a walk down some Allston streets and listen for the sweet sounds of cheap, local music blasting from basements.
Cost: Just the clean up on one pair of mud and beer-soaked shoes.
4.) The Last Minute Kindness  of Strangers Approach
Friends will often buy tickets for friends who bail at the last minute, a sucky situation for everyone involved. But that's where you can swoop in (given that you are already at the concert venue) and offer to take the ticket off their hands for cheap. This is a tricky, often unreliable method not recommended for shows that you really want to go to. But it works sometimes.
Case in point: I had been putting off getting a ticket for the Middle Brother show last Thursday until the night of the show. I was in line for a ticket at the Paradise box office when a girl offered me an extra ticket and refused to accept money for it.
Again, this strategy relies heavily on the kindness of strangers and a lot of luck. But it's worth a shot, especially if you have a good pouty face.
Cost: A little bit of dignity.
5.) For When It's Warmer…
Now that the Charles has melted, it's time to start thinking about outdoor shows. The Esplanade has concerts with groups like Eddie Money and War. They may be artists who don't typically come up on your iPod's shuffle but they can be good times when you've got a blanket and some beverages.
Cost: A oversized blanket and a Starbucks Trenta cup.
Best of luck and happy free listening! And no more complaining.