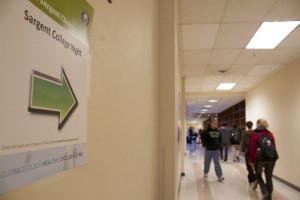 Students packed the dining halls on Wednesday, March 23 to sample all sorts of new offerings from the health-oriented Sargent Choice (SC) program. All Boston University dining halls were stocked with 13 new dishes vying to be added to the regular rotation of Sargent Choice options. Based on surveys from last semester's Sargent Choice Night, this semester's menu was geared more towards comfort foods.
"We learned that students wanted more traditional, comfort, home-style types," said SC Dietitian Jennifer Culbert (SAR '09). "Which is why we're offering mac & cheese, oven-fried chicken, spaghetti and meatballs, and the ever comforting gumbo."
However, these dishes are a far cry from Paula Deen-style cream sauces. The "garden macaroni and cheese," for instance is made with whole grain pasta, low fat cheese, no heavy cream, and an additional cup of vegetables per serving.
"But it tastes fabulous!" Culbert added. "[BU executive chef] Kim Hannon came up with the main entrees and we reworked them."
"The recipes were in the Aramark database," SC dietitian Laura Judd (SAR '08) explained. "We adapted them."
One highlight on the savory side of the night was the "creole chicken and shrimp gumbo." Even though it was cooked on the flat-top griddle in Warren Towers (gumbo is traditionally more of a stew), it tasted wonderful. The chicken, shrimp, and rice (three ingredients often overcooked in the dining hall) were moist and wonderfully complemented the additions of tomatoes, peppers, and just the right amount of spice.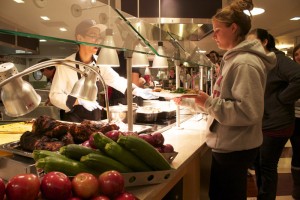 "It's such a common misconception that healthy equals boring," SC dietitian Sarah Butler (SAR '06, '08) said. "Our goal is to change that perception among BU students." The diners at Warren Towers certainly seemed on board, as the line for the spaghetti and sun-dried tomato meatballs stretched across the dining hall for most of the dinner service. Even the perennial student favorite — the burrito — got the Sargent Choice treatment. The SC version had a whole wheat wrap filled with black bean & corn salad, pico de gallo, cabbage slaw, and luscious shredded beef. All the fillings were very cold, making the burrito seem more like a gigantic Vietnamese summer roll, but filled with familiar flavors.
"People are surprised to find out everything's Sargent Choice,"  SC student ambassador Colleen Alexander (SAR '12) said as she and many other Sargent students gauged the feelings of student diners.
One area with the least noticeable "healthy" bias was the dessert station. Students enjoyed the autumnally flavored "spiced orange molasses cookie," and the ambitious "vegan banana rice pudding."
"I had my first rice pudding experience," added SC Student Ambassador Emily Sanchez (SAR '13). "Healthy food doesn't have to be bland."
The highlight of the evening, though, was saved for the very end of the meal. The SC chocolate cupcake, drizzled with white chocolate and topped with a fresh strawberry, left all the other dishes in the dust. It was not only beautiful to look at (something out of a tasteful wedding), but it did not even hint at being the slightest bit altered from its original chocolatey state. Whereas some of the other dishes seemed to be missing a bit of sugar, the chocolate cupcake was decadently rich.
After Sargent Choice night ends, healthy eating still remains a priority in BU dining halls. "I work in Warren and make sure the Sargent Choice signs are correct," Sanchez said. "We check two times a week." Such signs — like the ones on every BU sandwich station — give students a guide to creating their own Sargent Choice meal by themselves.
"If you don't like the Sargent Choice options," Butler explained, "You can still eat healthy." Such options include the salad bars, now equipped with Sargent Choice salad dressing (though you could choose to make your own). "It's all about proportionality," Butler continued. "You do need some fat."
"Dining tries to make the same choices we do," Culbert added, and praised the elimination of trans-fats in the dining halls.
But the main targets of this healthy movement are the students themselves.
A quick walk through the Warren dining hall on Sargent Choice night revealed eager students filling their plates with foods they may not have tried had it been hidden behind the pizza station. As with most dining hall theme nights, students were excited to voice their culinary opinions, in the Sargent Choice survey and to their friends.
"If students want to give us feedback, Facebook or Tweet us," Butler added. "We want students to feel connected."