The Dean's List, a Boston-based, Berklee-schooled hip hop trio, have created huge buzz since their first mixtape, The Drive In, dropped in late February. Now on the Animal House Tour with Machine Gun Kelly and XV, they played BU Central's Underground Music Festival on Saturday night.
Sonny Shotz (rapper/songwriter), DJ Mendoza (hip hop production) and Mik Beats (mixing engineer and pop production) put on an insane show despite both Sonny and Mik losing their voices.
Backing them was a full band with Ellis Tucker on guitar, Tyler Thompson on drums, Ricky Bakken on bass and Dani Ummel with vocals.
The Quad sat down with them and their band before the show.
The Quad: You guys have played BU before, right?
Mendoza: Yea, last year. We played upstairs and opened for Chiddy Bang. That was crazy.
You're from Boston and two of you went to high school together?
Mendoza: Mik and I were doing music in high school a little bit and just kind of messing around and then we started taking it more seriously the summer before I went to Berklee. I started doing production with Mik and [Sonny] wasn't in the picture yet but we became friends and just started doing music and it all came together really fast. And then we started getting a buzz around and we hooked up with NEU Agency and then a lot of other opportunities came.
And The Drive In was released in February.
Mendoza: Yea, end of February. And that was really great, we definitely got a lot of exposure. It was pretty much our first mixtape.
For your first mixtape, you guys have gotten a lot of buzz.
Mendoza: Yea, it was over 100,000 downloads. So we've been able to go on tour with it. In general, it's just nice to have reassurance from people.
How does it come together when you're creating a song or a mixtape?
Sonny: It takes a couple different beats, a couple different sounds and then finally we're like, alright, this is what we wanna do, this is the concept we wanna go with. It slowly comes together. It's not like we sit there and think about it or anything, it evolves.
The Drive In came together like that. We kept just banging out beats and banging out songs and slowly we're like alright, let's build a concept with this, let's take this somewhere else, let's change this. Like Dear Professor, we worked on it and changed it up so many times and we just kept working on different things, switching up things.
How did you change Dear Professor?
Mendoza: With Dear Professor it was back and forth because [Mik] went home for a little bit and then he came back and we worked on it, weren't really proud of it and it was just kind of all over the place. That was the last song we finished on the mixtape.
Sonny: But they both added something to it. Mendoza added the fast drums and Mik added the slow drums and kind of mixed it and added that touch. Mendoza laid the blueprint and—
Mendoza: –and then Mik kind of came in and did his thing. The video for that is coming out soon too.
So you're touring now and then you're following that up with a couple more tours, right?
Mendoza: Right, this is our first tour and honestly, it's been the most exhausting, amazing experience that we've had. In general, it's just so different because we've gone from doing shows on the weekend and in September, we were doing a show like maybe two or three times a month to doing a show Monday to Monday, every single night. And it's exhausting, I mean we lost our voices.
And the band has been a really important part of it.
Sonny: Yeah it really is. Because you don't see a lot of hip-hop acts with a band.
Mendoza: Unless you're Jay-Z or something.
Any good tour stories so far?
Ellis Tucker: Any night when Mendoza puts on those white sunglasses.
Mendoza: [Laughs] I mean we have a lot of fun, the whole crew. What's really cool to see is like on a Monday night, the crowd may not be as packed as the Wake Forest show, so you go from playing in front of 50 people to 500 or so. It's really cool to see those 50 people there, even if it's 30 people, they're all into it.
So what exactly is breakfast talk? Do you guys actually have conversations over breakfast like that?
Mendoza: All the time. Breakfast talk is the story of our lives.
Sonny:   Yea, it's like the night before, this is what happened. We wake up in the morning and talk about what the hell happened. It's one of those things.
Tucker: Like how we even got back to the hotel the following morning.
Mendoza: [Laughs] And it's not even like that, I think it's also just like living life and having good times.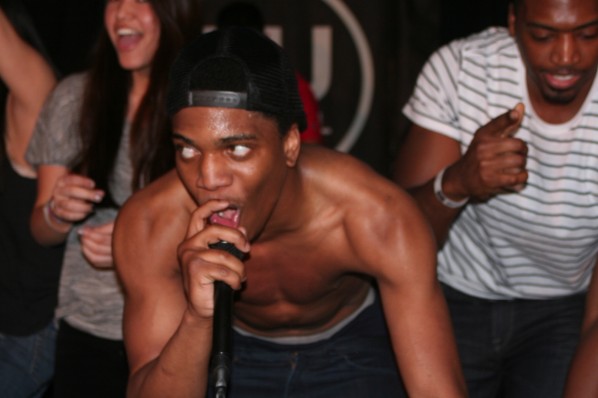 Do you guys live together?
Mendoza: Yeah, the three of us live together. It's really cute.
Tucker: It's actually in one bedroom, right?
Mendoza: Yea, a one bedroom apartment. [Laughs] Can you imagine that?
What do you think of the Boston hip hop scene? How into it are you?
Sonny: I don't think there's a hip hop scene in Boston. I don't think there's a music scene in Boston.
Mendoza: I think the biggest problem is that people aren't really willing to work together. Everyone's like about competition, competition. We met everyone at Berklee in our band and we were very lucky because there are plenty of guitarists who want to do more and be like a rock star.
Sonny: Yeah, like everyone we work with is our friend and it's cool for us to put Boston out there in general.
So you still tie yourself to Boston?
Sonny: Always, always. Whenever we can. We wanna put Boston on the map.
Download The Drive In for free here.