BU Central's first Underground Music Festival started with jazz at noon on Saturday, ended at midnight with hip-hop and had 12 hours of just about everything in between, from punk rock to acoustic to indie dance pop.
The festival, organized by BU Central, was a way to bring together artists from many musical genres, said Amanda DoAmaral (SED '12), a BU Central Manager who helped organize the event.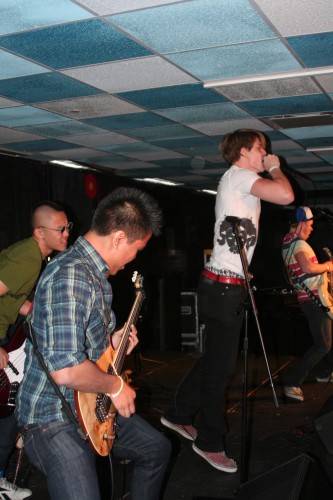 "All of the bands playing have each gotten their own buzz," DoAmaral said, "And none of it is mainstream music."
BU Central originally wanted to have a few stages for a more festival-like feel, but Boston University's open house dominated the George Sherman Union.
"Admissions have taken over literally every space in the GSU except for the basement," said BU Central Manager Rose Milgrom (COM '12).
But the basement was more than enough and despite the 60-plus degree weather luring students outside, there was a consistent crowd throughout the day. The festival was split into three blocks scheduled by the BU Music Business and Performance Club, Reputation Records, WTBU ending with BU Central headliners at night.
Kicking off the festival at noon was jazz quintet The Sebastian Andrews Collective, all of whom are members of the BU Big Band.  They were followed by the lovely vocals of Molly Savard (COM '13) who was accompanied by Sam Taber (CAS '13) on keyboard. A small crowd gathered around the duo in the center of the BU Central floor as they played originals and a cover of Deer Tick's "These Old Shoes."
Next up: the first ever performance of Anchors Away, a punk rock group with some blistering screams and songs.
"Yo guys, I'm gonna have to ask you to get off your asses and get up here," vocalist Evan White (CAS '13) shouted at the crowd lining the wall. "This ain't no fucking jazz band, this is rock."
And rock they did, through a few head-banging originals and a thrashing version of Katy Perry's "Firework".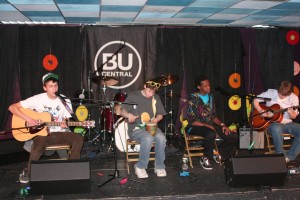 The afternoon featured artists from BU record label Reputation Records, started by Sony Salzman (COM '13) and Julie Hirsch (CAS '12). No Soap Radio played a pleasantly chill acoustic set with strong vocals by CGS freshman Eugene Mundowa backed by band members Devon Dipaolo, Devon Murphy and Chris LoPicolo. The group will be playing again on Thursday night at BU Central with the two members who couldn't make it on Saturday and will have a completely different jam band-like sound, Mundowa said.
The evening was organized by WTBU and had performances by Gentlemen Hall and Planckton. Gentlemen Hall, who won a MTV VMA for Best Boston Breakout Artist in 2009, are pure indie dance music and definitely one to watch out for the next few years.
Wrapping up the fest nine hours hours later was the Animal House Tour with Boston-based The Dean's List, fast talking Machine Gun Kelly and rapper XV, whose album Zero Heroes is dropping on April 15.
Want to read more? Check out this interview with The Dean's List and hear what they have to say about Boston's music scene, tour life and more.